One day last summer, an Ashland attorney put his backpack on the conveyor belt to go through the X-ray machine at the front door of Lincoln's Hall of Justice. Security found a gun inside.
At the trial that came later on a misdemeanor charge of carrying a concealed weapon, Perry Pirsch, who represented himself, told the judge he had forgotten it was there. It was an accident.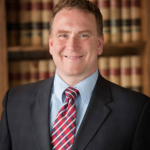 And Jan. 29, Lancaster County Court Judge Matt Acton found him not guilty. 
The Lancaster County Attorney's Office appealed, and later this month, District Court Judge Jodi Nelson is set to hear the case, at the heart of which she'll be asked to decide whether Pirsch had "knowingly and intentionally" concealed the weapon. 
In a notice of appeal, Deputy County Attorney Maureen Larsen said Acton had rejected the state's argument that he should look to a 1984 Nebraska Supreme Court case, State v. Saccomano, to decide. 
There, the court said it was enough for the state to prove that the defendant had placed the .22-caliber revolver under the front seat of his vehicle before he left for Denver, even though he said he'd forgotten it was there by the time he was arrested later in Nebraska for DUI.
In that opinion, the court said it was sufficient "if the evidence shows that the defendant voluntarily and intentionally concealed the weapon."
Pirsch, who lives in rural Cass County and has a gun range on his acreage, said the gun usually sits in a locked drawer. He thinks he was maybe going to go shooting, got distracted and left it in the bag. He can't recall. 
"In any case, I confess I was negligent in forgetting it in my bag, which I subsequently used weeks later to bring a laptop to court," he told the Journal Star. 
On July 2, Pirsch said, he gave the bag with the gun to the sheriff at the X-ray machine as he entered the courthouse and was informed of a problem. He asked to take the gun to his car, but was asked to wait. He discussed it with law enforcement and was released. They kept his gun. And he later was charged.
Pirsch said he's been in the courthouse literally hundreds of times and describes himself as "very pro-law enforcement." His father was a sheriff's deputy, his brother a prosecutor. He's worked in government for more than a decade. 
He said he doesn't understand why Lancaster County Attorney Pat Condon's office filed the case.
"It was obvious it was an inadvertent mistake," Pirsch said.
He said the state shouldn't be prosecuting law-abiding citizens for mistakes when their right to carry is guaranteed by the Constitution.
Pirsch said he was embarrassed by his lapse of memory and apologizes to law enforcement for the commotion. 
"But the trial was a waste of time and judicial resources," he said, criticizing Condon without naming him. "I think the Lancaster County Attorney should withdraw the appeal or resign. They continue to waste tax dollars for a non-crime and they are sending the wrong message about gun ownership."
He said it "seems clear we need to change leadership" at the Lancaster County Attorney's Office.
"When they lose again, and I suspect they will, then they will be setting a clear precedent, I hope," Pirsch said.
On Wednesday, Condon declined to comment on the specifics of the case, which was sealed in county court by law after the verdict.
But, he said, he was disappointed that an attorney would find proceeding with a trial a "waste of time and judicial resources."
"It's my sworn responsibility to treat everyone equally under the law, regardless of who they are or what they do. I've done that throughout my professional career. Further, it is my responsibility to pursue clarification of the law as issues arise, oftentimes to keep victims and law enforcement safe from gun violence, as best I can," Condon said.
Lancaster County Sheriff Terry Wagner, whose department is responsible for courthouse security, said ignorance has never been an excuse to violate the law, pointing to speeders who say they didn't know what the speed limit was. 
"Being an ignorant attorney surely shouldn't be a defense," he said in an email. 
Wagner said it's illegal to bring a concealed firearm into the building, even if the owner has a permit to carry concealed. 
If a weapon is spotted on the X-ray machine, the owner is arrested or cited for a violation "regardless of the excuse the owner may give for why the weapon was there," he said.