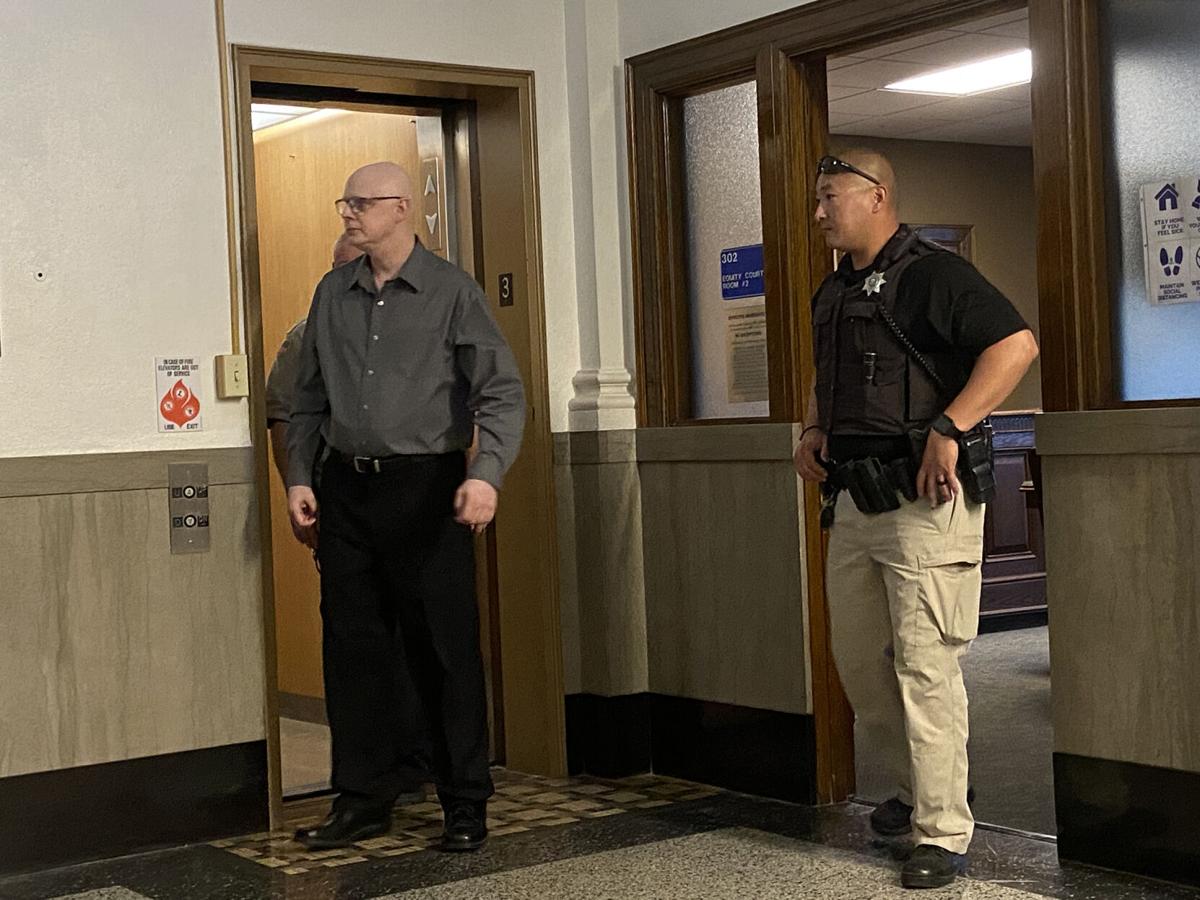 Keith L. Allen told a law enforcement officer, "This didn't need to happen. This shouldn't have happened," shortly after Brett Torres was fatally shot on May 22, 2020.
The statements were recounted by then-Lincoln County Sheriff's Deputy Heath Bellinger on Tuesday afternoon during the opening day of Allen's murder trial in Lincoln County District Court.
Tanya Roberts-Connick, the Lincoln County chief deputy attorney, said in opening arguments that Torres, 25, had 13 gunshot wounds from a Glock 45, most on the upper left side of his body.
Allen, 44, is charged with first-degree murder and use of a firearm to commit a felony in Torres' death outside Allen's residence on the 100 block of North Chestnut Street.
Bellinger, now a Custer County sheriff's deputy, said Allen made the statements while he was being held at the scene for 20 to 30 minutes.
Allen had been placed in the back of a North Platte police cruiser. He was "calm and reserved" initially, Bellinger said, but later started sweating profusely and shaking, and his breathing increased.
Bellinger testified that he thought it was anxiety kicking in, as Allen had requested that his medicine for that condition and for nerve pain be collected from his residence.
Allen had dried blood on the fingers and cuticles of both hands, Bellinger said.
Bellinger was the third witness of four to testify after the trial began about 1:45 p.m. A 12-member jury — nine men and three women along with two male alternates — was sworn in just after noon.
In her opening statement, Roberts-Connick told jurors it is a straightforward case leading to a conclusion that Allen shot and killed Torres with "deliberate and premeditated malice."
She said a love triangle and jealousy preceded the shooting in an alley at Allen's residence.
Allen's attorney, Todd Lancaster, said it wasn't a case of "whodunit" but rather of "why."
Lancaster told the jury that Torres had sent countless social media messages and texts to his ex-girlfriend — a number of them threatening — in the days leading to the incident. He added that Torres was obsessed with tracking down his ex-girlfriend and confronting her and Allen.
He said Torres had an addiction problem, and his autopsy showed that cocaine and methamphetamine were both in his system.
Lancaster said witnesses will testify to Torres' aggressive and violent nature when he was under the influence.
Torres had pulled up his green Chevrolet Tahoe alongside a blue Ford Focus driven by a woman with whom Torres had just ended an "on-again, off-again relationship." Allen was a passenger in her car.
Two witnesses testified they heard four to six gunshots.
One witness, Paul Sorenson, was in the lobby of a medical clinic he operates with his wife at Third and Chestnut streets.
Sorenson said a delay of about two seconds followed two shots, followed by a volley of about four more.
Nikki Stevens was in a truck in the parking lot of the North Platte Federal Building complex, about a block away from Allen's residence. Stevens testified that she heard "four or five gunshots" with a short pause after the first few as well.
Both Bellinger and North Platte police Sgt. Dale Matuszczak testified that Torres was slumped over in the driver's seat of the Tahoe and non-responsive when officers arrived.
Matuszczak said when he arrived, Allen was leaning into the Tahoe on the driver's side and the woman with him was standing outside the passenger side and was hysterical.
Allen was placed into custody because the initial 911 calls reported a man in a red T-shirt had fired several shots, Matuszczak said, and Allen matched that description.
Matuszczak added that Allen was wearing an empty pistol holder on his hip. When asked where the gun was, he told law enforcement that it was in the closet inside his residence.