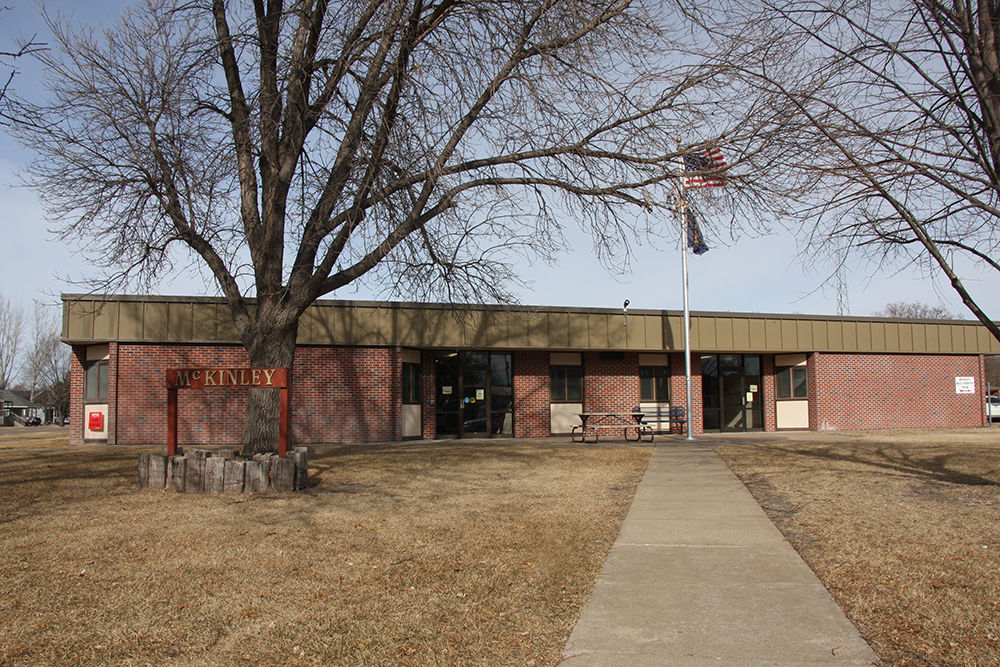 Editor's note: This story has been updated to clarify information on COVID-19 cases involving NPPS students and staff.
The politically charged national debate over wearing masks to slow COVID-19 spread surfaced at Monday night's regular North Platte school board meeting.
Superintendent Ron Hanson, backed by several board members, said the district will keep requiring masks inside its buildings through the rest of 2020, even if the local health agency's "risk dial" improves from orange to yellow.
While the district had no current positive COVID-19 cases as of late last week, the continuing outbreak and the approach of flu season warrant keeping the mandate until Christmas, he said.
"As we know, flu season is just around the corner," he said. "Loosening any restrictions, any safety protocols, would not be a good move on our part" if patrons want schools kept open.
The superintendent spoke before the meeting's public-comment period, during which school patron Mitch Wagner presented a petition asking that families be allowed to sign liability waivers so their children don't have to wear masks.
Wagner, 3911 W. Park Drive, rejected statements that masks make a difference in containing COVID-19 and said the schools have no business requiring them.
"We as a community do not want lawmakers and unelected individuals intruding upon the medical decisions that should be left between a patient and a doctor after totally informed consent," he said.
Echoing disputes heard all the way up to the presidential campaign, Wagner and Hanson took opposite views on the wisdom and reliability of COVID-19 advice by health professionals.
Lincoln County's total confirmed number of COVID-19 cases since March has more than quadrupled in recent weeks, from 88 on July 30 to 399 earlier Monday.
Three deaths of county residents between March and August have been attributed directly or indirectly to COVID-19, with West Central District Health Department officials saying three more recent deaths are under investigation.
Some "adjustments" to the district's COVID-19 policies will be announced Friday, Hanson said, though relaxing the mask mandate won't be among them.
Hanson and school board President Skip Altig bluntly said WCDHD "does not tell us what to do," though school leaders consult closely with the agency and other local medical officials.
"They are the health professionals and know the ins and outs of how to keep us safe," the superintendent said.
Altig noted the school board's "return-to-school" resolution, adopted Aug. 10, gave Hanson responsibility for managing the district's COVID-19 response day to day.
"We voted to give the central office the authority to make those decisions, because they deal with that daily" and the school board can't, Altig said.
Twenty students and two staff members were under COVID-19 quarantine as of Thursday afternoon, Hanson said.
That was while North Platte High School was scrambling to try to save last Friday's homecoming football game after a Kearney junior varsity player tested positive following a Sept. 7 game with NPHS' JV team there.
NPHS canceled its homecoming matchup with the Bearcat varsity, lined up Bellevue West as a substitute Friday opponent and then canceled that after more Bulldogs who play both JV and varsity were told to quarantine.
WCDHD, which operates under state "directed health measures," has said "if no one has a mask and you're exposed, your 14-day quarantine will go into effect," Hanson told the school board.
Because the district is mandating masks inside its buildings, however, "the face coverings protect us from that quarantine," he said. "That's been a saving grace."
The superintendent said the district recently came close to shutting down one school because "a couple of staff members" weren't wearing face coverings. He didn't name the school.
Wagner, speaking remotely from a separate McKinley Education Center room due to the district's COVID-19 restrictions, said he didn't expect to sway school leaders but "I will speak for those parents and students who are too afraid to speak for themselves."
Saying more than 400 patrons had signed his petition seeking liability waivers, Wagner contended that district officials "have no basis of comparison" to say their mask mandate is keeping COVID-19 spread at bay.
"We, the people, demand that we — not the public schools, not the West Central District Health Department, not Great Plains Health — determine what is best for our children," Wagner said.
Board member Jo Ann Lundgreen asked Hanson if a COVID-19 liability waiver from mask-wearing could apply to both the school day and extracurricular activities.
The superintendent said he couldn't answer that without visiting with the Nebraska School Activities Association, which controls most interscholastic competitions in the state.
Be the first to know
Get local news delivered to your inbox!