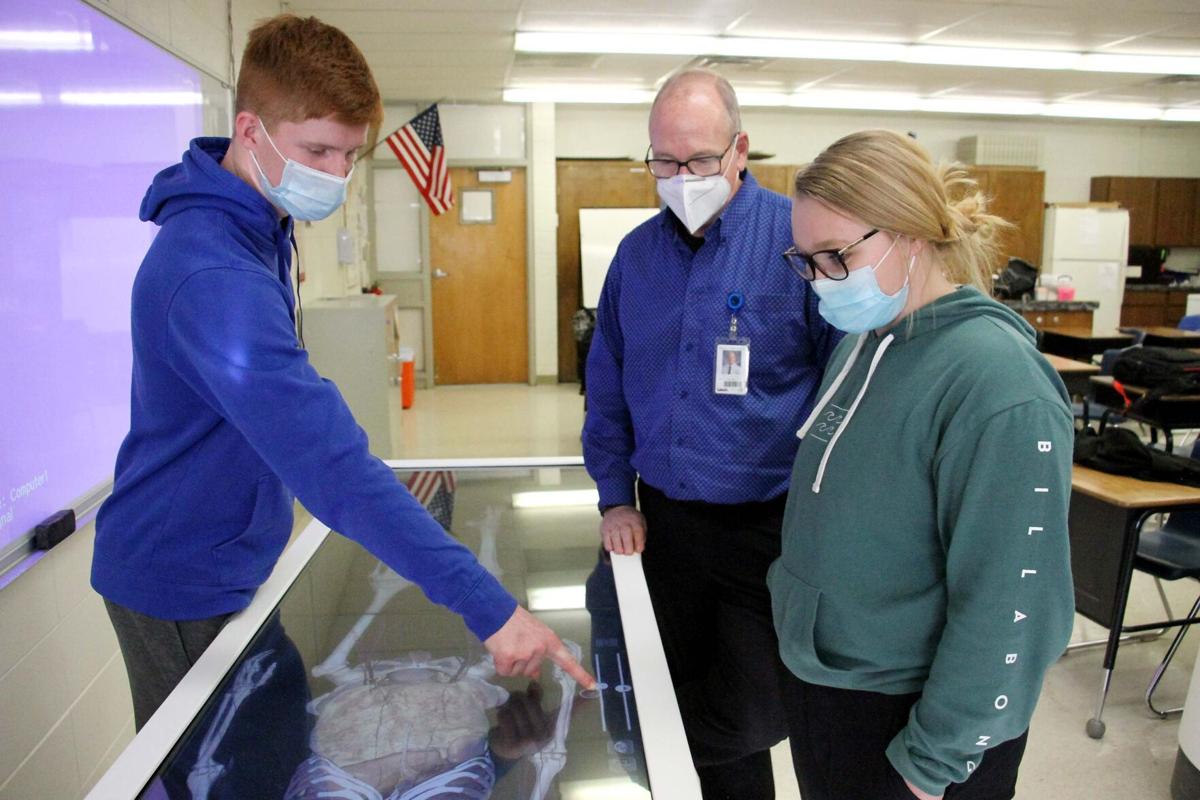 A sophisticated piece of equipment will give Hershey Public Schools students a chance to look inside the anatomy of a human body.
The Anatomage table can manipulate four "cadavers" to identify parts of the human body and to perform highly technical virtual operations. The high-tech device was purchased by the school's health sciences program through a reVISION Action Grant from the Nebraska Department of Education.
The grant application process began last spring and was awarded in October, said Doug Long, health sciences teacher.
"We asked for $100,000 and we got it all," he said. "The table itself is about $80,000, and we bought 25 iPads that will sync to the table and will interact with the table."
Long said he had a couple of days before Christmas break to work with it after it arrived on Dec. 21.
Hershey is the third high school in Nebraska to have one, Long said. The other two are Scottsbluff and Omaha Benson.
"We are real lucky that Mrs. (Superintendent Jane) Davis and the administrative team had the vision to set us up to do this," Long said.
The table has male and female cadavers, and help students begin to understand how medical procedures work.
"One of the things is you can take the skin layers down and go as deep as you want," Long said.
Digital cutting tools are used to open sections of the body for closer scrutiny. Senior Eli McConnell demonstrated one such procedure.
"I'm doing a percutaneous coronary intervention," McConnell said. "I'm inserting the needle into the femoral artery."
McConnell then directed a guide wire and balloon through the arteries to a location near the heart to execute an angioplasty.
"Then you can take the balloon out and place a stent where the blockage was located," McConnell said. "Then you can remove the delivery and the guide wire, and the stent remains."
Long said the table allows students to see what procedures would look like if they were medical students.
"If Eli was a cardiology student, he could actually get a practice run on placing a stent," Long said.
McConnell, who hopes to study orthopedic surgery, said the table gives him a better perspective.
"The coolest thing is just probably being able to see everything," McConnell said. "Before, you just kind of have to visualize it in your head. This (table) gets you as close as you can to a real body. Everything looks the same, and it's really easy to get around with it and see what you want to see."
Rylee Halouska plans to become a pediatric nurse. The senior plans to attend Mid-Plains Community College to earn an associate's degree in nursing, then finish her education at the University of Nebraska at Kearney.
She described another aspect of the table.
"We're going to carve out the knee and then we can flip it up here and see into the legs," Halouska said. "We can blow this up and really look into the leg and see the muscles, the fat and all of that."
Halouska gradually deleted parts of the knee structure with the table so she could get down to the bones and nerves that are left.
"We've only had the table for four days (in class)," Halouska said. "I will use the table in two classes, anatomy and physiology, and athletic training class."
The Anomatage website at anatomage.com/table offers videos and information about how the table is used for education.
---
More by Job Vigil
5 stories that brought interesting people's journeys into your home
Reporter Job Vigil shares five stories he covered this year that offered a peek into people's lives.