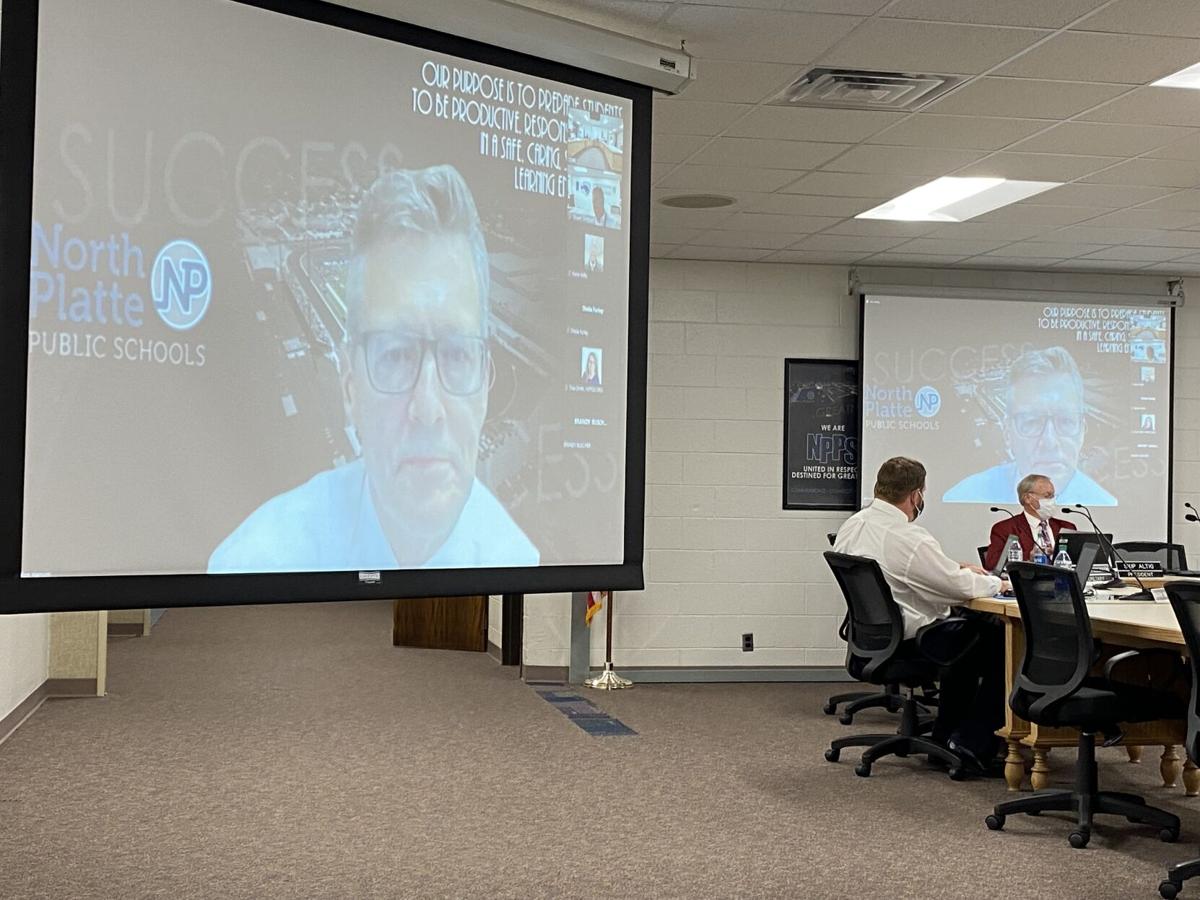 After 38 years in education and seven years as North Platte Public Schools superintendent, Ron Hanson will retire at the end of the 2021-22 school year.
Hanson announced his retirement at Monday's Board of Education meeting. He said he was making the announcement early to give the board time for its superintendent search.
"You have a career goal, you start as a teacher and someday you want to have the greatest impact that you can," Hanson said. "As a superintendent, you impact every child's life in the district, every staff member's life in the district.
"That's a big responsibility and I think we've done a pretty darn good job."
He said the time is right for him to step away.
"As most people know, I've been diagnosed with cancer in January," Hanson said. "This is my second bout with it, and any time one faces the battle with cancer, you reprioritize what's important in life."
After some self-reflection, Hanson said, it's time to put his personal life at the front.
"I have six grown children that have located themselves in the Midwest," Hanson said. "It's time to take the opportunity to visit and spend time with them and just start enjoying life right now."
In North Platte, Hanson said, he assembled a very capable team that saw great success.
"In my six years here, I've met good people," Hanson said. "I'm fortunate to have worked with a lot of great staff. Going to back to making the school district great, it's certainly because I surrounded myself with great people."
At the 2020 graduation ceremony, which was delayed because of COVID-19, Hanson said the improvement in the district was measurable.
"As I told the students and parents at graduation," Hanson said, "I could talk for days of what we've accomplished here in six years. The thing that stands out to me that I could boast about is I came into a district that was good."
He said three schools then were in the "needs improvement" category, some in the "good" and a few that were "great."
"But we moved 100% of our elementary students to the 'great' status and all the schools that were 'needs improvement' to the 'good' status," Hanson said. "Our district is classified as a 'great' district."
Moving a district the size of North Platte into the top category, Hanson said, is a great accomplishment.
"There are lots of factors that go into that measure the state uses to classify you as great," Hanson said.
Hanson said he will carry many good memories with him.
"The friendships that you build, I think that's the important thing," Hanson said. "There's a lot of nice people in North Platte and it's a very welcoming community."
The people in North Platte are willing to work hard, are respectful and do what's right, Hanson said.
"I think the work ethic is one that matches mine," Hanson said. "The influence from my parents was you work hard, you do the right things and you be respectful. Those are the values have stayed with me my entire life."
Hanson and his wife, Tina, will be moving to the Omaha area. Before he became North Platte superintendent in 2015, Hanson had administrative roles in the Papillion-LaVista and Bellevue school districts.
"We have a spot already picked out and it's centrally located so we have access to our kiddos," Hanson said.
Hanson said thanks go to the Board of Education members throughout his years in North Platte.
"That's a big trust when you hire a superintendent to take the responsibility of 4,000-plus students and adults," Hanson said. "That's a big responsibility and I want to thank the board for giving me that opportunity and trust that I would take good care of the children of this community."
He said the district has some challenges this year.
"But we're moving forward," Hanson said. "We want to continue to have our students be successful, keeping our focus on student success."
He said not everyone agrees with the course, but the district will continue to focus on the challenges.
"We still have a pandemic, we still have some raising a ruckus with us," Hanson said. "I like a recent quote from our football coach: 'Remove the noise and stay focused on what matters.'"
Student and staff safety and student learning, Hanson said, will be his priority "so that COVID doesn't overshadow what we are here to do, and that's to learn."