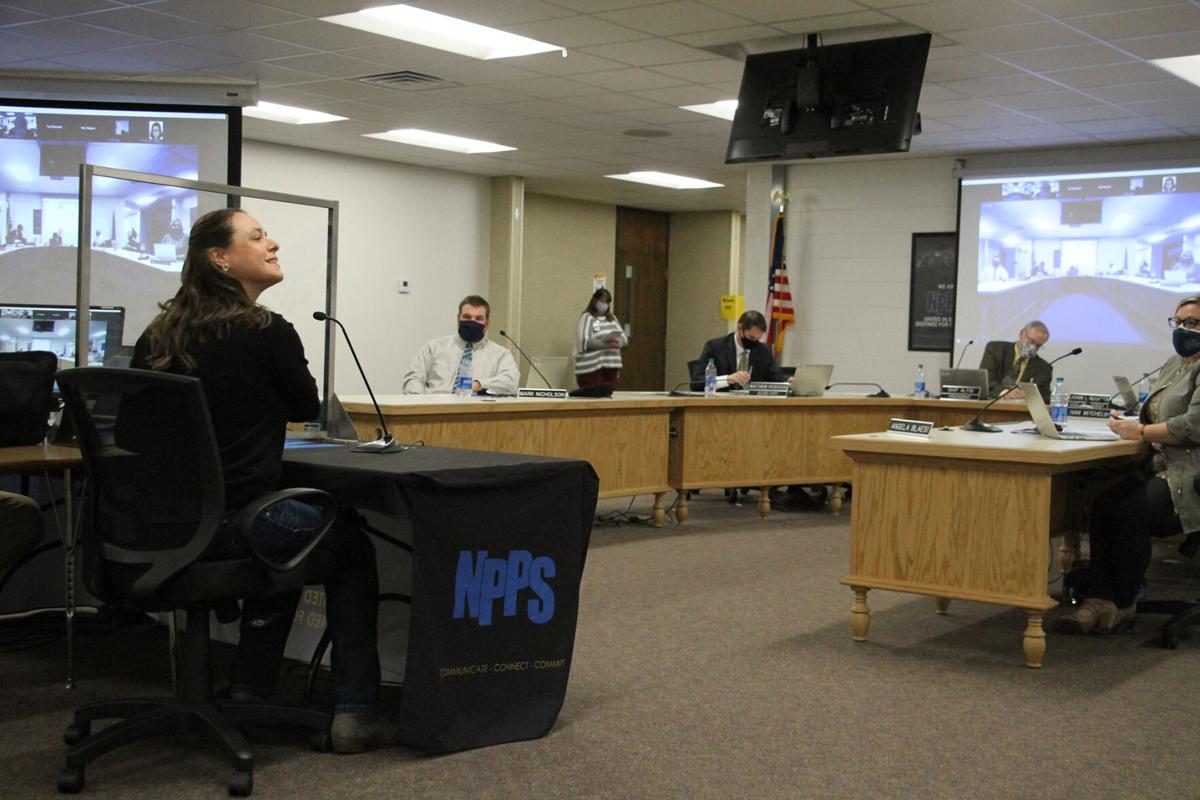 The North Platte Public Schools Board of Education discussed options Monday to reduce the 2021-22 budget by $2 million.
President Skip Altig emphasized that no decision has been made.
Board member Ivan Mitchell voiced his displeasure with the communication process, saying a document that was sent to parents should not have been made public until it was vetted by the finance subcommittee.
"It was decided that the administration would bring a couple of options to the December finance subcommittee meeting so we could discuss them," Mitchell said. "A number of items were presented to us and we looked at every facility in the district."
Mitchell said one of the options was closing Lake School.
"We have talked about Lake and Osgood for quite some time over the last three years," Mitchell said. "When I've been on that committee, the board multiple times has said to administration that it makes no sense to close your newest school."
He said that option was discussed again at the December meeting.
"At that meeting, we were looking at the different options out there. One of the things that we recommended, and seemed to make the most sense, was if we had to close a facility was to look at folding Madison back into Adams as one option," he said.
Madison now has all sixth graders, and Adams seventh and eighth graders.
Another proposal was returning sixth grade to the elementary schools.
"We wanted an analysis, one, as to whether we could do that or not and how that would work," Mitchell said, "and, two, what would the cost savings be associated with that change."
Mitchell said his understanding was that additional work was needed and that the information would be gathered for the committee to discuss again.
"On Jan. 5, I actually did not check my personal email, but started getting messages on social media," Mitchell said, "Communication went out to the Lake and Osgood parents about the different options to reduce the budget."
One of those options mentioned multiple times, Mitchell said, was to close Lake Maloney School.
"It was very frustrating to be the senior board member on the finance subcommittee and to receive the information on the same day as parents," Mitchell said.
He suggested the information sent out was inaccurate and that the process needs to be fixed and changed so communication is worked through the board.
"I think we have some confusion about hierarchy and about the appropriate process for taking this out to the public," Mitchell said. Board member Jo Ann Lundgreen countered Mitchell's statement and said Superintendent Ron Hanson did send a weekly update to the board Dec. 18.
"That would have been following your subcommittee meeting," Lundgreen said. "He did include that budget development document, so you might want to check your emails to see if you got it."
Mitchell responded that Hanson didn't say that document was going to be shared with the public.
"One of the things that's important for everyone to know is that we are the board and we do make the decisions," Lundgreen said. "But also, you need to know that we rely a lot on our administration."
She said the board hired Hanson to do a job and "we are trying to let him do it."
Echoing one of Lundgreen's comments, Hanson said sometimes the process is "messy."
"We want to be as transparent as possible," he said, "so we put that document out and every option will be looked at, so transparency is what we're exercising."
Hanson said the document wasn't perfect, but just as the state Legislature works through bills and makes corrections, the same occurred with the document presented on the district website concerning the options.
"Another piece is important, especially for the staff," Hanson said. "I updated the board on Dec. 11 and again on Dec. 18, and then I pulled the cabinet team together and we decided to hold this information from our staff and our principals because we wanted them to go into the holidays with no anxiety about a budget deficit."
Seven patrons were given the opportunity to speak about the budget reduction. Jill Odle read a letter that had been signed by about 80 parents.
From the letter, she read: "We greatly appreciate the opportunity to participate in this process given the immense challenges that are presented to the district. It would be disingenuous if we did not recognize our frustration with the manner in which our district administrators have conducted themselves during this process.
"First, it is very odd that 11 ideas would be presented to the public before vetting them with the School Board and narrowing them down to 2-3 viable options."
Odle went on to question the numbers that she said demonstrate "a strong bias towards closing Lake School."
Executive Director of Finance Stuart Simpson said after hearing discussion from Lake and Osgood parents and others, the administration was recommending a different option to the board.
That option states: "Examining the multiple options, the District would like to create a one year option of accessing the building fund levy of .01 cents, reduction of 10 non-essential staff, eliminate Adams/Madison busing, Administration reduction, savings in staff hiring and program efficiency PK-12. This will save $915,000, and the District for one year uses reserves of $1,085,000."