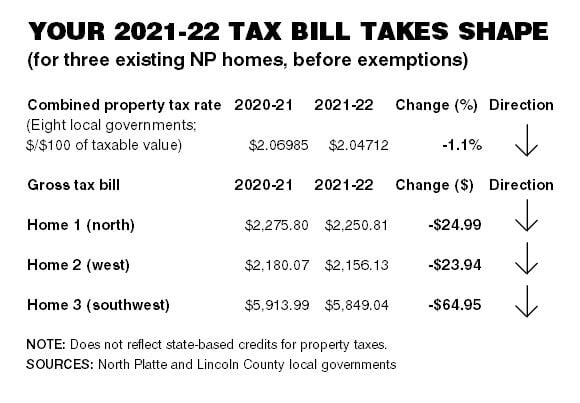 Modest property tax cuts — before state tax credits kick in, anyway — are in store for North Platte property owners for the second year in a row.
Gross 2021 tax bills for three homes in different parts of town will fall by 1.1%, based on 2021-22 tax-setting decisions by the eight local governments serving the city.
That translates into tax-bill cuts of about $2 to $5 per month for those homes, which The Telegraph tracks during its annual coverage of local government "budget season."
Small as they are, they're twice as large as in 2020, when their combined tax rate — and thus their tax bills — declined just 0.5%.
The last new local budget will be set Monday, after the North Platte Airport Authority board holds a budget hearing delayed from August.
The airport board's 2021 tax rate, however, was finalized when the City Council adopted its own tax rate Sept. 9. State law requires cities with airport authorities to approve tax requests and rates for both.
That leaves the last local tax-setting act to Lincoln County commissioners. They must rubber-stamp official 2021 tax rates by Oct. 15, after any technical corrections to valuations or tax requests are accounted for.
The state also has to finalize whatever additional property tax breaks are in store.
For the second year, it'll provide two partial offsets: a state-funded direct discount through the older Property Tax Credit Fund and a newer income tax credit based on property owners' school district taxes.
The older tax break lopped 5% off North Platte's gross 2020 tax bills last December. But the income tax credit, which amounted to 3.1% in North Platte, didn't show up until property owners did income taxes last winter.
State funding for both credits is set to grow in the state's 2021-22 budget, meaning their combined local impact should be greater. The Telegraph will examine that in coming weeks once the sizes of both credits are known.
For now, here's the final look at the gross tax bills for our three sample homes:
» The owners of Home 1, located north of the tracks, will pay $24.99 less before state tax breaks come into play.
They face a gross 2021 tax bill of $2,250.81 on their 1½-story home, which has three bedrooms and a full basement. It's valued at $109,950 for tax purposes.
» Home 2, which has a $105,325 taxable value, will see its gross tax bill fall $23.94 to $2,156.13. The two-bedroom home, which has a single story but no basement, sits near Westfield Shopping Center south of the tracks.
» Home 3, the most valuable for tax purposes at $285,720, will receive a tax break of $64.95 before state credits.
The two-story, four-bedroom home, set for a gross 2021 tax bill of $5,849.04, sits south of Home 2 in traditional southwest North Platte.
Taxable values for each home didn't change from their 2020 totals. Homes 1 and 3 haven't seen their valuations go up since 2017, while the value for Home 2 last grew in 2018.
Upcoming "budget seasons" are likely to draw more attention in that regard, however.
The Lincoln County Assessor's Office plans to generally update valuations on North Platte's commercial properties in 2022, homes north of the Union Pacific Railroad tracks in 2023 and homes south of the tracks in 2024.
State law requires assessor's offices to physically inspect every property in their county at least once every six years.
As in 2020, a mixed bag of valuation and budget changes added up to another year of slightly lower taxes for the trio of homes.
» Valuations: Total taxable values rose modestly for all eight local governments. Increases for North Platte's largest tax consumers were nearly 2.5% for Lincoln County, 1.4% for North Platte Public Schools and a bare 0.11% for North Platte city government.
» Tax requests: The eight governments asked for a combined $71,704,456 in property taxes — just $1,385 more than their 2020 requests.
Though half asked for more in taxes and half less, a nearly $400,000 boost for the school district was more than offset by lower tax requests by the city and county.
» Tax rates: The past month's budget decisions added up to an unofficial citywide tax rate of nearly $2.05 per $100 of taxable value, compared with $2.07 per $100 in 2020.
Only the Lincoln County Agricultural Society and Educational Service Unit 16 will have higher 2021 tax rates. Both take minuscule bites of city residents' property tax bills.
ESU 16, the Mid-Plains Community College Area and the Twin Platte Natural Resources District all cover multiple counties. That means much higher valuations and much lower tax rates compared with the school district, city and county.