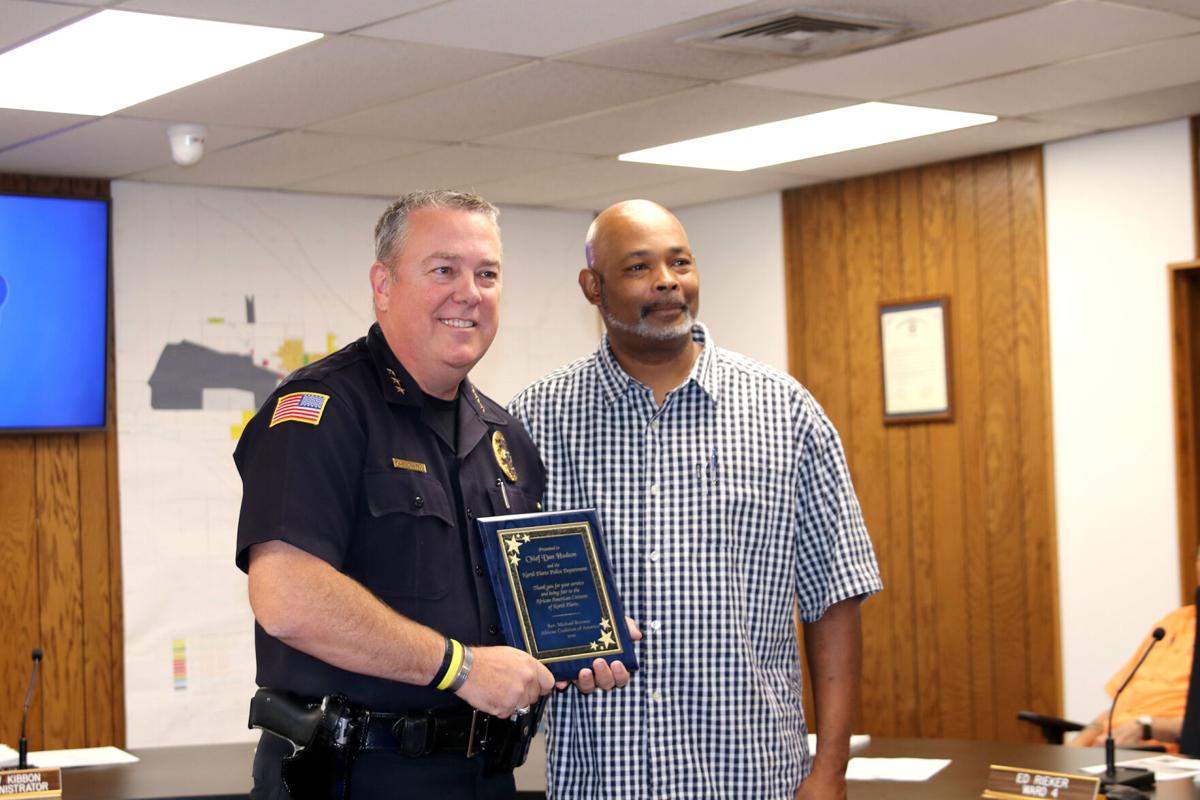 After four months of debate, two drafts and three subsequent amendments, an ordinance updating North Platte's housing-maintenance codes cleared the City Council Tuesday.
An ordinance making the changes won 7-1 final approval, the same margin by which the measure's second draft was advanced Aug. 18 and Sept. 1.
Council members also unanimously adopted an unrelated ordinance rezoning the east side of Newberry Access Road for heavy industrial use between U.S. Highway 30 and just north of the South Platte River.
That vote followed a 6-2 decision to suspend the council rule requiring three "yes" votes on ordinances. Councilmen Ty Lucas and Jim Carman voted against doing so but joined in passing the rezoning.
The lengthy road to passage of the housing-code update began in May, but its initial draft was set aside after one favorable council vote for revisions by a special mayor's committee.
An informal group of North Platte community leaders pushed for the rewrite, saying the city needed to take stronger action to correct substandard housing conditions affecting some lower-income renters.
The heart of the new ordinance updates housing codes to clarify city building inspectors' authority to seek enforcement of building health and safety codes when they encounter dangerous conditions or violations are brought to their attention.
Its language replaces the words "health inspector" with "building inspector" in 21 places, recognizing that the city hasn't employed a health inspector to handle building health and safety issues since 1981.
Some North Platte landlords opposed the ordinance as unwarranted intrusion on landlord-tenant matters. Councilman Ed Rieker, who opposed the measure on first and final readings, echoed that theme once more before Tuesday's final vote.
"It concerns me we have got into a situation where we have to have government involved in every aspect of our lives," Rieker said.
He added that he had mistakenly voted "yes" for second-round approval Sept. 1. Councilman Andrew Lee cast the lone "no" vote that day but voted "yes" on the other two readings, including Tuesday.
Other critics focused on the measure's reliance on the 2018 edition of the "model" International Property Maintenance Code in generally updating the health and safety sections of city building codes.
After that concern was first expressed in a May 26 Planning Commission review, Mayor Dwight Livingston appointed the five-member committee to fine-tune the ordinance.
Its revised draft stripped out language found in the model code that went beyond strictly health- and safety-related issues, Planning Administrator Judy Clark said in unveiling it before the Planning Commission July 28.
Other committee members were Fire Marshal George Lewis, Chief Building Inspector Dave Hahn, Councilman Lawrence Ostendorf and former Councilwoman Judy Pederson, a member of the informal community group.
Over the last month, council members removed duplicate language from city fire codes on firepits and adopted amendments offered by Rieker to clarify codes on plaster repairs and spray-painting of motor vehicles.
Alisha Forbes, a member of the informal group and executive director of Mid-Plains United Way, lauded the council and the city officials who reworked the ordinance.
With the measure in place, she said, "we will no longer be chasing our tails" when United Way and other charitable groups seek to help renters living in unhealthy and unsafe conditions.
"We will be making our community stronger and better together," Forbes said.
The Newberry rezoning, initiated by the city itself, expands the possible types of businesses on the road's east side to include heavy as well as light industry.
It originally would have adopted the broader I-2 zoning all the way south to Newberry's Interstate 80 interchange, but the council followed a Planning Commission recommendation to cut if off north of the South Platte River bridge.
It encompasses the city's wastewater treatment plant and lagoon, as well as the Croell Inc. concrete and asphalt plant. Paulsen Inc.'s storage-tank facility near the strip's south end already has I-2 zoning.
Council members expressed broad support for the rezoning, as did Ward 4 council candidate Mark Woods and Gary Person, president and CEO of the North Platte Area Chamber & Development Corp.
Ward 1 council candidate Donna Tryon urged council members to avoid increasing traffic on East Philip Avenue, which links with Newberry.
Motions to waive the three-vote rule on nonroutine ordinances have been rarer the past two years, discouraged by some council members to increase public awareness when city codes are being changed.
Lucas, a key proponent of ensuring multiple votes, said he supported the Newberry rezoning but the council ought to vote on it at least twice "if we don't have a project we'd be holding up."
Person declined to discuss that matter, but he said having more areas designated for heavy industry improves the city's chances of landing larger manufacturing employers.
With immediate access to U.S. 30 and I-80, and U.S. 83 not far away, the Newberry strip "fits all the checkmarks when industry looks at a certain site," Person said.
Get Government & Politics updates in your inbox!
Stay up-to-date on the latest in local and national government and political topics with our newsletter.