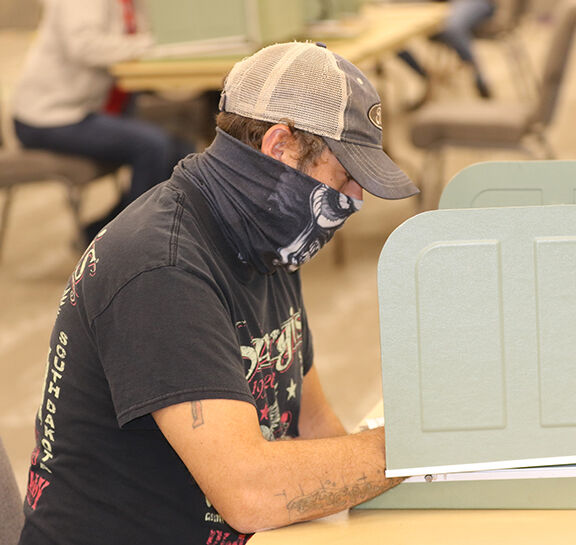 UPDATED, Nov. 4, 2020, 7:50 a.m.: Updated to include final unofficial results.
North Platte's Quality Growth Fund, the city's unique way of using a 1991 state economic development law, will continue for 10 more years past next March.
City voters Tuesday decisively renewed QGF's reserved sales-tax program for the second time, with the 20-year-old program on its way to its largest victory margins since its founding.
Final unofficial returns showed a 70.6% margin for Issue 1, which lets the city continue to set aside a portion of city sales taxes and use it for economic development purposes under Legislative Bill 840. 
Issue 2, which extends the annual formula for deciding when QGF receives fresh sales-tax funds, also won approval with 64.6% of the vote. 
Lincoln County Clerk Becky Rossell said election results won't be official until Thursday, when the county's canvassing board rules on the status of provisional ballots and certifies final results.
Votes already counted showed a 7,353 to 2,268 victory for Issue 1 and 6,717 to 2,871 for Issue 2.
Gary Person, president and CEO of the North Platte Area Chamber & Development Corp., welcomed the outcome Tuesday night.
"North Platte hit it out of the ballpark for their support of economic development moving forward," said Person, whose office is the designated administrator for QGF under the now-renewed program.
"Tonight North Platte won on this issue, and that's what counts. They believe in themselves and their community."
North Platte voters created the fund by a 2,136-617 vote in a special election in February 2001, 10 years after LB 840's passage by the Legislature.
They renewed it in the November 2010 general election, 4,117 to 2,040 — a margin of slightly more than 2 to 1.
QGF's mechanism will remain the same as it has since its creation. It adds fresh money to the fund in a given year only if annual sales-tax income reaches a preset "trigger point."
Until and unless that figure is reached, the city's general fund receives 100% of that year's sales taxes. The trigger point grows 2% each year.
When annual collections exceed the trigger point, the general fund and QGF equally split additional sales-tax income until either the fiscal year ends Sept. 30 or QGF receives a total of $650,000 in new funds.
If QGF does get its full $650,000, the general fund again receives 100% of any extra sales-tax income until Sept. 30. QGF has "maxxed out" its share four times, though not since 2015-16.
As a result of Tuesday's vote, QGF will actually have two six-month "trigger points" to reach before the 2020-21 fiscal year ends.
Because its current 10-year authorization expires at the year's halfway point, QGF can receive up to $325,000 before March 31 if total sales-tax collections for that period exceed $3.64 million.
The city's sales-tax tally for QGF's purposes then will reset to zero April 1, the start of the fund's next 10-year period.
Total tax collections between April 1 and Sept. 30 will need to reach at least $3.72 million for QGF to gain up to another $325,000 at that time.