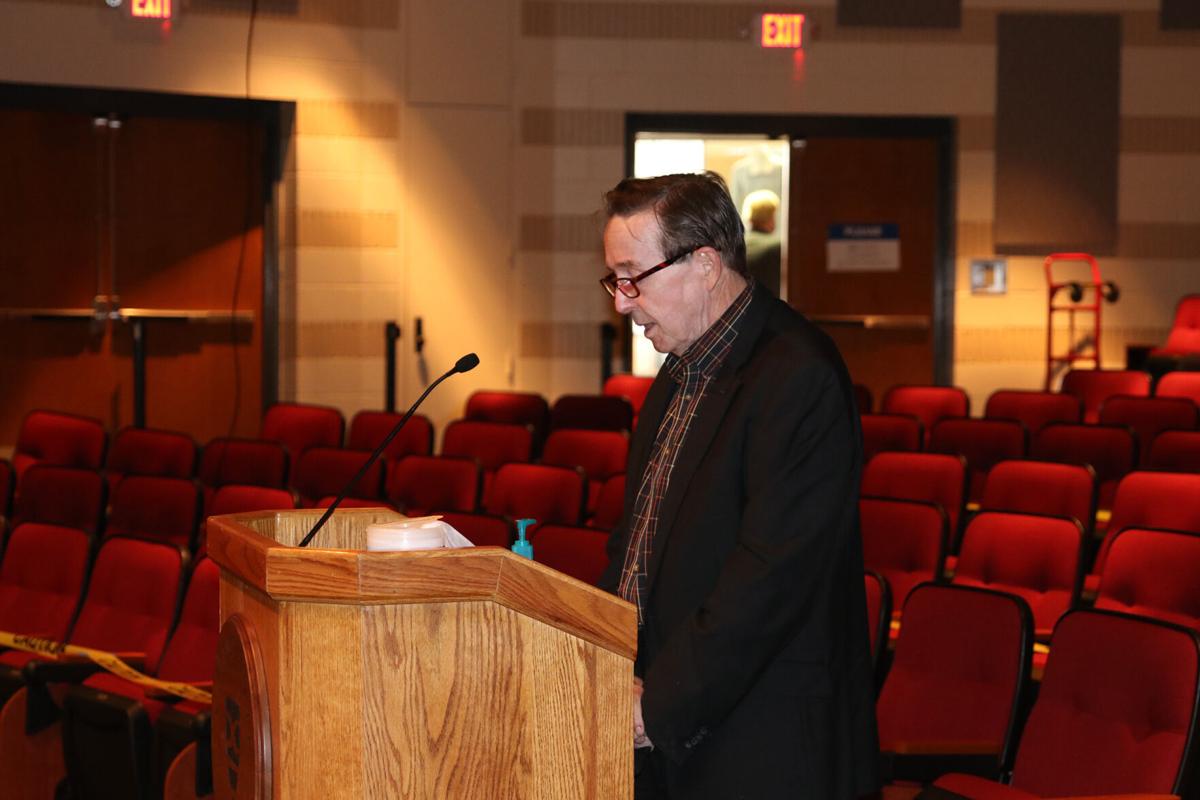 Two leaders of Nebraska's latest casino gambling drive argued Monday that voters need to follow neighboring states and approve a trio of casino initiatives allowing them.
Earlier, a former Sandhills state senator and the co-owner of a North Platte "payday loan" firm squared off over a separate Nov. 3 ballot question capping interest rates on such loans.
Nebraska Secretary of State Bob Evnen moderated the pair of hearings in the McDonald-Belton Theater at North Platte Community College's South Campus.
State law requires one set of pre-election hearings in each congressional district on successful ballot initiatives. Evnen, who held the first set Oct. 8 in Lincoln's State Capitol, will conclude the series Thursday in Omaha.
Casino initiatives
Seven people attended the hearing on the casino measures (Initiatives 429, 430 and 431), one more than did the leadoff hearing on Initiative 428, the payday-loan proposal.
Co-treasurer Lynne McNally and public relations director Drew Niehaus spoke on behalf of the pro-casino Keep the Money in Nebraska campaign.
Its name duplicates the title of several previous petition campaigns to allow casinos under various frameworks.
Initiative 429 would amend the Nebraska Constitution to allow casino gambling at "licensed racetrack enclosures," including the state's six current tracks and any that might be licensed in the future.
Initiative 430 would implement the amendment into state law, while Initiative 431 would set a state casino tax of 20%. Under existing law, that couldn't be altered without a fresh petition drive or a two-thirds vote of the Legislature.
Seventy percent of casino taxes would go to the state's Property Tax Credit Fund, while counties and cities with horse-track casinos would share 25%.
Niehaus said his group's plan would feed more than $40 million a year into the state property tax fund, "a sustainable source of revenue" for property tax relief that Nebraska hasn't had.
It also would "bring back the hundreds of millions of dollars that we are hemorrhaging out of state right now to every state surrounding Nebraska." All allow casinos.
Supporters expect casinos would add 4,600 jobs at existing tracks in Omaha, Lincoln, Columbus, Grand Island, Hastings and South Sioux City, Niehaus said.
Other jobs would follow statewide to support an expected revival of Nebraska's horse-racing industry, he added.
"It's going to provide jobs in rural Nebraska. And rural Nebraska is dying," Niehaus said. "We need to have these jobs in rural Nebraska to keep people in their hometowns."
McNally, also vice president of the co-sponsoring Nebraska Horsemen's Benevolent and Protective Association, focused on whether approving the casino initiatives would also allow them on Native American reservations under federal law.
Not automatically, she said, because the governor would have to negotiate and approve a compact with the state's tribes. Gov. Pete Ricketts opposes the initiatives.
If a future governor consented to a compact, McNally added, the Omaha, Winnebago and Santee tribes could operate casinos only on tribal land held in trust before 1988.
With the Omaha and Winnebago each operating casinos on Iowa reservation land directly across the Missouri River, "they would be pulling from their own customer base" to do so in Nebraska, she said. "I don't think they would be very anxious to do that."
Pastor Gary Goodwin of North Platte's First Assembly of God Church spoke against the casino initiatives on behalf of Gambling With the Good Life, a veteran statewide group.
Nebraskans most likely couldn't later tighten casino regulations to alleviate their social and fiscal costs based on other states' experiences, he said.
The initiatives' language also runs the risk of legalizing unlimited gambling outside casinos, further harming poor Nebraskans but also anyone who proves vulnerable to gambling addiction, Goodwin said.
"Yes, your property taxes may go down by a few dollars," he said. "But that money was in fact lost on bets by your neighbor at the casino."
Payday loans
Financial dangers facing poorer Nebraskans also figured into the earlier hearing on the payday-loan proposal.
Initiative 428 would rewrite state law to cap the average annual interest rate for such loans at 36%. Backers say their interest rates now average more than 400% across Nebraska.
Payday lenders typically provide short-term loans of $500 or less, the U.S. Consumer Financial Protection Bureau says, with the amount — plus interest — due at the borrower's next payday.
But that payoff often drains a needy borrower's funds before he or she can pay rent or buy necessities, said former state Sen. Al Davis of Hyannis, a member of Nebraskans for Responsible Lending.
He said 80% of borrowers take out one or more new payday loans as old ones come due, trapping some poor and minority Nebraskans, senior citizens and veterans in "a vicious cycle of debt," he said.
Since the Legislature authorized payday loans in 1994, "what has become increasingly clear in the decades that have followed is that (payday) lenders are not meeting economic needs. They are exacerbating them."
Penny Kramer, co-owner and manager of Hometown Cash Advance at 901 N. Jeffers St., said many of her clients have no alternative.
"Most banks will not give a person $50 (or) $150 on short term, long term or anything," she said.
She learned that when she took out a "payday advance" herself in 2002, Kramer said. She paid down that loan, joined a payday firm and started her own in 2005.
Her loans can be for much less than $500, she added, because clients may need just enough for medicine or groceries.
Saying "fee" is a better term than "interest," Kramer said she legally can't make more than $8.82 on a $50 loan whether it's repaid in five days or a month.
On an annual basis, though, "that APR goes crazy," she said.
The amounts she gave represent an "annual percentage rate" of 211.68%, according to an APR formula on the Consumer Financial Protection Bureau website.
The state hasn't raised payday lenders' maximum fees in years, Kramer said. If Initiative 428 passes, "I worry about my people" and whether she'll have to close.
---
Citizens speak out at ballot initiative hearings
Get Government & Politics updates in your inbox!
Stay up-to-date on the latest in local and national government and political topics with our newsletter.