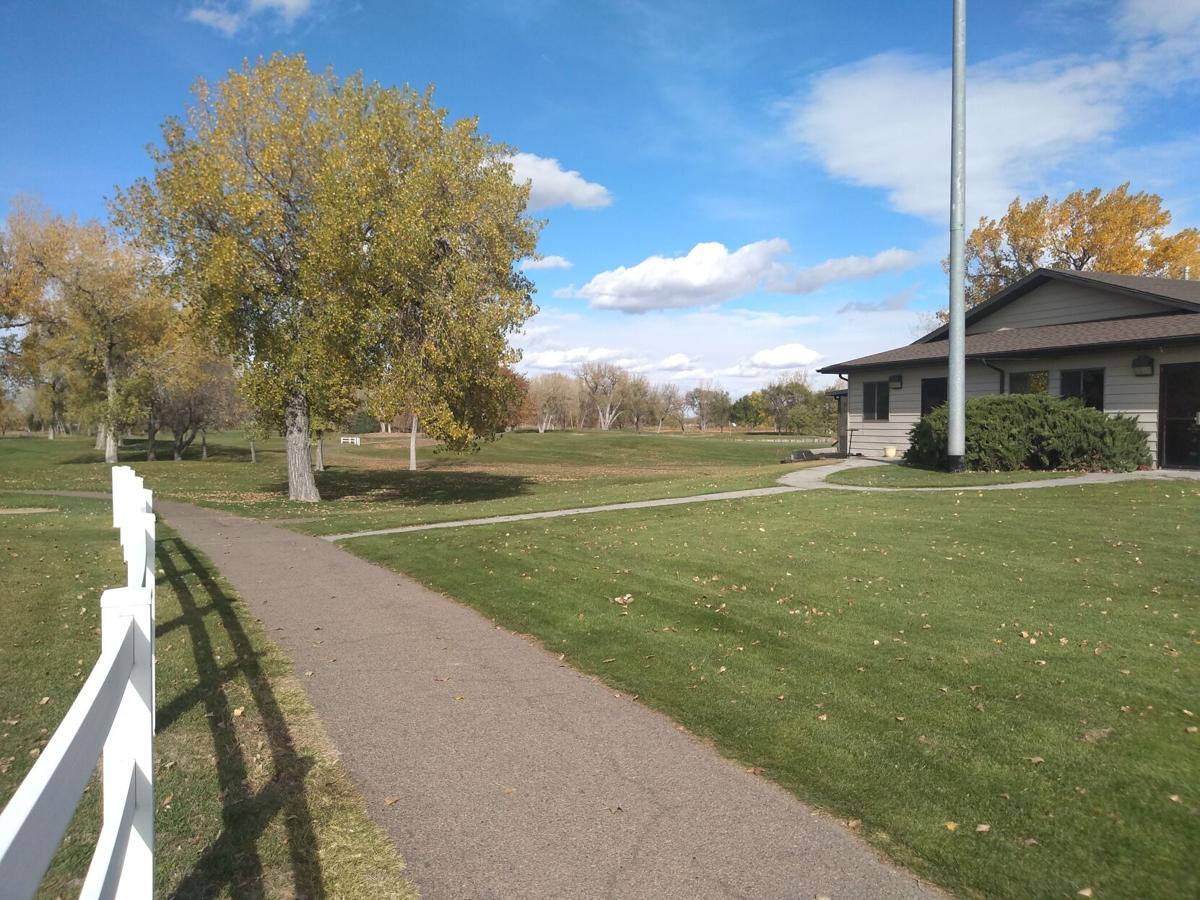 UPDATED, May 24, 2021: Updated to clarify relationship between Chief Industries and C&L Land LLC.
A climax to North Platte's 30-year dispute over owning and operating a public golf course — exacerbated by four notable floods at its 26-year South Platte River location — could be at hand.
A business unit partly owned by Grand Island-based Chief Industries, which already is pursuing a multistage development plan in North Platte, has proposed a lease-purchase agreement to acquire control of Iron Eagle Golf Course.
The City Council will be asked Tuesday to authorize negotiations with C&L Land LLC to reach a deal, City Administrator Matthew Kibbon said Thursday morning.
He said C&L Land, with Chief executives DJ Eihusen and Roger Bullington as principals, was the sole respondent by Tuesday's deadline to the city's "request for proposal" from parties interested in buying or otherwise taking over Iron Eagle.
C&L Land is proposing a two-year lease, Kibbon said, with an option to buy the 18-hole course during or at the end of that time. Other details would be worked out during negotiations, he said.
The 154-acre course sits just east of Chief's proposed senior-living development, the final stage in the $30 million to $40 million development plan Bullington unveiled in August 2019 as president and general manager of Chief Development Inc.
According to C&L Land's lease-purchase proposal, Kibbon said, Iron Eagle "plays into what they're trying to accomplish with their future development in the area."
Bullington has said so more than once since first proposing Chief's three-stage plan, while adding that closing Iron Eagle wouldn't be a deal-breaker. He was unavailable for comment Thursday.
Work is nearly finished on the initial seven buildings at Chief's Iron Trail Industrial Park, located at the north end of Twin Rivers Business Park between Interstate 80 and East State Farm Road.
The firm also envisions further commercial development along Halligan Drive as well as the proposed 200-unit-plus housing complex between Iron Eagle and the NPPD Canal. The latter would be aimed at, but not limited to, potential residents 55 and older.
Chief has received a $1 million "performance loan" from the city's Quality Growth Fund toward startup costs for its larger development plan.
It's expected to seek city annexation of the commercial and senior-living sites, along with tax increment financing to help Chief recover its infrastructure costs for both. It also received TIF for Iron Trail.
If the city and C&L Land reach a deal for Iron Eagle, it would end a saga dating to voters' rejection of public golf in May 1990 and subsequent reversal in May 1992 after the Glenn Chase family donated the site.
Iron Eagle opened in June 1994, but major South Platte flooding — the first the city had seen in decades — closed several low-lying holes almost exactly a year later.
The river rose up again in June 1997, September 2013 and May 2015, disrupting Iron Eagle each time.
Each flood set back North Platte city leaders' hopes of keeping a public promise that Iron Eagle would gain enough momentum to cover its own expenses. Both direct and hired management of the course were tried, with little ongoing success.
As recently as last fall, Iron Eagle's woes prompted heated council debates that reflected equally strong divisions among local residents.
Course patrons and believers in its value as an economic development asset regularly squared off with critics of Iron Eagle's drain on city finances and its operation in competition with private courses.
The ground finally began to shift in April, when the Chase family — whose original land donation required the city to operate a public golf course — granted a "quit-claim" deed giving the city clear title.
The council Sept. 1 unanimously endorsed seeking someone to buy Iron Eagle or lease it with or without a lease-purchase option.
Kibbon said he has visited with Mayor Dwight Livingston and all eight City Council members since Tuesday's RFP deadline.
Though C&L Land submitted the only bid, the mayor and council "believe this is the right group to enter into conversation with," he said.
Gary Person, president and CEO of the North Platte Area Chamber & Development Corp., applauded C&L Land's proposal and its potential side benefit of settling three decades of controversy.
"This is going to be a very good thing for North Platte and its future development," said Person, who called Chief a "great Nebraska company continuing to invest in North Platte.
"Provided it all works out in the negotiation agreement with the city, it will be a good compromise on the status of Iron Eagle," he added. "Kudos to the city for moving everything forward."
Alan Erickson, a member of Citizens Concerned About Iron Eagle's Red Ink, likewise welcomed Chief's offer.
"I'm all for them," said Erickson, a former golf course operator. "I think they have the best opportunity to make something work if it can be workable.
"They'll add the housing component to it, which is the only way it could work. A stand-alone golf course doesn't work at all."
Erickson and other members of his group have highlighted Iron Eagle's chronic fiscal problems in urging the city to find someone to take the course off its hands.
"Our goal was to stop the bleeding at the city level," Erickson said. If the deal is done, "the winners are the city taxpayers who don't have to subsidize it. That's a $200,000 (per year) win right there."
Selling the course also means "bringing money back to the city through taxation," he added. "That's the city's only way to get money back from this thing."
Even with just the C&L Land bid to work with, Erickson said, city officials "did the right thing" in opening up Iron Eagle broadly for sale or lease proposals.
"They put it out for people to look at so people had a chance," he said.