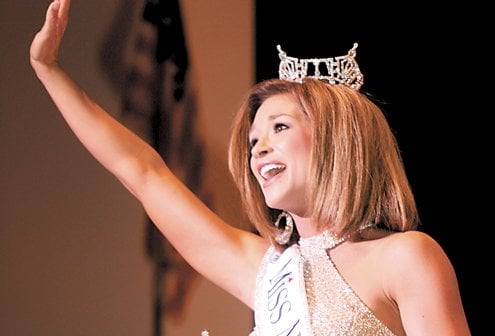 Decade in and decade out, Nebraskans would watch the Miss America Pageant knowing they could turn off the TV after the first 15 minutes.
Oh, Sharon Kay Ritchie of Grand Island did win Miss America in September 1955 — but as Miss Colorado (where she attended college). Miss Nebraska rarely heard her name called as a semifinalist. You probably wouldn't see her on TV in the final night's modeling or talent events. Making the finals? That was for the bigger states.
That didn't change for 25 years after the Miss Nebraska Scholarship Pageant settled in North Platte in 1985. Then, in 18 months, it changed forever.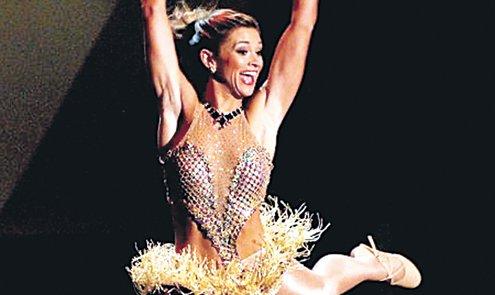 Brittany Jeffers of Ogallala, crowned Miss Nebraska in June 2009, finished an unprecedented seventh at Miss America 2010. Jeffers, a veteran of five Miss Nebraska pageants, was the national pageant's first Nebraska representative to crack the top 10.
Then in June 2010, the woman Jeffers crowned as her successor — 17-year-old Teresa Scanlan of Gering — became the first Miss Nebraska to win the Miss America crown. Her victory on Jan. 15, 2011, was a stunning, joyous shock for an entire state, including North Platte residents Jay and Amy Engel.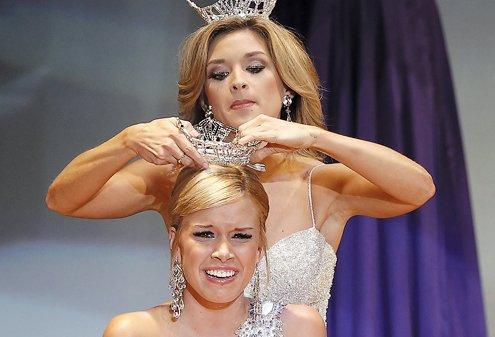 They recently shared their experiences of watching Jeffers and Scanlan in Las Vegas while unpaid co-executive directors of Miss Nebraska from 2008 to 2015.
North Platte's contestants and volunteers were energized by Jeffers' success at Miss America 2010, Jay Engel said, because "she was the hometown girl even for North Platte" by coming from neighboring Ogallala.
"For Brittany to even get her name called once was huge," Amy Engel agreed. When she made the top 10 and Scanlan then won Miss America, "it really did give to Miss Nebraska competitors the hope that a girl from little ol' Nebraska could do this."
Miss America was midway through a 10-year absence from its traditional home in Atlantic City, New Jersey. The change of scenery doesn't much affect Miss Nebraska's fortunes, the Engels said, though Nebraskans could more easily travel and cheer on their state winner.
More important, they said, were people tied to the national pageant who encountered the Miss Nebraska winners and relayed their observations to the national organization.
"I think the more people we got involved (here) as mock interview judges, the more people who had these girls come speak at their events, the more they realized how incredibly talented and well-spoken these girls were and they didn't understand why Nebraska didn't always perform well," Amy Engel said.
Miss Nebraska winners after Jeffers now knew they could indeed compete well at Miss America. But no one saw Teresa Scanlan coming so quickly.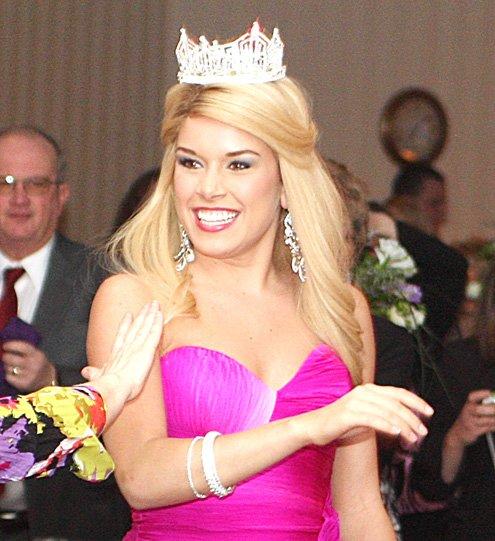 The homeschooled daughter of Mark and Janie Scanlan of Gering had graduated from Scottsbluff High School mere days before Miss Nebraska 2010. A local pageant contestant since age 13, Teresa had competed in the 2008 Nebraska's Outstanding Teen contest in North Platte, where she won the non-finalist interview award at age 15.
She was named Miss Scotts Bluff County in late summer 2009. That would have qualified her for Miss Nebraska, the Engels said, had she not then still been 16. So Scanlan renounced that title, waited until her 17th birthday on Feb. 4 — the minimum age for Miss America eligibility — and entered and won the Miss Southeast pageant in Crete.
Her 13 fellow contestants in North Platte included several pageant veterans, but after a couple of rehearsals, Jay Engel said, "Teresa's really standing out, and we didn't know why. She was a little quirky, she came with one pantleg cut off. She was a little different."
"But then we heard her interview and we were, like, wow," Amy Engel said.
Scanlan won the preliminary evening wear and talent contests on successive nights. After Jeffers crowned her, Miss Nebraska judge and Miss America 2004 Ericka Dunlap declared: "We have selected a Miss Nebraska that is very capable of following in Brittany's footsteps."
But there was Nebraska's long string of failures at Miss America. How did Scanlan break the Cornhusker State curse at last?
Miss Nebraska leaders, the Engels said, urge their winners to be themselves and get the most out of the experience. But Scanlan "just wanted help being the best she could be, and she was willing to try anything," Amy Engel said.
Once at Las Vegas, the Engels stressed to Scanlan's parents that Jeffers had made it to the top 10 by scoring consistently. Then Scanlan won the preliminary talent competition. The game was on.
As in 2010, the Miss America finals were held in Planet Hollywood Resort and Casino's Theatre for the Performing Arts. The Engels had learned the TV crews would move toward a contestant's cheering section before her name was announced. It had happened twice as Jeffers advanced.
Now it happened again, and again, as Scanlan made the final five — uncharted territory for any Miss Nebraska. "At this point, our phones are already blowing up," Amy Engel said.
"And then we hear her interview, and we think, oh boy, she has a real chance of winning this thing," Jay added.
Scanlan and Miss Arkansas Alyse Eady were still standing at center stage, the only two women left. The Engels' hearts "were just pounding," Jay said. Nearby directors of other state pageants, knowing Nebraska's pageant history, were excited as well.
Instead of announcing the first runner-up, co-host Chris Harrison chose to announce the winner.
"Ladies and gentlemen, the 90th anniversary Miss America — your Miss America 2011 — is: Miss Nebraska! Teresa Scanlan!"
After 85 years of statewide futility, and 25 years after North Platte won the right to host its state contest, a young Nebraska woman, representing her home state, had won America's biggest pageant.
"We were so excited for lots of different reasons," Amy Engel said. "Obviously for Teresa and for family, obviously for us … but also for all the (Miss Nebraska) board and the volunteers over the years who had worked to make the program what it was."
The Engels faced a new set of problems. Scanlan's third runner-up, Nicky Haverland, was the highest-ranking North Platte finalist able to complete Scanlan's Miss Nebraska term. Meanwhile, Scanlan would return to Nebraska in five weeks for the national winner's traditional homecoming.
That usually meant a single visit to the state pageant's host city, the Engels said — but they were determined to enable all of Nebraska to celebrate with Scanlan. They insisted on a three-city tour: Scottsbluff-Gering, where she could be with family, friends and neighbors; North Platte, as host city; and Omaha, home to many financial supporters of the state pageant.
It took some doing to make the Miss America staff understand Nebraska's vast geography and smaller population. "The (homecoming) rules said she could not be in a car longer than two hours," Amy Engel said. "Look at our state! We're nine hours across."
But a private jet was found, and the Nebraskans prevailed. After her celebrations Feb. 23 in Scottsbluff-Gering, Scanlan came to North Platte Feb. 24 and 25, drawing hundreds to a Platte River Mall autograph session and visiting both high schools to promote her pageant cause of fighting eating disorders. Her tour concluded in Omaha on Feb. 26.
Scanlan's Miss America judges and the other Las Vegas finalists joined her at a Feb. 25 celebration banquet at Quality Inn & Suites. Ericka Dunlap, who had touted Scanlan's qualifications after she won Miss Nebraska, was there, too. "We did it!" she declared.
The reigning Miss America was the obvious choice as Miss Nebraska's mistress of ceremonies in June 2011. Scanlan also returned to North Platte for the 2012, 2013 and 2016 pageants, sharing the positive experiences and occasional struggles with being in the national spotlight. Her Miss Nebraska predecessor, now Brittany Hannema, co-hosted the 2014 pageant.
"If there's not a lot of pain and sacrifice involved, it's not really worth it," Scanlan told The Telegraph in 2016. "You appreciate it more when you've been through a lot."
No one can yet know whether this year's Miss Nebraska 2022 contestants will match what Brittany Jeffers and Teresa Scanlan accomplished. But in a state that talks about rural-urban splits, it was a western Miss Nebraska who cracked the big-state glass ceiling at Miss America so another westerner could shatter it for good.