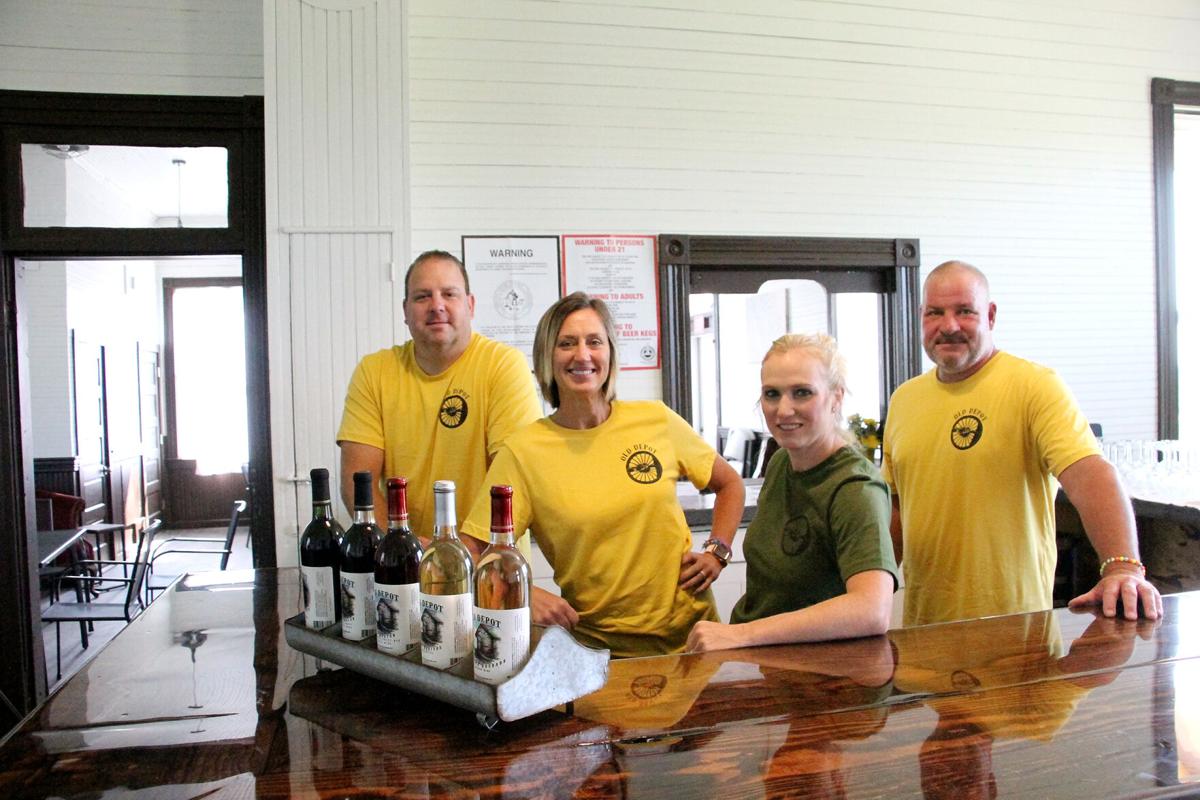 BRADY — Turning their hobby and passion into a business opened the door of opportunity to enjoyment of life for Jeff and Necole Miller and Jason and Sharon Axthelm.
The two couples celebrated the first official day of business at the Old Depot Vineyard south of Brady on Saturday. They purchased the historic Gothenburg train depot and moved it into its current location at 33651 E. Banner Road on Oct. 24, 2018.
"My husband (Jason) has been making hobby wine for years," Sharon said. "It just happened we were having some wine with the Millers, Jason had made some new wine, and Jeff was like, 'This is really good Jason. Like, really good.'"
Then the depot came up for sale and the conversation turned more serious.
"(The Millers) kind of off-handedly said, you know what we should do, we should buy that and open a winery," Sharon said. "We put in the bid and we got it and then things got real."
The basement and foundation were constructed — Jeff and Jason did the construction with the help of their wives and friends.
The location on Banner Road offers a fabulous view, Jeff said.
"Jason would share, hey it would look good right here, because you can see the canyons, you can see the hills, everything looks pretty at night," Jeff said. "This time of year you've got all the corn growing, everything is green."
As far as producing the wine, they will grow their own grapes, but will purchase grapes from elsewhere as well.
"We deal with local vineyards," Jason said, "Old Cellar in Arapahoe, Feather River in North Platte and 5 Trails in Paxton. We like the relationships we have with the local vineyards."
Several flavors and types of wines will be offered. The wines have been developed and tested by friends and future customers.
"Rhubarb is definitely our most popular wine," Jason said. "We have two wines we're kind of known for right now. One of them is a petite pearl, which is our dry red wine, Midnight Star."
He said people don't realize a good dry red wine can be produced in Nebraska. For the rhubarb wine, Sharon said it takes 450 pounds of rhubarb to make about 450 to 500 bottles of wine.
The feelings of reaching this point of offering their product to the public has brought the Axthelms and the Millers great joy.
"My feelings are excited because we've worked hard and we know the possibilities," Jeff said. "We want to make sure people have a good place to go, another option in the area."
Jeff said it was great taking an old building and giving it a purpose versus it not being here any more.
"I think all of us take a lot of pride in how it looks and how it developed," Jeff said.
On Friday, a friends and family night gave the owners the opportunity to see their dream in action before opening to the general public.
"(My feelings are) relief that it's finally here," Necole said. "We've had so much emotion rolling up into this point and we're finally able to sit back and take a big breath in and realize that all of that prep work is over (is a relief)."
She said it was great to see everyone on Friday having so much fun.
"Taking a look last night out at everybody who had kids outside playing with the corn hole boards, it's just a great family atmosphere," Necole said. "Everybody was able to get outside away from electronics, away from all of that and just enjoy time together."
Sharon said the history of the depot came to light when Donnee's Electric was cutting holes in the wall to put in the electricity.
"We found an old UP (Union Pacific) ledger from the early 1900s in the wall of the freight room," Sharon said. "The station master's name was LJ Morton. He had big, beautiful signature and we kept seeing it everywhere in the ledger."
They decided to name one of their wines LJ Morton to connect the past with the present.
Food will be offered and Sharon said they would start with a small menu and then add as they gain more experience.
"We're starting really slow, but eventually we're going to have wood fire pizzas," Sharon said. "We have a big Italian wood fire grill that we bought. But we're not there yet, so right now we are doing some bruschettas."
She said they are serving brisket nachos that are "to die for," along with meat and fruit trays, charcuterie boards and more.
Jeff, Jason and Sharon are all from North Platte and Necole is from south of Gothenburg. All four are employed in full-time jobs and will operate the winery as a side business.
"I am the Brady Village Clerk," Sharon said. "Jeff is an accountant, my husband works for a Telcom company out of Lincoln, he's the vice president of that and Necole sells insurance."
The Old Depot Vineyard will operate three days a week, Friday from 5-9 p.m., Saturday from 11 a.m. to 9 p.m. and Sunday from 11 a.m. to 6 p.m.
The website at olddepotvineyard.com has more information about the business and people can call 308-584-2251.