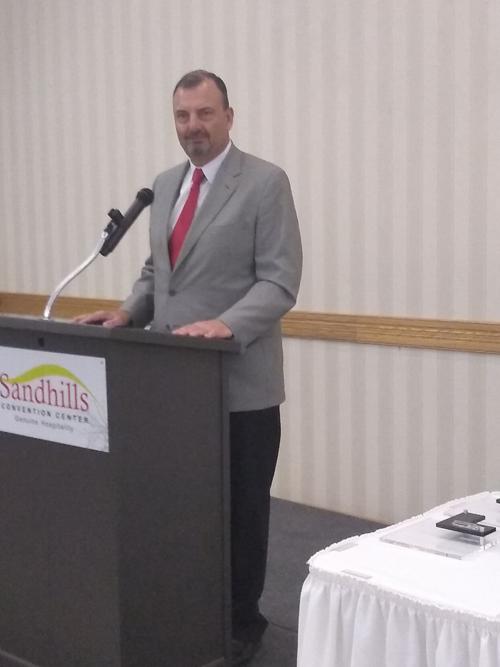 As difficult as COVID-19 has been, it's giving Nebraska a rare opportunity to lure workers and companies from America's large cities and states, the Nebraska Chamber of Commerce and Industry's president said Thursday in North Platte.
Bryan Slone, who grew up in Gering, delivered that message during a morning virtual state chamber forum and again at the North Platte Area Chamber & Development Corp.'s annual meeting.
Nebraska has the opportunity, he said, because it's survived the pandemic's economic effects far better than most and middle America looks more attractive now to cooped-up urban Americans.
COVID-19 "caused everybody in this country and everybody in this state to re-evaluate their lives a little bit," he told North Platte chamber members at the Sandhills Convention Center.
Slone said the state chamber and the statewide Blueprint Nebraska strategic planning group will strongly urge Nebraskans to prioritize attracting 18- to 34-year-old workers and professionals to their small towns and counties.
The state chamber's Lincoln office, Slone said, is "getting calls every day" from firms and professionals from Illinois, California and New York — among other states — whose lives and businesses have been badly disrupted by COVID-19 shutdowns.
But he warned that Nebraska likely has only a two-year lead on nearby states that also will appeal to those open to fleeing inland.
Urban and rural Nebraskans alike must unite to seize the opportunity, said Slone, who called himself "a western Nebraska kid at heart."
"For the last 20 or 30 years, my friends in Omaha would say, 'Slone, you're nuts. They're never going to come back. Everybody's going to move to Omaha or Lincoln,'" said the one-time aide to former U.S. Rep. Hal Daub of Omaha.
But these coastal callers are "interested in what Nebraska may have to offer and where they can be," he added. "And it doesn't have to be in Omaha or Lincoln anymore."
Slone laid out three major reasons why Nebraska has a chance to reverse its long-decried "brain drain" even amid its own economic fallout from the coronavirus:
» Though the state's gross domestic product likely will have shrunk by 5% once COVID-19 subsides, that's much better by far than most other states.
Nebraska's current 4% unemployment rate — less than half September's nationwide 8.4% rate — already is "best in class in the country," Slone said.
» Nebraska's bankers deserve much credit for the state's enviable position through their quick, tireless work in accessing the federal emergency Paycheck Protection Program for small businesses last spring.
Slone said the forgivable, payroll-oriented PPP loans kept Nebraska's small employers afloat during those weeks. State tax collections as well as employment levels have rebounded since, he added.
» Gov. Pete Ricketts' decision to stop short of an all-out statewide "stay-at-home" order averted economic and supply-chain damages still plaguing many other states.
"That turned out to be an incredibly smart decision, because our businesses kept going" even with COVID-19 precautions, Slone said. "It had a lot to do with where we are."
Between COVID-19 disruptions and America's recent trade wars, Slone said, many U.S. businesses now looking to shorten their supply chains.
Equally importantly, he added, many of the 30% to 40% of Americans forced to work from home during the pandemic likely won't return to their offices after it's over.
They've discovered what rural and small-town Nebraskans have long been arguing, Slone said: Quality of life isn't found only in big cities.
"What is now readily apparent is (that) you can live anywhere and work anywhere and you can have the best of both worlds," he said. "You can run a global company from Gordon or Rushville or Chadron or North Platte or wherever you want to be."
The 15 economic and policy priorities Blueprint Nebraska has identified since its 2018 organization dovetail well with luring Americans back to their heartland, he said.
Ricketts already is addressing one of them — rural Nebraska's sometimes spotty broadband capabilities — with part of Nebraska's $40 million share of federal COVID-19 CARES Act funding, Slone said.
The Legislature must be ready to keep that ball rolling, he said, in addition to reforming a statewide tax system "about 40 years out of date at best."
But building Nebraska's workforce, and building and renovating the housing new arrivals will need, is just as important as tax reform if not more so, he added.
"We need 30,000 to 50,000 18- to 34-year-olds to move to Nebraska. End of story," Slone said. "If we can get the housing and the taxes right and we can develop our downtowns and then we can start marketing, we're going to win this battle."
Beyond the State Capitol, he said, Nebraska's smaller cities, towns and counties need to be ready to provide disillusioned younger urbanites with places to live and enjoy life with their families.
North Platte is on the right track with its ongoing downtown renovations and initiatives to build new housing units and expand recreational opportunities, he said.
"I've never thought such a place was ripe for economic opportunities as downtown North Platte," said Slone, who saw the downtown Canteen District renovations during a Thursday morning tour with local leaders.
Slone and former state Sen. Jim Smith, Blueprint Nebraska's executive director, headlined the state chamber's virtual forum originating from North Platte Community College's South Campus.
Nebraska's six community college areas are taking turns hosting similar forums, which are replacing the state chamber's usual fall tour of 30 to 40 cities due to COVID-19.
Community colleges have a major role to play in training many of the state's young people and persuading them to make their careers in the state, Slone and Smith said during the morning forum.
Get local news delivered to your inbox!
Subscribe to our Daily Headlines newsletter.