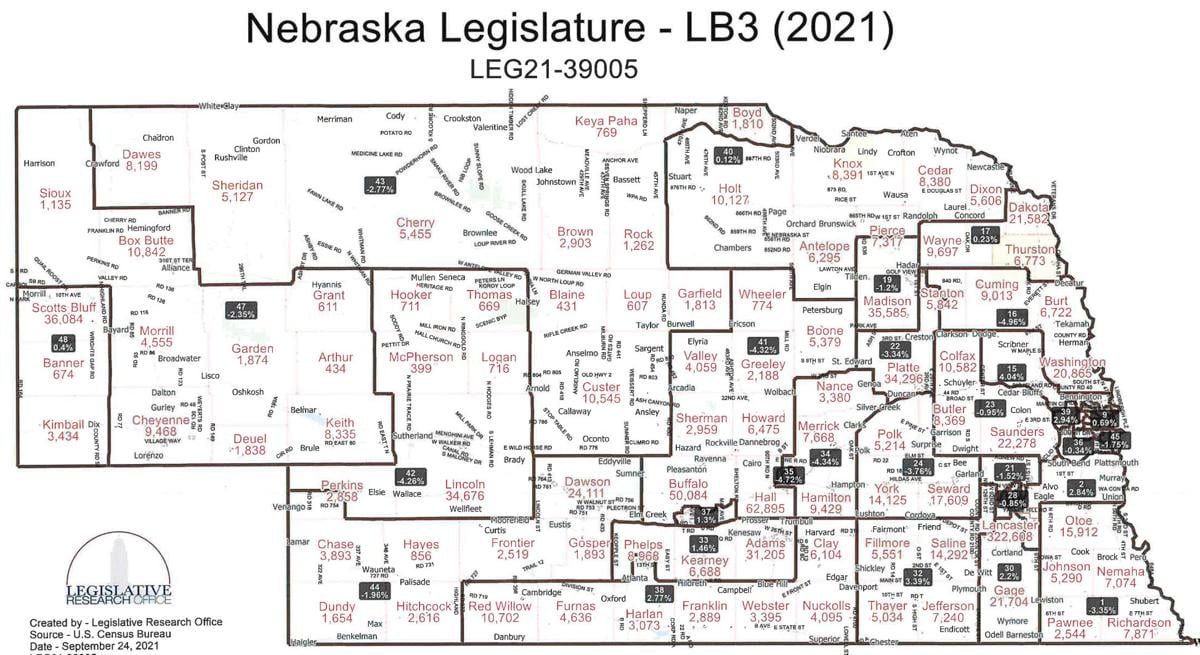 A revised legislative redistricting proposal presented to state senators Friday would move a different west central Nebraska district to the Omaha area than the first plan.
Lawmakers voted 43-5 for first-round approval of the latest version of Legislative Bill 3, which would move Gothenburg Sen. Matt Williams' District 36 east instead of Venango Sen. Dan Hughes' District 44.
A previous filibuster sidelined the original version of LB 3, which would have moved District 24 from the York and Seward areas to the fast-growing areas of western Sarpy County.
The handful of "no" votes included Sens. Mike Groene of North Platte and Steve Erdman of Bayard, who represent Districts 42 and 47 respectively.
Williams, Hughes and Sens. John Stinner of Gering and Tom Brewer of Gordon voted for the revised map. Brewer is one of nine senators on the special Redistricting Committee.
Lawmakers will return Tuesday for further debate on the half-dozen maps for statewide elected bodies they have to redraw. They're projected to adjourn next Friday.
The latest Unicameral map, negotiated over the past week, moved forward despite fierce opposition from other western senators dismayed that it still costs their region a third district in 30 years.
Lincoln County, long the only county in District 42, would gain four Sandhills counties from Brewer's District 43 — Hooker, Thomas, McPherson and Logan — and most of Perkins County from District 44 under the revised map.
But Custer County, currently paired with Dawson County in District 36, would return to its previous home in District 43. Dawson County would move to District 44, while northern Buffalo County — the last part of Williams' district — would move to District 41.
Williams, who will leave the Legislature with Hughes after next year due to term limits, said he had to decide it was better for all Nebraska to give up his public fight to keep Custer and Dawson counties together.
The revised map at least allows those counties to be strong anchors of their respective destination districts, he said.
Because potential 2022 candidates need to know where new district lines will be, "I think it is imperative that we do our best as senators to get this done in this special session and this time frame and not push this to January," he said.
"In my case, I've chosen to focus on the bigger picture by thinking about the whole state along with the constituents of District 36."
Other lawmakers said a metro-area lawmaker, District 10 Sen. Wendy DeBoer of Bennington, gave up territory to make the revised map work though it would make her own re-election harder.
Speaker Mike Hilgers of Lincoln warned earlier this week that failure to compromise would force him to delay further redistricting efforts to the 2022 regular session.
That would force a delay in the usual mid-May primary election, he added, because local governments can't redraw their election districts until the Legislature finishes statewide maps.
Groene, who is also term-limited, decried lawmakers' failure to consider yet another alternative map that he said wouldn't have cost western Nebraska another district.
He said that map by Sens. Robert Clements of Elmwood and Bruce Bostelman of Brainard would have kept the heart of all 49 current legislative districts intact.
"The definition of peace — and everybody likes peace — is that somebody surrendered," Groene said. "I'm not willing to surrender. ...
"We continue to move things east and we say (it's) red (vs.) blue," referring respectively to Republicans and Democrats. "But I continue to see in this body rural vs. urban."
Clements and Bostelman joined Groene and Erdman in opposing the compromise map. Another rural lawmaker, Sen. Dave Murman of Glenvil, was the fifth "no" vote.
Erdman complained that none of the Redistricting Committee's public hearings on the originally proposed maps was held west of Grand Island.
"Did we have any (hearings) in North Platte or Scottsbluff or Ogallala or Broken Bow?" he said. "Did we have any out west, where people (are) who are disenfranchised with getting involved with the government because they live so far away?"
Sen. Justin Wayne of Omaha, the Redistricting Committee's vice chairman, introduced the new Unicameral proposal.
The special panel's chairwoman, Omaha Sen. Lou Ann Linehan, introduced a revised House of Representatives map that also advanced Friday.
Following are more details of the changes to the surviving western Nebraska districts under the latest legislative map:
» District 42: Both LB 3's original map and a previous alternative offered by Wayne would have added Frontier County to Lincoln County. Friday's revision dropped that common thread, keeping Frontier in District 44.
» District 43: Brewer's district would remain Nebraska's largest by geography. Despite losing four counties to District 42, it still would stretch from Dawes County in the northern Panhandle to Custer in the southeast.
» District 44: Hughes' district would keep his home ground in southwest Perkins County but would lose Red Willow County to District 38 while gaining Dawson County.
» District 47: Erdman's district would gain Alliance from Brewer's district and otherwise retain its current population bases in Cheyenne and Keith counties.
» District 48: Gering Sen. John Stinner's district would grow from Scotts Bluff County southward to include Banner and Kimball counties.