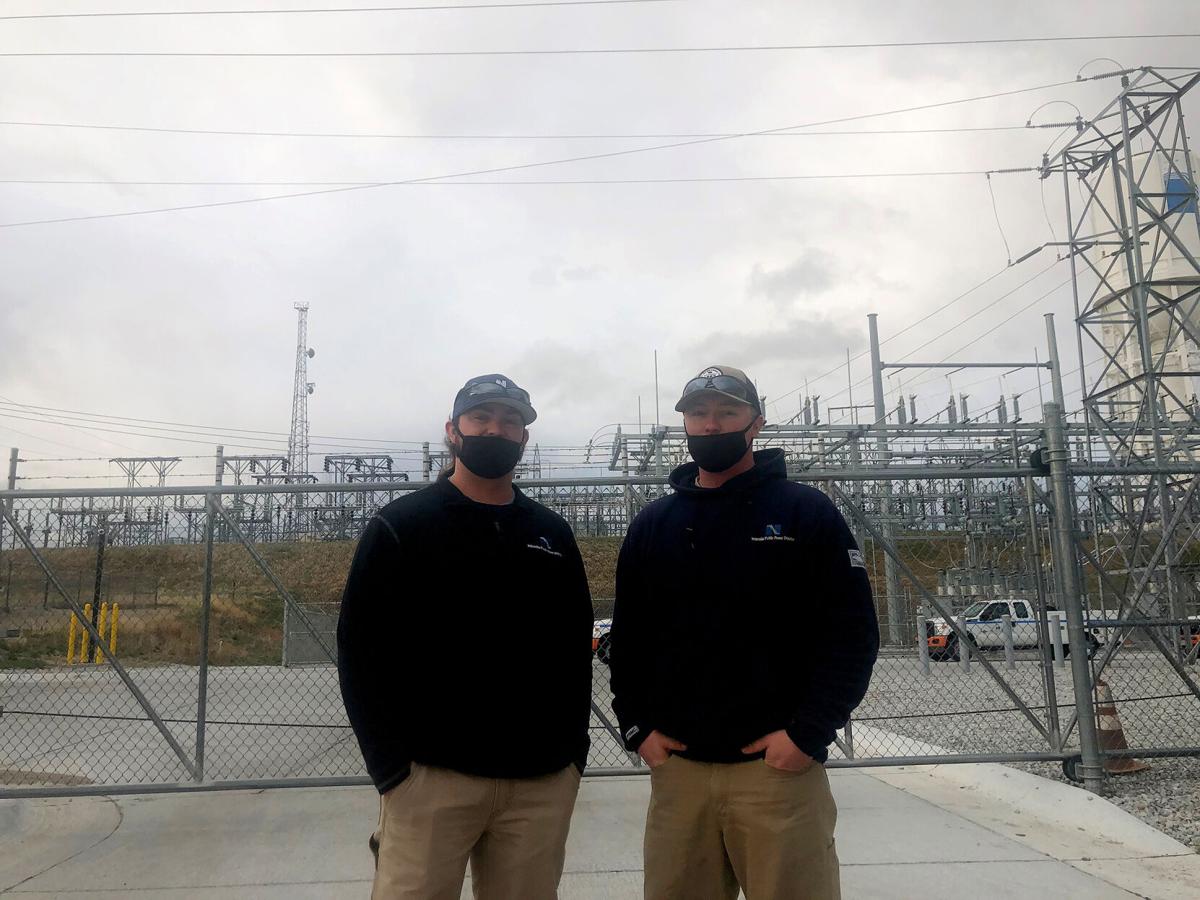 Shortly after Alec Smallcomb started with the Nebraska Public Power District, he had to climb to the top of a roughly 150-foot transmission tower.
"I had never climbed that high before," the 24-year-old Gibbon native said last week. "I wasn't scared so much as it got your adrenaline going. You know what the danger is and just have to respect it."
The risk of being a high-voltage transmission lineman is worth it to Smallcomb when compared to some other career options.
"Since I was a kid I have been outside working on the farm all summer long," Smallcomb said. "I didn't want (a job) where I was cooped up inside."
That sentiment is shared by his 25-year-old co-worker Thomas Sieczkowski. The two are among the eight-member line crew based out of the NPPD's North Platte location and 51 transmission linemen with the company overall.
Monday was Nebraska Lineworkers Appreciation Day. Sunday will be National Lineman Appreciation Day, which has been celebrated since the U.S. Senate passed a resolution in 2013.
Sieczkowski, a Ravenna native, has been with the NPPD for a little more than three years. Smallcomb will hit that milestone in July. Both attended Northeast Community College in Norfolk and studied electrical power distribution.
But the classroom work only prepares a person so far for some on-the-job experiences.
"We work with 345 (kilovolt lines) hot," Sieczkowski said. "It's 345,000 volts running through that wire. You get up there and can feel the electricity around you. It's pretty intense."
So are some of the emergency calls they have been part of. Those include a late-night call to McCook to repair lines that were damaged by high winds and one in Scottsbluff when a spray plane clipped a line.
Yet, that doesn't compare to when they were among the crews that responded when a surge of ice chunks and floodwater on the Niobrara River caused the failure of the Spencer Dam in March 2019.
Just getting to the hydroelectric structure was a challenge.
"It took us an hour and a half to drive around all the washed-out roads just to get a mile over as the crow flies," Sieczkowski said.
The scene along the river bed was just as notable.
"We finally found a route to get down there and you could see the structures and wires down all over the place," Smallcomb said. "At the river bottom there was ice stacked higher than (the North Platte NPPD office). It was insane and I had never saw anything like that."
About four NPPD crews spent more than a month working on the cleanup and repair.
"It's one of those things when you finally get back home and think, 'Wow,'" Sieczkowski said.
That's part of the variety of the job, which includes days spent just patrolling the NPPD coverage area and checking, repairing or improving the lines. That includes stints in a helicopter to examine the 345-kilovolt lines from the air.
"It's something different every day," Smallcomb said. "You show up for work one day and you could be patrolling and the next you are hundreds of feet in the air. You just never know."
---
More by Tim Johnson
5 crime stories that stood out in 2020
From our reporter who covers the crime beat, here are some memorable articles he worked on this year.