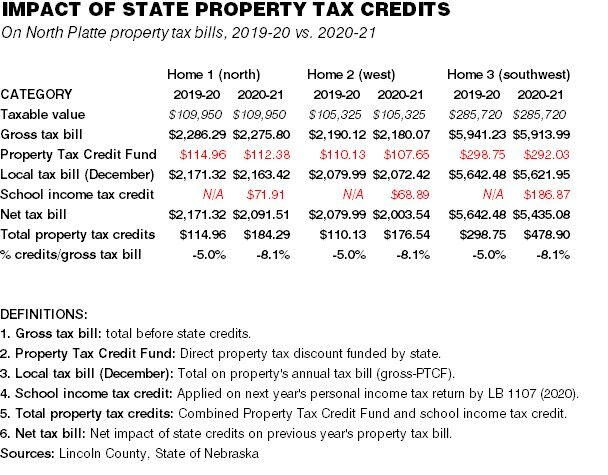 Nebraska's new school income tax credit for property owners will equal 6% of their 2020-21 school property tax bills, according to the Nebraska Department of Revenue.
That amounts to a boost in this year's combined state property tax breaks from 5% to 8.1%, though property owners already benefited from the first part when they got their 2020 property tax bills in December.
The state's recently released 2020 income tax forms finalized the 6% figure for the school tax credit, which state senators approved in August as part of a huge package of tax changes.
Passage of Legislative Bill 1107, which also included the ImagiNE Act of revised state business incentives, followed two years of ultimately futile efforts by some lawmakers to win support for broader property tax relief.
LB 1107's school income tax credit, dubbed the Nebraska Property Tax Incentive Act, offers more indirect tax relief than does the older Property Tax Credit Fund.
Though state funds finance both, property owners receive the older tax credit as a discount on their gross property tax bills. The state sends Property Tax Credit Fund money to local governments who receive property taxes.
The finalized school income tax credit completes the 2020-21 property tax picture for the three sample homes The Telegraph follows during North Platte's annual August and September "budget season."
The owners of all three homes will receive the same 8.1%, two-stage tax break, though it's naturally worth more in total dollars to property owners with higher taxable values.
» The tax breaks will be worth a combined $184.29 to the owners of Home 1, a 1½-story, three-bedroom home with a full basement north of the Union Pacific tracks. Their home had a 2020 taxable value of $109,950.
» They total $176.54 for the owners of Home 2, a single-story, two-bedroom home with no basement near Westfield Shopping Center. It was valued at $105,325 for tax purposes this year.
» By contrast, the owners of Home 3 — a two-story, four-bedroom home south and west of Home 2 — will get a combined $478.90 in tax credits between the two funds. Their home's 2020 taxable value was $285,720.
As the last piece of 2020-21's local property tax picture is put into place, county assessors are already beginning work on updating their properties' taxable values for 2021-22.
Each property's annual taxes ultimately are based on valuations determined by assessors to be appropriate as of Jan. 1. Their work will continue through the rest of the winter before new individual values are released in the spring.
---
More by Todd von Kampen