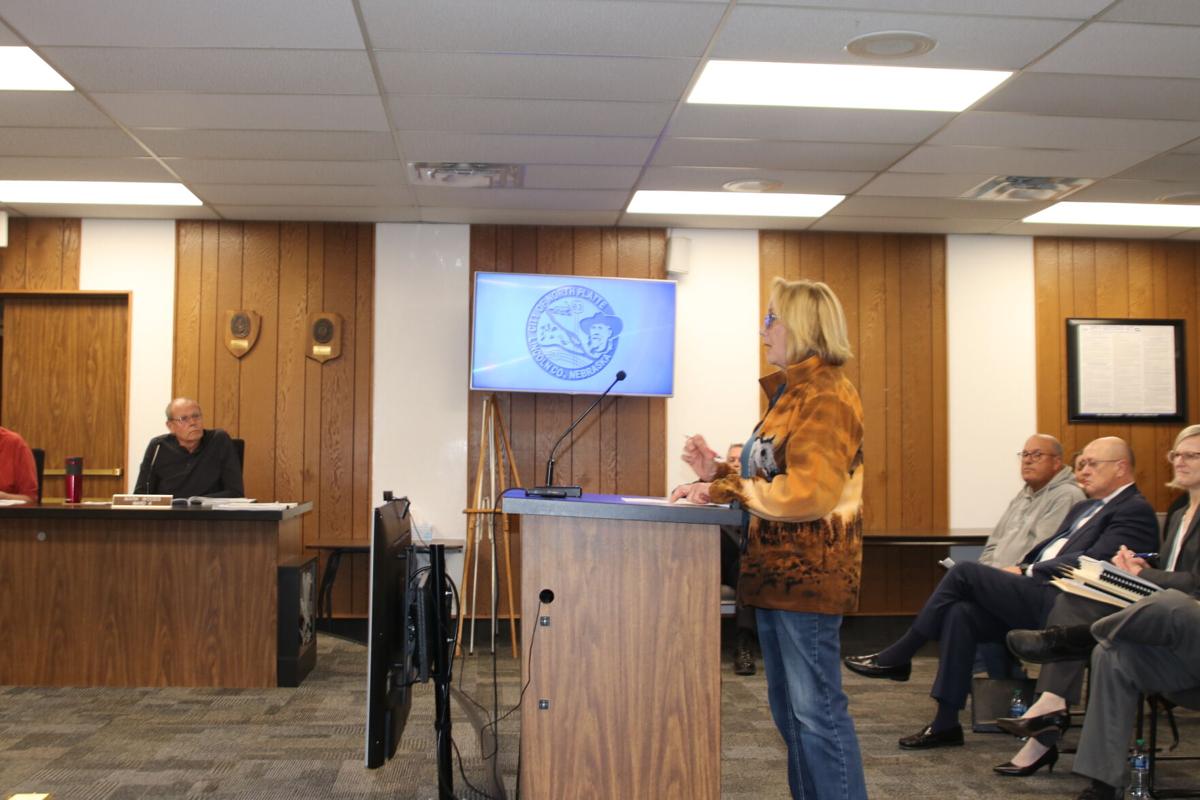 A 374-acre strip of land along the east side of North Platte's Newberry Access has been declared eligible for tax increment financing should a developer seek it.
City Council members voted 8-0 Tuesday night to grant "substandard and blighted" status to the strip, which includes a retired city sewer lagoon proposed as the site of an 875-employee beef processing plant.
Earlier, they gave 7-0 first-round approval to an unrelated ordinance consolidating Platte River Mall's zoning as a preliminary step toward a $75 million redevelopment of the 1972 mall.
The council's vote on TIF eligibility for the Newberry strip followed an 80-minute public hearing in which most of the 20 speakers urged the council to table or reject the findings of a "substandard and blighted" study by Hanna:Keelan Associates.
They generally linked their position to their opposition to Sustainable Beef LLC's proposed packing plant, whose Nebraska organizers announced their plans at a March 18 Prairie Arts Center press conference.
Newberry's new TIF-eligible zone begins near U.S. Highway 30 and extends south across the South Platte River to take in the northeast quadrant of Interstate 80 Exit 179.
That quadrant has highway commercial zoning and isn't part of Sustainable Beef's proposal, which targets one of two retired wastewater basins in the strip.
The council rezoned the new TIF-eligible strip between U.S. 30 and the river for heavy industrial use in September after receiving little to no public comment on that move.
Land linking I-80 and the retired lagoons — including a city-owned wetland — was included not for development but so the lagoons and interchange could be legally considered for TIF status together, said Gary Person, president and CEO of the North Platte Area Chamber & Development Corp.
Sustainable Beef LLC wants to put its plant atop the mostly dried-up lagoon just south of the city wastewater plant's active lagoon. The other retired lagoon sits northeast of the sewer plant's main building.
Company CEO David Briggs said March 18 that his firm expects to seek TIF aid to help cover costs of raising the retired lagoon 4 to 5 feet so that it could hold the beef plant.
It also would have to buy the city-owned lagoon site, which would be handled by the city's Community Redevelopment Authority should a redevelopment plan seeking TIF be approved, CRA attorney Mike Bacon said.
Neither Sustainable Beef nor anyone else has formally presented a proposal for any land inside the newly TIF-eligible zone, Mayor Brandon Kelliher told the packed City Hall council chamber.
If and when that happens, federal and state environmental agencies with jurisdiction over the site would become involved and would have to sign off, Kelliher said.
The mayor repeatedly asked speakers, with mixed success, to confine their remarks to whether the Newberry strip meets the state's legal standards to let the city offer TIF there.
The abundance of wildlife on and near the retired lagoon near the Platte River forks should rule out "substandard and blighted" status, opponents replied.
Others said bad odors, crime, higher taxes and social strains were bound to come with a packing plant, regardless of assurances by Sustainable Beef or local business leaders.
Some speakers suggested city officials would deny TIF status and stop the beef plant now if they were listening to their constituents.
Council members agreed they need to listen, but some added that they're also hearing support for the beef plant from residents in their wards. There's no formal proposal to consider yet in any case, they added.
For more details on Tuesday's City Council meeting, including coverage of the public hearings, stay with nptelegraph.com.