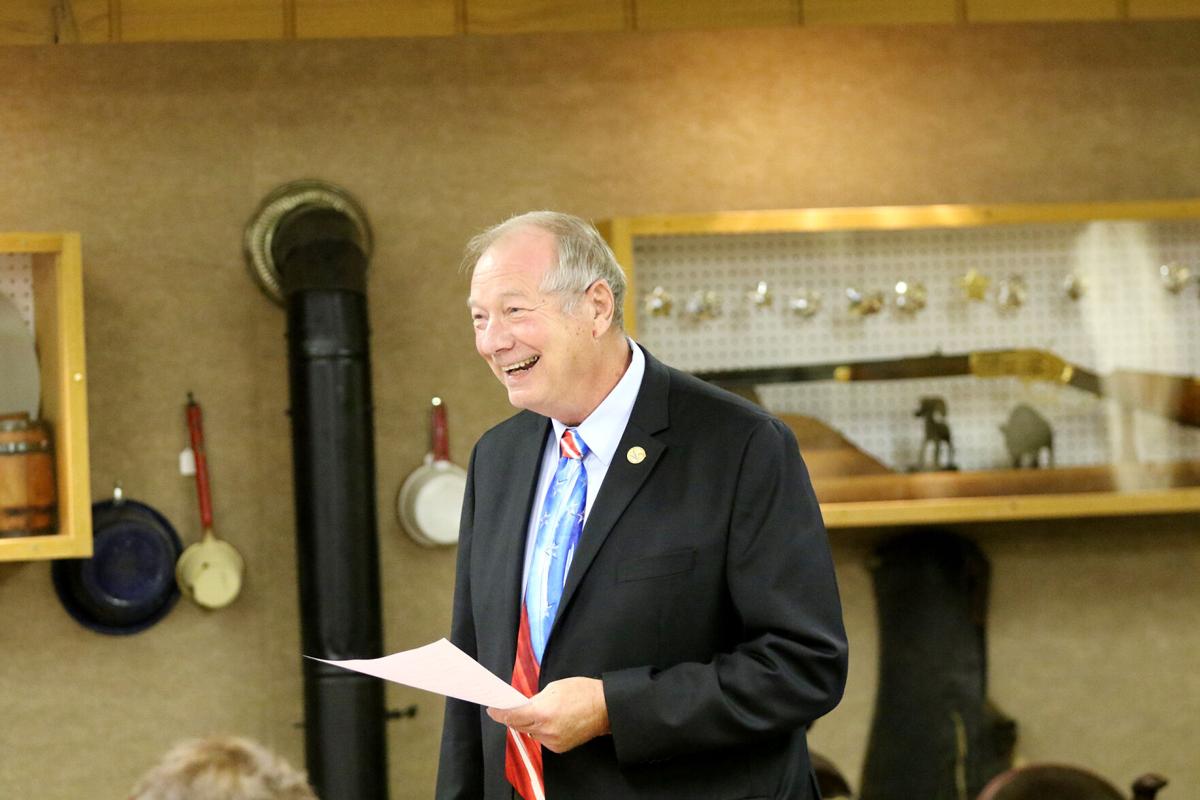 Dwight Livingston had a binder with tabs marking the key notes on the pages within for his presentation to the Sioux Lookout chapter of the Daughters of the American Revolution on Thursday afternoon.
The binder might have been reference, but Livingston — who is ending his second and final four-year term as North Platte's mayor this year — instead spoke mostly from his heart when told he could touch on any subject he wished. For about 45 minutes, Livingston told stories to the DAR members who gathered at the Lincoln County Historical Museum.
The tales centered on the path of a kid from a tough area in Lincoln who had early rough edges — including getting caught for tossing BBs at passing vehicles — but went on to serve in the military, police force and public office.
"If it wasn't for my grandmother, I can pretty much tell you I wouldn't be standing here today," Livingston. "She was the one who kept me on the straight and narrow as best she could.
"Without her, Lord knows where I would have been. I probably would have ended up in the (youth rehabilitation and treatment center) in Kearney or in the pen. She was an amazing person. I don't think she made it past fourth grade, but she was the wisest and smartest person in my entire life."
He counts his grandmother among several angels in his life. He said another was looking out for him on one of his first nights in Vietnam.
Livingston was lying on top of sandbags in a bunker on patrol when he decided to light a cigarette.
"Think about that for a second. How stupid is that, knowing that there are (troops) out there (in the dark) that want to kill you?" Livingston asked the crowd. "I bet it wasn't 20 seconds later and (a bullet) missed me by about six inches and blew up a sandbag underneath me.
"I rolled back down into the bunker and all hell broke loose after that. Not only did I put myself in jeopardy, but I put my fellow servicemen in jeopardy as well. That wasn't a good night, and I didn't smoke for a while after that."
Livingston, who was trained as an Air Force security forces officer, spent a year in Vietnam. He was stationed in Colorado Springs, Colorado, after that, where he oversaw security at NORAD. He eventually turned down an offer to reenlist in the military.
Instead he chose to enter a career in law enforcement. He turned down a chance to work for a police department in New Jersey to return to Nebraska.
He accepted an offer from the North Platte Police Department and arrived in the city with his wife and son in August 1972.
"We had this little U-Haul that carried everything we had, which wasn't much," Livingston said. "We didn't know a soul here and had no house and no place to live."
What he thought would be a short stint in North Platte to start his law enforcement career ended up being a 38-year run in the department in which he held every rank from officer to interim police chief.
"I didn't know anything about North Platte before (moving here), but I ended up loving it," Livingston said. "I think what kept me here is the people."
Get local news delivered to your inbox!
Subscribe to our Daily Headlines newsletter.