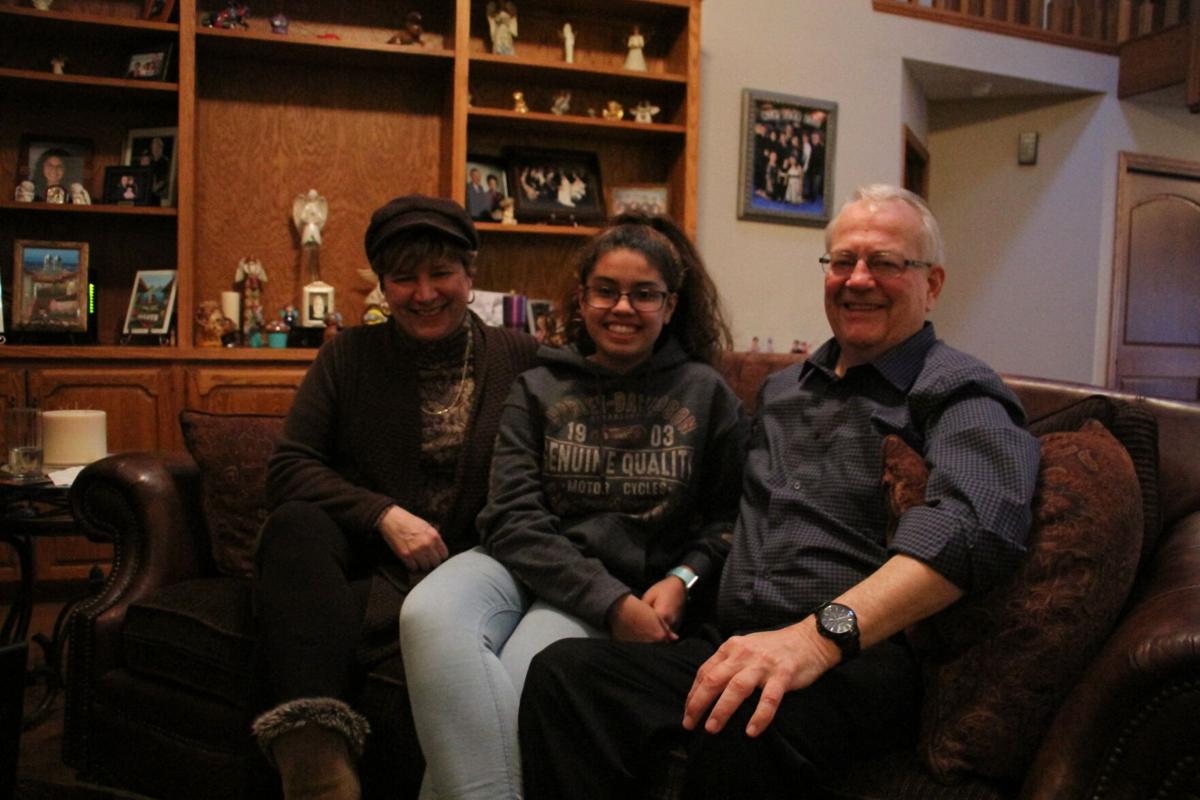 Opening up to share his story, Stephan Budke said he is willing to talk about his battle with COVID-19 because of the seriousness of the illness for some.
Budke, 66, suffered from extreme symptoms and has come back from the edge of death to be home with his family.
On Oct. 23, he entered the Great Plains Health emergency room. After transfers to two other facilities, he came home Dec. 18.
He said he does not remember much of anything through most of the time he was ill.
His wife, Irma, kept a diary of daily events and Budke said he has supplemented his memory from those writings. He said he can feel more than explain his thoughts about this year and the future.
"I don't think God gave me another chance, I think God gave me more time," Budke said. "So I'm evolving as a father and as a husband. I want to see as a family how far we can go in God's grace. That's really where I'd like to see us this year."
Budke was tested Oct. 19 for COVID-19, but didn't get the results for a few days.
"The day before I was tested, I went and saw a doctor here," Budke said. "I had some bronchitis, but it was, hey, get some cough syrup, check your oxygen."
Budke said he recommends getting a fingertip oximeter, which tests the oxygen levels in the blood.
"This is the critical warning sign," Budke said. "You need to be in the 90s and I've been told by a doctor since then that if you're in the mid-80s, they start worrying."
Loss of appetite, taste and smell were some of the first symptoms Budke experienced.
"I only wanted to eat like some sliced apples, or maybe a peach, something cool or sweet," he said. "I also was having a memory recall issue. My wife was like, 'you know, Steve, you talked about this yesterday,' and I didn't remember that."
That weekend, his two sisters were in town and they all went out to eat at a local diner.
"I have no recollection of that," Budke said. "Then my sister told me later, 'Steve, you were complaining about how hot you were.'"
He began running a fever and, after his doctor appointment, began to have trouble breathing.
"It got so bad my wife checked my oxygen at the house and it was 59," Budke said. "That is organ failure territory."
Irma rushed Budke to the hospital, and his oxygen level had dropped to 57.
"They immediately took me to the ICU and put me on oxygen as fast as they could," Budke said. "They suspected it was COVID, so they sent my wife home and at that time they notify her she is positive for COVID."
She had been tested at the same time he was a few days earlier and began isolation at home Oct. 23. Their daughter Stephanie, 14, quarantined and took over the cooking, cleaning and other chores.
"My wife is getting phone calls from the doctors saying 'he needs to be intubated and on a ventilator,'" Budke said. "They were trying to do everything to get my oxygen up so they wouldn't have to intubate me."
The medical staff at GPH told Budke intubation was the only choice they had.
"They said, we've done everything we can," Budke said. "We've got to do this, otherwise we're going to lose him."
He was intubated and put on a ventilator for 15 days, when the doctors put him on a breathing mask. In a follow-up appointment with Dr. Jeff Brittan, Budke asked how bad he was on a scale of 1 to 10.
"He said, you were a flat-out 10," Budke said. "He said, 'To be honest with you, Steve, in March or April, there would have been a good chance we would have lost you.' The treatment has gotten so much better."
After 21 or 22 days at GPH — Budke wasn't sure how many — he was transferred to Select Specialty Hospital in Omaha.
"They work with critically ill people, quite frankly, to figure out how they can help you long term," Budke said. "Are you going to a nursing home; can they get you up enough to go to acute therapy."
Budke got to Omaha and they took the breathing mask off.
"The doctor asked, 'Do you know who you are,' and I tell him my name," Budke said. "He says, 'Do you know where you are' and I said 'I'm in a hospital, am I in Omaha?'
"He said, 'Do you know why you're here,' and I said, 'Was I in a car accident?' He says, 'No, why do you say that.' I said, 'I haven't seen my wife. Where's my wife?'"
The drugs would let up once in a while, but because he couldn't move, Budke thought he had been in a car accident and was paralyzed.
"When I was in Omaha I can't even sit up by myself," Budke said. "I've been 'decommissioned,' that's the term they use."
Budke was moved to a different floor as his condition began to improve.
"It took two therapists to get me to stand up with a walker," Budke said. "Just doing that, my heart rate went to 140."
The next day he was able to take seven steps with a walker with the help of a therapist. Budke said he went to 30 steps and then 37 steps on consecutive days.
"I can remember the second day I was (on the new floor)," Budke said. "That was my bad day. I had a pretty good attitude all the way through, but that was a bad day."
His thinking was that if this was the best he could do, that was going to be rough.
"I was feeling really down," Budke said. "I've been here 10 days and my hands are shaking so bad I can't even dial a telephone anymore. I can't hardly speak because I was intubated for so long."
He asked the nurse to go to his previous room to look for his stretchy bands and his razor.
"She comes back and says, 'Look what I found,'" Budke said. "It was a get-well card from my wife and daughter. I never saw it because the staff had unpacked my bag when I got there. So here's this card from my wife and daughter telling me how much they love me."
The nurse found the card on his worst recovery day.
After about three weeks at Select Specialty, Budke was transferred to Madonna Rehabilitation in Lincoln before finally being brought home Dec. 18.
"My heroes are my wife and my little girl," Budke said. "The care at Great Plains Health was extraordinary. My wife and I completely believe they saved my life — of course, the good Lord did."
---
More by Job Vigil
5 stories that brought interesting people's journeys into your home
Reporter Job Vigil shares five stories he covered this year that offered a peek into people's lives.