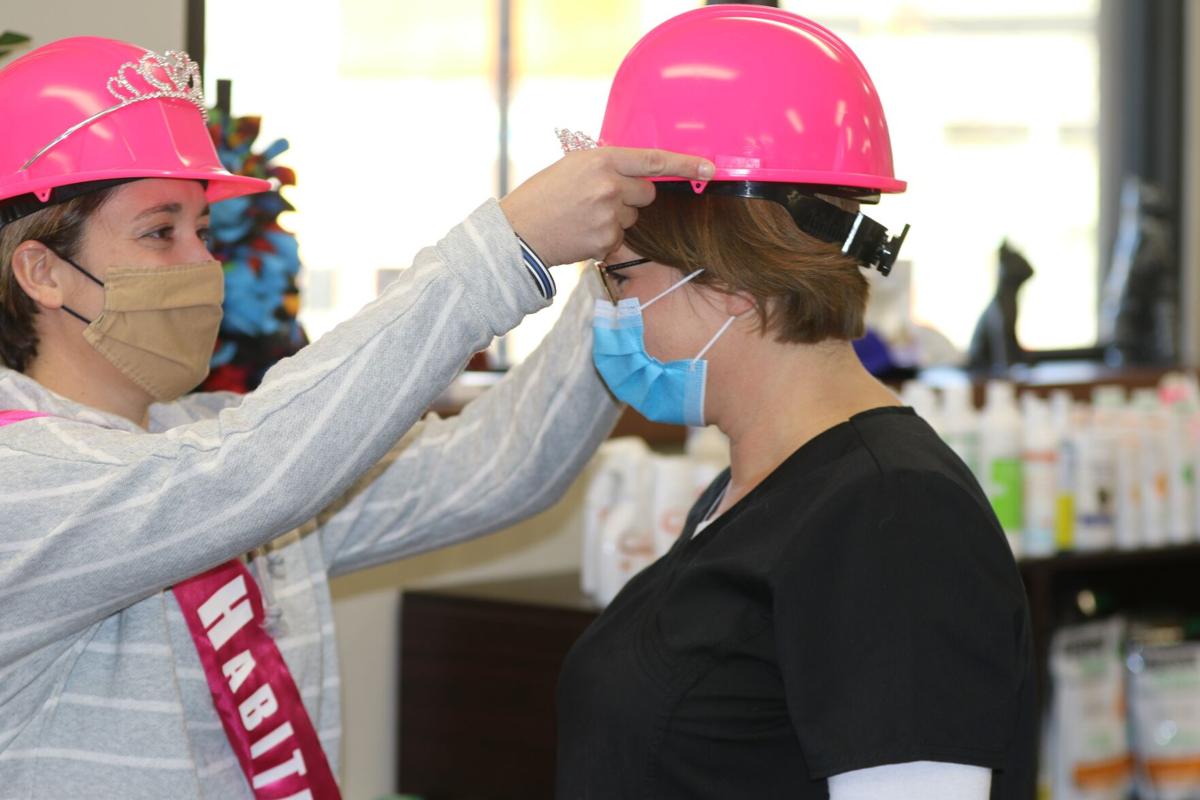 Dr. Kira Kautz is a veterinarian and owner of the Westfield Small Animal Clinic.
On Friday, she earned another title.
Kautz was honored as Ms. Habitat 2020 for raising the most money in a competition for North Platte Area Habitat for Humanity.
Kautz, who raised $6,956, was crowned with a pink plastic hard hat with a tiara by Lisa Citta, a North Platte police detective who was the 2019 Ms. Habitat.
She also received a pink-topped hammer and a pink sash that spelled out her title.
"This process was amazing and the entire organization is amazing," said Kautz, who was known as Ms. Veterinarian for the competition. "Being able to use my business and my position in the community to help people is humbling for sure. I will continue to be part of Habitat, whether it be showing up for physical (labor) or continuing to do these fundraisers whenever called on."
Kautz was among a dozen women from businesses across the city who participated and raised a collective $22,839.33.
Ashley Miller, Ms. Designer from Carhart Lumber, raised the second-highest total with $5,297. Denise Wiese, Ms. Banker from Sandhills State Bank, was third with $2,680.
The Ms. Habitat winner was scheduled to be announced during a ceremony April 4, but that event was canceled due to the COVID-19 pandemic. Dalene Skates, the executive director of North Platte Area Habitat for Humanity, said the loss of revenue from ticket sales is a reason why individual and group fundraising totals were lower than the previous year.
Sales said the competition raised $37,865 in 2019.
"We also didn't have our silent auction (this year) and there were a lot of things that contributed to the lower amount," Skates said. "But I always tell everybody Habitat is a business of inches and pennies. We don't waste any material and every cent can be used into those houses. This was a wonderful outcome based on what they had to work with and I am very proud of all of them."
Skates added that three Habitat for Humanity houses in the West 17th Street area should be dedicated by the end of the year. Four are planned to be completed in 2021.
Fundraising began in November and ran through the end of March.
One of Kautz's initial events was her most successful venture. She partnered with Laughing Buddha Body Art in North Platte. The parlor donated $25 from every animal-specific tattoo. The event raised $950.
She also held a Super Bowl party at the D &N Event Center that attracted about 350 people throughout the day. A pet photo shoot also proved to be popular.
"I tried to utilize as much of my staff creativity as possible," Kautz said. "They were fantastic in helping me in doing all of the fundraiser."
Get local news delivered to your inbox!
Subscribe to our Daily Headlines newsletter.