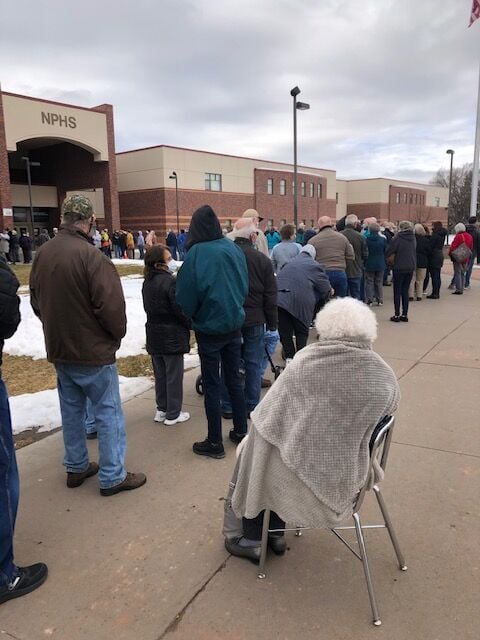 Saturday's mass COVID-19 vaccination clinic left some of those it was meant to protect out in the cold.
Yvette Troyer said her 78- and 82-year-old parents told her they stood outside North Platte High School for three hours for an 11:45 a.m. appointment, and they were far from the only ones.
Shannon Vanderheiden, executive director of the West Central District Health Department, said the extreme delays were due in part to people arriving one to two hours early for their appointment, causing a bottleneck. She hopes that can be remedied at future clinics by setting up more stations where people can check in.
In addition to waiting outside, Troyer's father, who has difficulty going up and down stairs, told her he had to climb several sets of stairs and walk down the auditorium stairs.
Vanderheiden said an individual at the clinic's entrance was assessing whether people with limited mobility would need assistance. But Troyer said her parents told her they did not encounter that.
Vanderheiden said WCDHD's registration form will be changed so people can indicate if they'd need extra assistance. Also, in an upcoming meeting with North Platte Public Schools, health department officials will discuss adding space for people to congregate. During the H1N1 mass vaccination clinics, WCDHD used the high school's commons area.
For future clinics, WCDHD is also considering changes, including designating a block of time solely for the 75-and-older population to be vaccinated, instead of having them come at the same time as other priority groups.
"For that population that maybe has difficulty getting in and out of buildings, we're going to make some adjustments to make sure that is easier for them," Vanderheiden said. "They'll move through the lines in a different manner and not (be) included in the same process as individuals who can move through a mass clinic line easily. So we're excited to put that into place."
In planning this mass vaccination clinic, Vanderheiden emphasized that the 75-and-older population was the top consideration in selecting a location and entrances to be used. Original plans were changed to reduce the distance those patrons had to walk and allow them to avoid stairs if needed.
"It was all centered around that population and how much they had to walk," Vanderheiden said. "We knew we would have that population and we were trying so hard to make sure they got in and they didn't have any obstacles."
At Saturday's clinic, about 500 vaccines were administered. Vanderheiden said the staff was able to get 85 people an hour through the process and vaccinated.
"I can tell you from our perspective, the mass clinic on Saturday was very successful," Vanderheiden said. "Doing that in that short amount of time is a huge success, because getting vaccine in arms is what's going to help us mitigate spread for sure."
With any such event, "we're going to have challenges," she said. "You make adjustments and you make improvements."
---
More by Susan Szuch
5 stories highlighting science and innovation in North Platte
When you think of North Platte, you might just think of the railroad and corn. But there's a fair bit of science and innovation happening out here in West Central Nebraska, too.
Digital editor for The North Platte Telegraph.