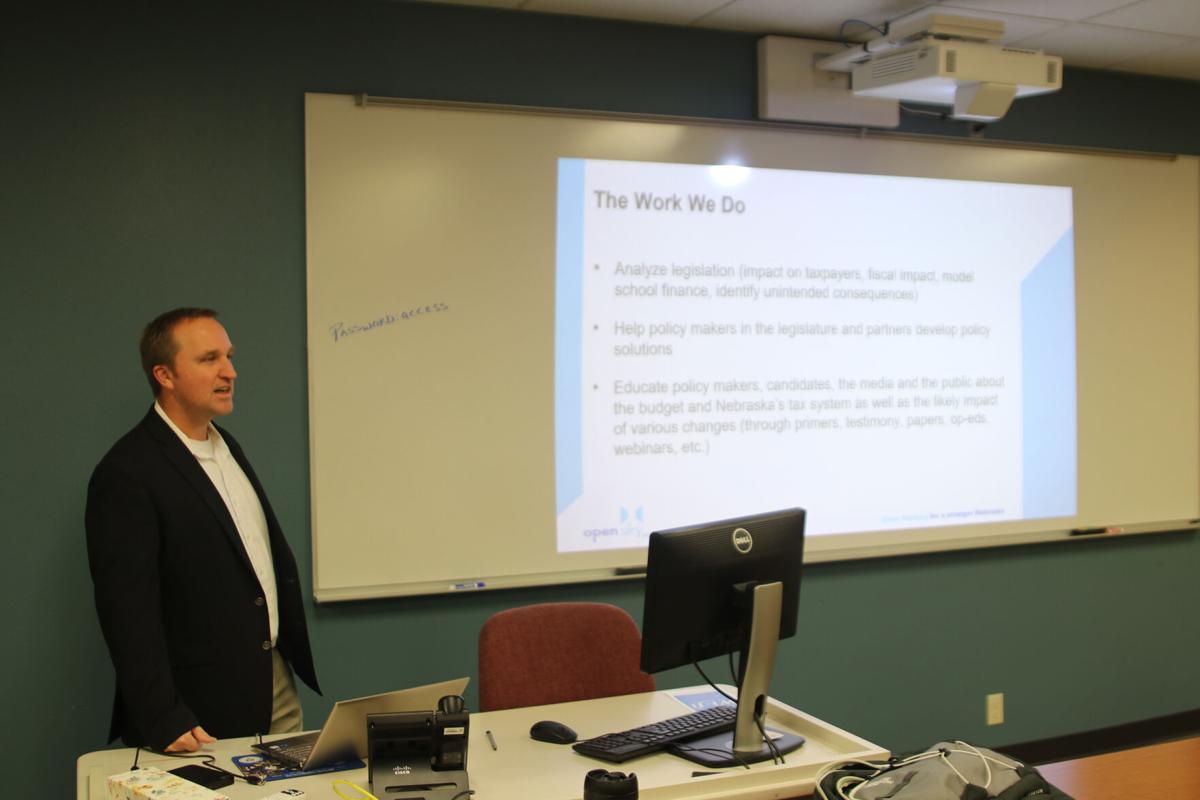 Two proposed cures to Nebraska's tax problems risk outcomes rural Nebraskans might not like, staffers of a Lincoln public policy research group said Wednesday in North Platte.
Leaders of the OpenSky Policy Institute offered rebuttals to a Blueprint Nebraska proposal and state Sen. Steve Erdman's would-be "consumption tax" outlined Sept. 8 at North Platte Community College's South Campus.
Eastern Nebraska likely would benefit most from Blueprint Nebraska's plan to cut income taxes, end county inheritance taxes, abolish most sales tax exemptions and further boost state-funded property tax relief, said OpenSky senior fiscal analyst Craig Beck.
If the Legislature should pass the tax cuts but balk at broadening the sales tax base, both basic government services and further tax relief could suffer, he said at an early morning meeting at NPCC's South Campus.
"There have been three or four (tax) packages over the last few years that have sought to broaden the sales tax base," Beck said. But "there's a lot of opposition to this."
Besides the fact that it's untested, he added, Erdman's consumption tax would largely transfer control of local government revenues to the state as currently outlined.
The Bayard lawmaker's proposed constitutional amendment (Legislative Resolution 11CA) would outlaw all current state and local taxes, except for excise taxes, and replace them with a consumption tax on newly purchased goods and services. It failed to win first-round approval last spring.
Legislative Bill 133, the amendment's companion bill, would require school districts to go through their educational service unit, the Nebraska Department of Education and ultimately the Legislature for all funding for their annual budgets.
Counties, cities and villages could impose their own local consumption taxes with voter approval under LB 133.
Otherwise, all local governments other than K-12 schools would have to get their funding from the Legislature through county boards. That would include community colleges under LB 133, though natural resources districts aren't mentioned in that bill.
"The point is there's a lot of questions," said Beck, who gave a similar presentation at Wednesday's North Platte Noon Rotary Club meeting. "This would be a complete, significant overturning of our current tax code."
Last month's NPCC South Campus forum on the Blueprint Nebraska and consumption tax proposals was sponsored by the Omaha-based Platte Institute, another public policy group.
Former Sen. Jim Smith of Omaha, who was executive director of the statewide 2018-19 Blueprint planning process, outlined its tax prescriptions while Erdman pitched his separate consumption-tax plan.
Both Smith last month and Beck on Wednesday called attention to the state's currently unbalanced "three-legged stool" that relies on property, sales and income taxes to fund local and state governments respectively.
While state leaders have usually tried for an equal balance among those three, property taxes made up 37% of the $10.76 billion Nebraskans paid two years ago, Beck said.
State and local sales taxes accounted for 29% and state income taxes 28%, with the other 6% from other revenue sources, he said.
The Blueprint plan would abolish state income taxes entirely for people making up to $50,000 a year or couples making up to $100,000.
Individuals would have a single tax bracket and corporations two, with 4.99% the top tax rate for both.
Itemized income tax deductions would end under Blueprint's plan, along with sales tax exemptions outside of those on food and most medical goods and services.
Smith told his North Platte audience last month that Nebraska needs such steps to win "a competitive battle for workforce and investments" with neighboring states.
But OpenSky's Beck countered Wednesday that most of the tax cuts, economic benefits and population growth under the Blueprint plan "would flood to eastern Nebraska."
"We just don't see how any significant property tax relief would come from this plan," especially if lawmakers refuse to repeal most of the state's broad array of sales tax exemptions, he said.
That's more likely, said Beck and OpenSky deputy director Chuck Brown, if parts of the Blueprint plan are scattered across several bills as Smith said last month it might be.
That would let Nebraska lawmakers embrace the plan's tax cuts but refuse to make up their revenue, they said. Kansas recently wound up in a state and local funding crisis that way, Smith added.
The detailed consumption tax plan in Erdman's LB 133 proposes a single 10.64% tax rate on covered purchases. Used products wouldn't be taxed.
But Erdman said in North Platte a lower 8.97% rate would replace the combined $10.9 billion now raised by state and local taxes while eliminating county assessor's offices and many state tax employees.
Beck challenged that estimate, saying the Legislative Fiscal Office has calculated it would take closer to a 15% consumption tax rate to fund both state and local governments.
Erdman's plan also calls for a monthly "pre-bate" that the state would pay to Nebraskans, reflecting both the consumption tax rate and the federal poverty rate.
That would help lower-income Nebraskans afford the new system, he said last month.
Beck said Wednesday that "there'd be a huge administrative burden to get out the pre-bate checks" in time each month.