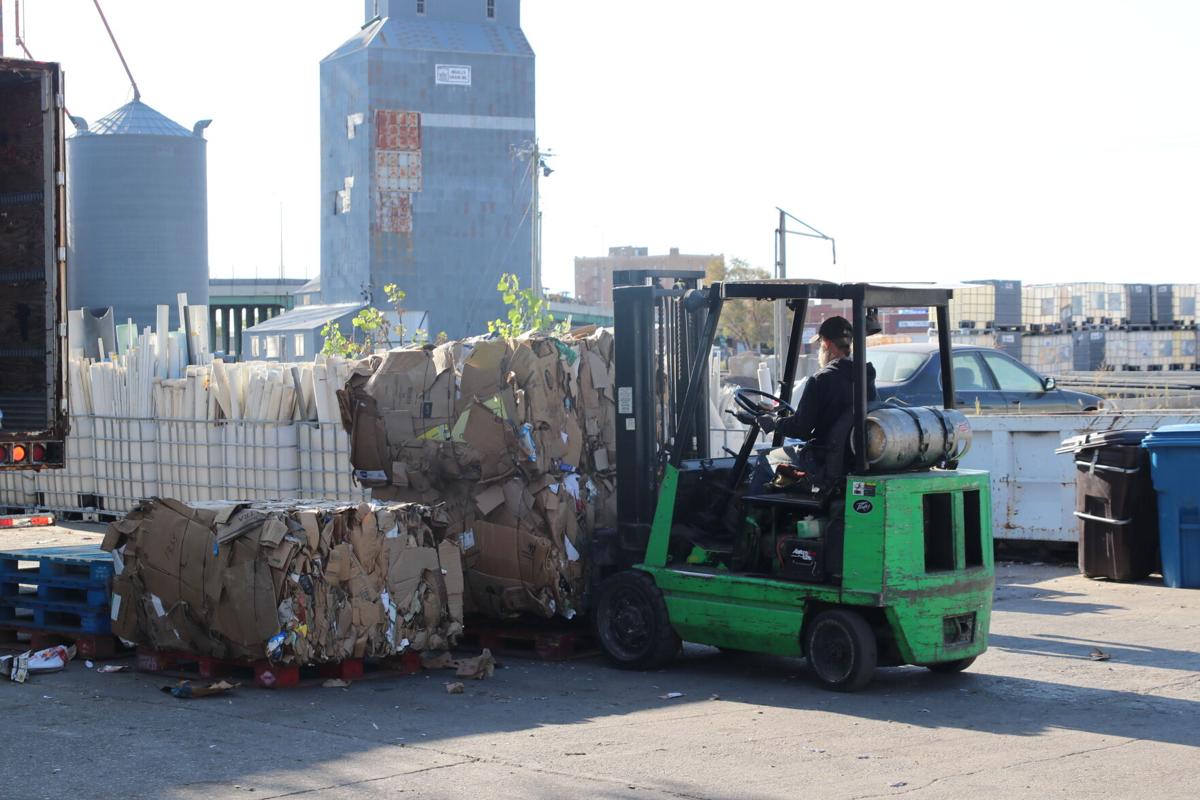 North Platte's public service director clarified Thursday that his crews will empty residents' yellow-top recycling containers once more before ending that service in October.
"We'll collect the whole town one more time this next week, and then we'll be done," Director Layne Groseth said.
The Oct. 1 start of the city's new fiscal year also means an end to separate Sanitation Department runs to pick up recyclables.
Residents instead will be asked to rinse and presort acceptable items and take them to one of six existing drop-off sites.
Rising costs and broader city budget cuts figured into the decision, officials have said, along with troubles finding markets to buy "commingled" loads of plastics, paper products and cans.
Though city crews have regularly collected recyclables twice a month, Groseth said, they'll make one more round since October doesn't start until next Thursday.
Residents should have their yellow-top bins in the alley or rolled to the curb by 6:30 a.m. Monday.
Crews usually need three days to reach all the 3,600-some households with yellow-top bins. But they'll finish this last circuit even if they're not done Wednesday, Groseth said.
After that, they'll gradually pick up the yellow-top bins so they can reuse them as yard-waste and regular garbage bins wear out.
Groseth said residents may call the Sanitation Department at 308-535-6702 if they want their yellow-top bins picked up before Wednesday.
They should use the same number if they want a second regular green-top garbage bin, he said. A second bin will add $4 per month to their bill.
It'll be at least the end of the year before the city can add more recycling drop-off sites to the six currently in service, Groseth said. Officials are waiting word on grant applications to help pay for outfitting new sites.
Existing recycling sites are:
» Retired Senior Volunteer Program (RSVP) office, 910 E. 10th St.
» First Christian Church, 220 N. Vine St.
» South Campus, North Platte Community College, 601 W. State Farm Road.
» Adams Middle School, 1202 McDonald Road.
» Westfield Shopping Center, 1845 West A St.
» Gary's Super Foods, 1620 E. Fourth St.
Items accepted at drop-off sites are:
» Cardboard, broken down into roughly 20-by-20-inch pieces.
» Aluminum or steel cans, clean and dry.
» No. 1 and No. 2 plastics, with no lids.
» Newsprint, placed in a plastic bag and tied.
» White paper and magazines, placed in a plastic bag and tied. Those two types of items may be bagged together, Groseth said.
The plastic bags used for gathering recyclables themselves can be recycled, said ABC Recycling owner Pamela Pacheco. Her firm will become the city's sole recycling processor effective Oct. 1.
Get local news delivered to your inbox!
Subscribe to our Daily Headlines newsletter.