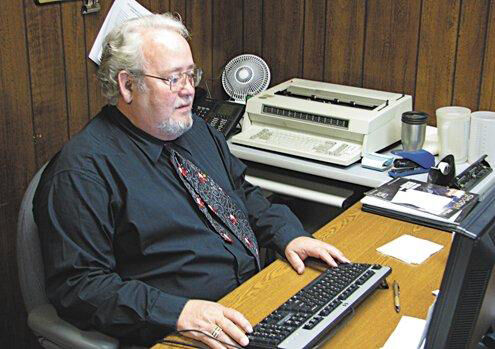 Rick Ryan Jr. was known for his dedication to the North Platte Police Department, his rather old-school, direct nature and low tolerance for those who did not meet his standards.
He is also remembered for his generosity and compassion for both his fellow officers and the community overall, especially children in need or in crisis.
Ryan, a Vietnam veteran who served 35 years with the department and worked his way up to lieutenant, died at home Tuesday. He was 71.
"I think we've all taken bits and pieces (of Ryan), what we liked about his style of doing things," said Sgt. Dan Shea, who has been with the department for 22 years.
Ryan enlisted in the U.S. Army in 1967 and was an infantryman with the Screaming Eagles of the 101st Airborne Division. He was injured during his tour in Vietnam and received the Purple Heart Medal. Ryan was discharged in 1969.
This Monday, he was awarded a Quilt of Valor from the Heartland of Nebraska Quilt of Valor group during a short ceremony at his home.
He worked stints with the Lincoln County Sheriff's Office and Union Pacific Railroad. He joined the police department in 1974. He earned a citation from the department for unusual bravery that December for safely getting a family out of a burning house.
Ryan's obit mentioned his love for riding his horse and motorcycle. The latter he took on a road trip to New York in 1998. But his main passion was law enforcement.
"He loved the department and he was always here," said Lt. Rich Thompson, who has been with the department for 42 years.
Ryan oversaw the department's criminal investigations division from 1998 to 2009, and his passion came out in some face-to-face conversations with those he supervised.
Officer Kendall Allison, who joined the department in 1986, said he was subjected to his share of those.
"Which was fine," Allison said. "You knew what your role was (with Ryan) and you knew, 'OK, I can't do this and I can't make this mistake again.' (The conversation) was pretty clear cut."
Ryan treated all the people in the department the same way.
"If you screwed up, he would let you know and you would know right now," Thompson said. "He would chew you out, but 20 minutes later he would put that arm around, squeeze you and say, 'Let's go get a soda' or something like that. It was never personal or carried on."
Ryan was known in the office for his love of Mountain Dew and also a hearty laugh.
"Oh my gosh, when he would start laughing, he would lose his breath," said Investigator Jim Ady, who has been with the department for 30 years. "That was just amazing. He could light you up that way."
Steph Brouillette, an administrative secretary for the department for the past 23 years, said Ryan always seemed to be there for his co-workers. She recalled the time her family was in Omaha over the holidays as her father underwent a major surgical procedure.
"We are all sitting around in this little (hospital) room trying to celebrate (Christmas)," Brouillette said. "I look up and there's Rick. He made the trip just to come see us. If you were one of his people, that is just how it was."
Dwight Livingston joined the police department in 1972 and held every rank from officer to interim police chief during his 38-year career.
He worked the same shift as Ryan when the latter joined the department, which was the start of a friendship that included Ryan's support through Livingston's two mayoral campaigns.
Livingston and Ryan were on a stakeout one night and got a call to respond to a report of a fight at a local tavern that was on the verge of a riot.
"The two of us had our hands full in there," Livingston said. "But, I tell you, if there was anybody that I would want beside me in something like that, he was the guy.
"I can't remember how many people we arrested but it was enough that we had to call for help from the sheriff's office and State Patrol. We called for all the cars we could get there because we had arrested so many people."
He started the department's Santa Cop in 1985, a program in which gifts are purchased through community donations, wrapped and then hand-delivered to children who might not otherwise receive a present.
Livingston recounted a time early in the Santa Cop campaign when he was recruited by Ryan to wrap the gifts. The two sat in a squad room and worked their way through a pile of gifts the night they were supposed to be delivered.
"Neither one of us were very good at wrapping gifts if you can imagine that. We were up past midnight," Livingston said, "We did the best we could, taped them up, and we were ready to go for the kids in the morning."
Ryan also dressed up as Santa Claus for a holiday appearances at Great Plains Health and was involved in the local Crime Stoppers and DARE programs.
He also was instrumental in the foundation of the Bridge of Hope Child Advocacy Center.
"He had a huge, huge heart when it came to kids," Brouillette said.
Livingston said Ryan's compassion stretched beyond that.
"He just felt so deeply for the people here in North Platte," Livingston said. "He didn't care whether he got paid or not. I think he would have done it for free, to be honest.
"I know that sounds strange. But all he wanted to do was make sure people were safe in their homes, and that they were safe and felt good when police officers showed up."