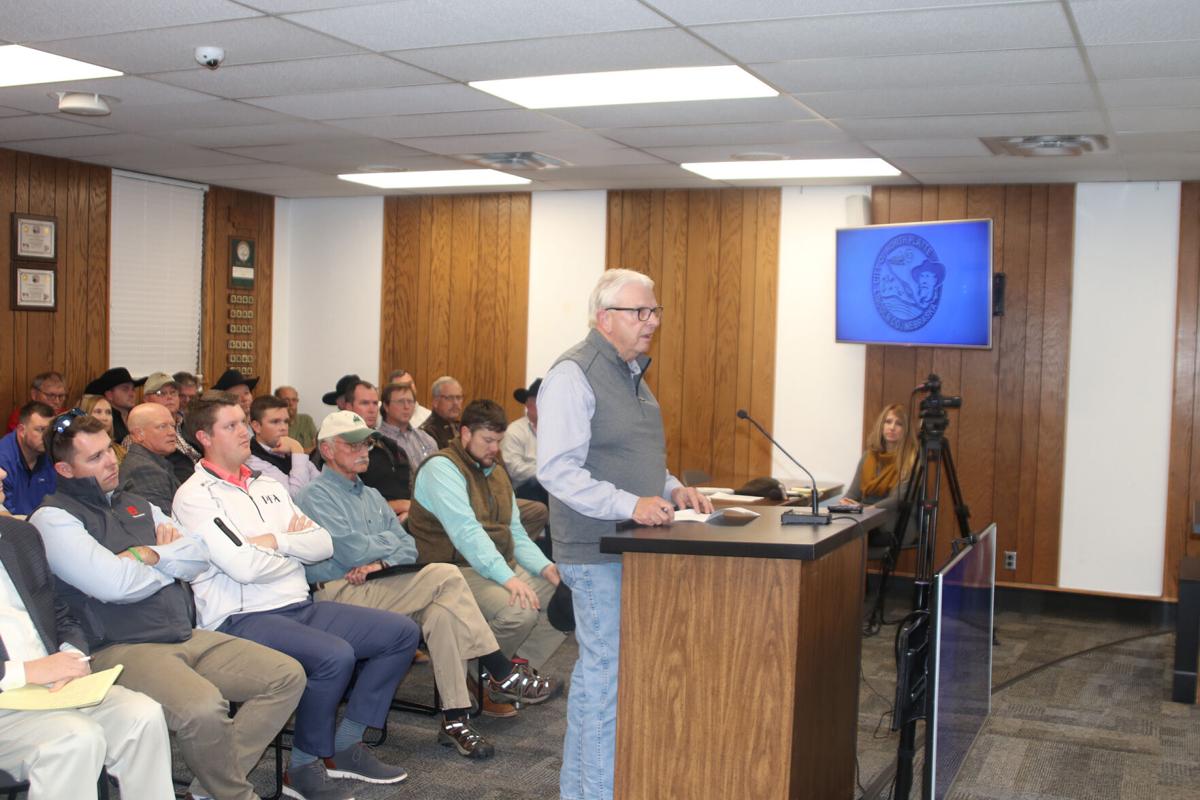 A nearly three-hour meeting ended Tuesday night with the North Platte Planning Commission unanimously recommending approval of $21.5 million in tax increment financing for Sustainable Beef LLC.
The city of North Platte also would sell a retired sewer lagoon for the firm's proposed 875-employee beef processing plant under a redevelopment plan endorsed by a 9-0 vote.
The planning panel's decision sends the sale-and-TIF plan back to the Community Redevelopment Authority, which will meet at 1 p.m. Monday to decide whether to call for final City Council approval.
If the CRA does so, the council would hold a public hearing at its 5:30 p.m. Dec. 7 meeting before deciding whether to give Sustainable Beef its final stamp of support.
Council members, who rezoned land east of Newberry for heavy industrial use in September 2020, granted $1 million in forgivable Quality Growth Fund and NorthWestern Energy Economic Development Fund loans Aug. 4 toward project planning costs.
The redevelopment plan would sell the old lagoon for $142,500 — if and when Sustainable Beef completes its $325 million in financing — and give the firm a chance to recover about half of its TIF-eligible costs.
All but $3 million of that would come from hauling in dirt to raise the base of the lagoon's 8- to 10-foot-deep berm until the beef plant's floor rises 5 feet above nearby Newberry Access.
The rest of the $21.5 million in TIF aid would offset water, sewer and utility installation costs and pave and widen Golden Road in front of the lagoon.
City Engineer Brent Burklund said turn lanes at Golden Road also would be added on Newberry, which the state opened in 1984 with room to widen it from two to four lanes.
Several statewide agricultural leaders, including Nebraska Department of Agriculture Director Steve Wellman, were among 20 people offering comments during the bulk of a 2½-hour Planning Commission hearing.
They joined two Lincoln County commissioners, several community leaders and state Sen. Mike Groene of North Platte in urging the panel's support.
Groene, a longtime critic of how TIF has been used in North Platte and statewide, said he has opposed "the misuse of TIF" but not the proper use of the financing tool.
"I have never seen a project that more perfectly fit TIF," he told the Planning Commission. "Ever."
Nebraska Cattlemen Vice President Steve Hanson of Elsie said Sustainable Beef offers cattle growers a strong chance to recover from "repeated black-swan events" depressing both beef supplies and producer prices.
Farmers and ranchers want more opportunities for their children "to return home and prosper in rural Nebraska," said Hanson, whose son ranches with him and has two sons himself.
Three relatives of Larry Golden, who lives a mile east of the retired lagoon, pleaded with the panel to dissent from letting their family's properties near the Platte River forks be forever ruined by the plant's proximity.
"Does this project benefit the entire region?" asked Sophia Klein, a granddaughter of Golden. Because it would harm their family, "I believe you should vote no."
Golden's sister-in-law Dee Fugate again denounced Sustainable Beef's organizers and local leaders, saying their "propaganda" had deceived Sandhills ranchers and muted residents who don't want the plant.
"The way this has been handled from the start is an insult to North Platte and our ranchers," Fugate said. "I'm the only one who has told you the truth out of these locals here."
Compared with the lengthy public hearing, Planning Commission members took only a few minutes to endorse the plan.
"I'm just glad to see such a pouring out of support from this community for this project," said commission member Tristen Winder.
"I think this is a cool project," added colleague David Fudge, who offered the motion to back Sustainable Beef's sale-and-TIF request.
More details from Tuesday's Planning Commission meeting will appear later this holiday weekend in the print Telegraph and on nptelegraph.com.