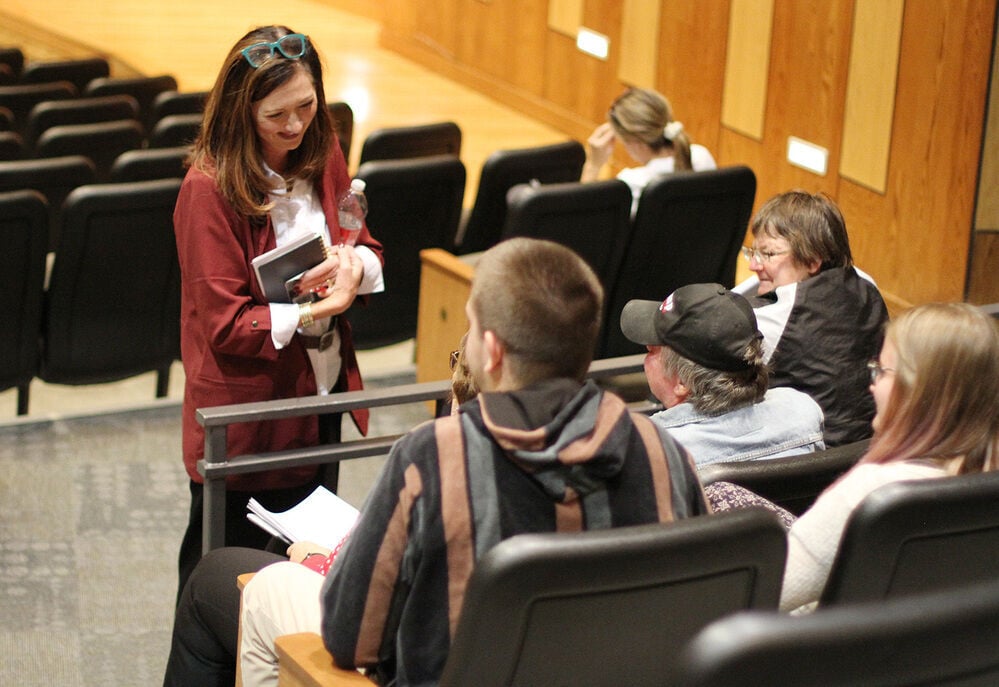 Tanya Storer said she's coming up the inside to represent District 43. The Whitman-based rancher and Cherry County commissioner is challenging incumbent State Sen. Tom Brewer, of Gordon, for the state's largest district by area. The fight has become increasingly expensive and personal as both candidates have dug into long-unresolved issues such as the wind power fight in the Sandhills, residency and motives for running.
Storer pointed to Brewer's home address: a converted machine shed in Gordon and another home in Murdock, 400 miles away. It's been a point of contention for years, Storer said it's one of her reasons for running.
"I realize he's met the bare minimum legal requirements, but the reality is, he's not a member of the community of the 43rd District," she said. "To be accountable to the decisions you make in Lincoln, they have to affect you personally, affect your workplace."
Storer said she wants to focus on property-tax reform at a structural level by changing the Tax Equity and Educational Opportunities Support Act, or TEEOSA.
"School finance is the biggest issue, that's the biggest burden of our property taxes and the way the formula is written, it's unfriendly to ag-heavy districts," she said.
"It's not an easy push, but one of the things I've thrown out for discussion is we look at only the values of the residential property for formula purposes," she said, adding that professions like lawyers and doctors have much higher salaries with no need for property ownership, unlike agriculture, and changing the formula to consider income, not just property valuations of a school district.
Despite her attempts to focus on property tax and Brewer's record, the fight over wind energy in the Sandhills has been a mainstay in her campaign. On radio shows and in forums, Storer has been asked about her family's role in wind energy development. Storer, who's said publicly she's not a supporter of wind energy, voted as a commissioner to grant a conditional-use permit for a Kilgore wind farm, much to the dismay of groups staunchly opposed to wind energy in the Sandhills. The project is being challenged in court by a group that Brewer is associated with.
The 43rd district occupies most of the north-central part of the state, stretching between Chadron to Ainsworth and extending into large swathes of rural counties, ending in Logan and McPherson. Nearly three-quarters of the district's registered voters are Republican.
The Star-Herald found that the race for District 43 is often expensive, and this year is no different. Storer and Brewer have outspent the District 1 contest between Sen. Julie Slama, of Peru, and Janet Palmtag.
Storer opened her campaign with an endorsement from former Gov. Kay Orr and $29,000 in individual in-district donations, according to campaign finance reports. However, that came to a halt, Storer said, as her strategy was interrupted by COVID-19.
"We got shut down like everyone else did in March. Campaigning was virtually impossible," she said. "We made a lot of phone calls but there's just no replacement for one-on-one conversations. We had fundraisers scheduled that got canceled."
Campaign finance reports reflect the slump in donations, showing $3,700 in donations for April and $1,650 in individual donations between April and mid-June.
Storer has spent 75% of her funds raised — $51,882.57 out of $69,137.49, most on mailers, radio ads and signs. She said the size of the district and the lack of shared media increases the cost significantly.
"There's not one common newspaper, not one common radio station, so you have to spend at several," she said. "You just have so much ground to cover."
Storer's spending ratcheted up in April, when she bought $11,843 in radio ads through a major GOP consulting firm, Axiom Strategies' Ax Media, by far her biggest expense.
Storer spent $3,256 on campaign signs and an additional $3,672 on newspaper advertisements, the vast majority through the Nebraska Press Association.
The other expenses come from postage and mailers.
In July and August, Storer paid Axiom Strategies, the Kansas-based political consulting firm founded by Republican campaign powerhouse Jeff Roe, a total of $19,364 for mailers.
In her most recent campaign finance filings, Storer outraised Brewer when it came to individual donations, pulling in $20,010 to his $7,980, attributing that boost to finally having a fundraiser that had been canceled in April. However, Brewer pulled an additional $60,437.44 from businesses and political action committees, just over half the cash Brewer has received over the entire election.
In a recent candidate forum in Alliance, Brewer said Storer "grew up with a silver spoon in her mouth."
Storer rebutted the claim in a recent interview with the Star-Herald, saying that any wealth her family has accumulated comes from multiple generations of working their land in Cherry County. She added that Brewer's comments about her wealth alienate him from hundreds of other ranchers and farmers whose families have been working that land for generations.
Get Government & Politics updates in your inbox!
Stay up-to-date on the latest in local and national government and political topics with our newsletter.