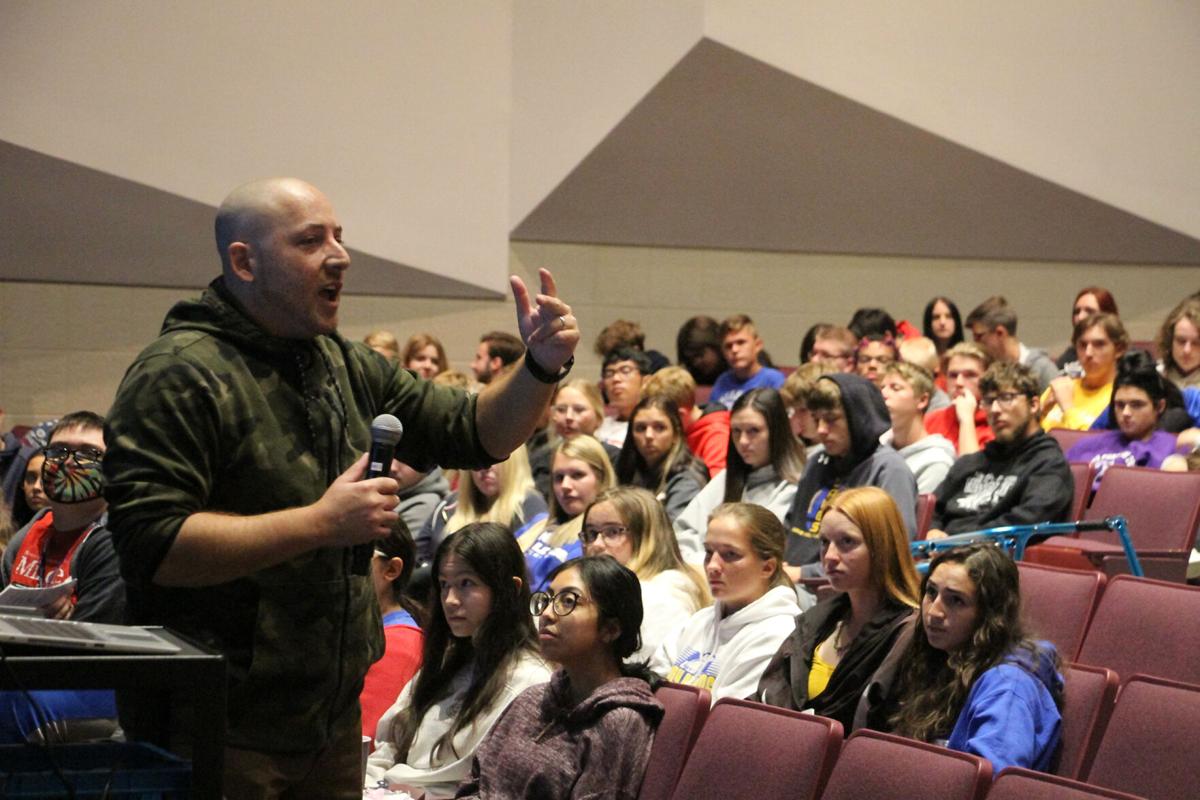 The moment he let go of the railing, John Kevin Hines knew he had made a mistake and realized he did not want to die.
Now a suicide prevention speaker, Hines gained nationwide fame in the United States for surviving a jump from the Golden Gate Bridge in San Francisco. On Wednesday, he spoke to North Platte High School seniors and juniors at the school's Check Yourself event.
"When I went to the Golden Gate Bridge on Dec. 25 of the year 2000," Hines said, "I never once wanted to take my life. I believed I had to."
Hines said he didn't believe he had another choice.
"There's always another choice," Hines said. "I'm begging you, whatever you're going through in life, whatever you're dealing with at home, whatever you're dealing with at school — fight the pain and be there tomorrow and the day after that.
"Suicide should never be the solution to your problem, because it is the problem."
Student Ava Hernandez said Hines had an impact on her.
"I learned that every life is important, everyone matters," Hernandez said. "I think this will impact not just my life, but a lot of people's lives."
She remembered the story Hines told of his feelings as he jumped off the bridge.
"He jumped off, but right as he went off he knew he made a mistake," Hernandez said. "I think if people are thinking about committing suicide, then they will rethink it because maybe they're making the wrong decision."
Dawson McGahan said he gleaned a lot from Hines' speech as well.
"A lot of good stuff on even though you might be feeling like you're worthless and stuff," McGahan said, "there are always people out there who care for you and will fight for you even if you don't feel like that."
McGahan agreed with Hernandez on what stuck with him the most from Hines' story.
"The thing that he told me that impacted the most," McGahan said, "was the moment he jumped off, he regretted it instantly. Just thinking about that, especially the people I know who have been in similar situations, it's heartbreaking."
Brandy Buscher, director of student services, said the event was planned because of a high influx of students needing crisis support.
"As we started this school year, we were overwhelmed with mental health," Buscher said. "It was a constant — kids in the office, kids in crisis."
She said Aurora Public Schools did something similar for their seniors last year and she thought it would be a great thing to do here.
"I think as our year started it just became apparent that we really do need to stop and pause, especially our upperclassmen," Buscher said. "Our seniors are making a lot of tough decisions right now. They're looking at college — 'Do I not go to college; do I go to a trade school?' They're dealing with rejection, they're dealing with anxiety of leaving home and all these things."
The district thought it would be good just to take a day and pause.
"(We wanted to) give the students a chance to reset themselves, learn about mental health, understand that it's OK to not be OK," Buscher said. "Also, with our breakout sessions, we gave them a chance to focus on a topic that maybe had been bothering them."
The topics in the breakout sessions throughout the morning covered anxiety, how to deal with conflict and how to handle rejection.
"I think there's still a lot of fear," Buscher said. "I think there's a lot of confusion that has perpetuated anxiety in kids."
Buscher said there are programs for teachers and staff, but she felt there needed to be something for the students as well.
"We can train our teachers all we want on how to respond, but if we're not giving our kids tools," Buscher said, "we're just kind of being reactive and not proactive."
The morning session opened with a presentation from Jamie Mapp, a school psychologist who works as a mental health clinician.
Hines closed with a special piece of advice.
"Yesterday is history, tomorrow is a mystery, but today is a gift," Hines said. "That is why we call it the 'present.'"