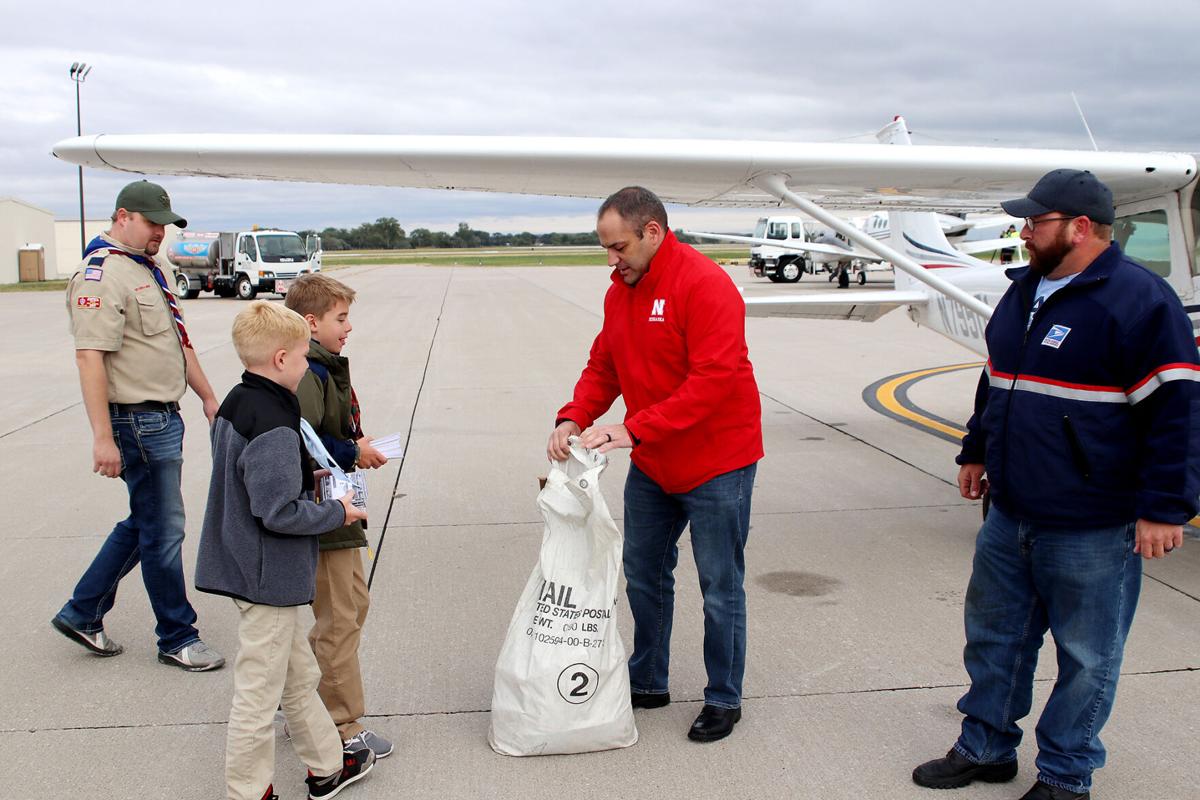 By the time David Ott landed his borrowed Cessna 172 Wednesday at Lee Bird Field, he and other "Air Mail 100" participants understood their 1920 counterparts much better.
Weather-related challenges from this week's regionwide winter preview, coupled with mechanical problems in Omaha, marked the second day of this week's four-day cross-country relay celebrating America's transcontinental airmail centennial.
"I finally figured out there was a reason they had three airplanes in reserve at every stop" in 1920, event organizer Bill Moore said. "This was why."
Ott, an Omaha-based commercial pilot with a day off, touched down at the North Platte airport at 5:22 p.m., about 3½ hours behind the relay's 1:45 p.m. scheduled arrival.
It proved to be the relay's last Wednesday stop, as the next leg to Cheyenne, Wyoming, had to be delayed until Thursday morning.
Even so, the bag of Air Mail 100 commemorative postcards arrived just 92 minutes after the 3:50 p.m. time that the original flight landed at North Platte's then one-year-old airfield on Sept. 9, 1920.
Ott, who flies Airbuses for "a major airline," brought not only the bag but also a real-life carrier for today's U.S. Postal Service — his friend and neighbor Erik Taylor of Omaha.
"I've been promising him an airplane ride for quite some time," Ott said as he met about a dozen well-wishers outside Trego-Dugan Aviation, the airport's "fixed base operator" that handles private aircraft.
Taylor, who delivers mail in south Omaha, looked on as Cub Scouts Evan and Jack Condon dropped some 300 filled-out postcards in the Air Mail 100 mailbag from members of their Pack 292 and Boy Scout Troop 292.
Like their fellow Scouts, Jack, 10, and Evan, 8, wrote postcards to friends and relatives for the relay, launched Tuesday on New York's Long Island, to deliver to San Francisco Friday. They'll be put in the regular U.S. mail there.
The Condon brothers, in fifth and third grades respectively at McDaid Elementary School, made sure to send one to their uncle Mike Condon, who lives in San Jose, California.
"He's a Nebraska history buff," noted Sean Condon, their father and Cubmaster.
Once Ott and Taylor finally took off about 3:30 p.m. from Omaha's Millard Airport, they had a smooth flight to North Platte.
"It was cloudy, but we were able to get out of the clouds for the last one-third of the flight and enjoy the view a little bit," Ott said.
He signed up for Air Mail 100 in July after reading a letter seeking participants that Moore had published in the Omaha World-Herald.
Wednesday's flight was a "full-circle" experience, Ott said, because he flew mail to U.S. troops in Afghanistan as a civilian contractor from 2009 to 2014.
He flew into and out of Lee Bird Field as a flying student and instructor at the University of Nebraska at Kearney, he said.
He and Taylor also live near the one-time home in Omaha's Benson neighborhood of William C. "Wild Bill" Hopson, one of the original 1920s airmail pilots known as "The Suicide Club."
"It's just neat to fly the route, look at the original (airmail flight) directions and be amazed at how far technology has advanced," Ott said. "A flight that's relatively easy now was quite arduous back then."
Wednesday's Air Mail 100 legs offered a variety of reminders of that fact.
The first pilot left the Chicago area nearly on time, Moore said. But with clouds from the lingering Rockies-Great Plains storm stretching into eastern Iowa, he landed in Waterloo, Iowa, instead of Iowa City as planned.
After the relay's next leg reached Millard about 11:35 a.m., Ott said, the plane he was supposed to take to North Platte developed a problem with its left brake.
"Luckily, we had a good maintenance team," but they couldn't fix the brake problem without a lengthy delay, he said.
Arranging to use the Cessna 172 got Air Mail 100 back in the air, he and Moore said. But the regionwide storm's impact in Wyoming already had caused the pilot scheduled to fly Wednesday's last leg to Cheyenne to cancel.
J.T. Grainger, a pilot based in Sheridan, Wyoming, took that pilot's place and landed in North Platte about 9 p.m. Wednesday.
Because of the weather and the lateness of the hour, Grainger stayed over night and planned to take off for Cheyenne about 6 a.m. Thursday, Moore said.
Thursday's Air Mail 100 schedule after Cheyenne calls for stops at Saratoga and Rock Springs, Wyoming; Woods Cross, Utah; and Elko and Carson City, Nevada.
Friday's final legs will take the centennial relay's mailbag to Sacramento and Concord, California, and finally into San Francisco.
Get local news delivered to your inbox!
Subscribe to our Daily Headlines newsletter.