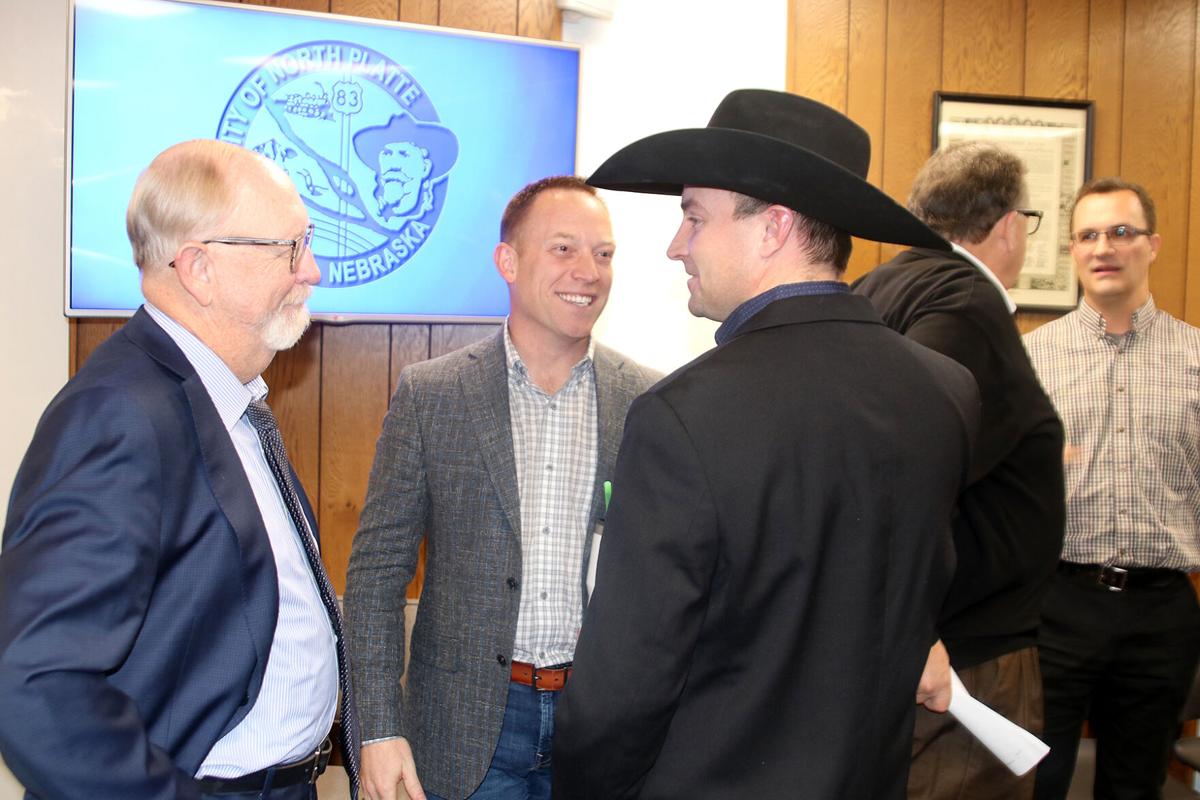 North Platte put its official faith in Sustainable Beef LLC Tuesday night with a unanimous City Council vote to assist the city's largest economic development project in decades.
The 8-0 tally adopted a redevelopment plan that would sell a retired city sewer lagoon for a 1,500-head-per-day beef processing plant and grant $21.5 million in tax increment financing to prepare it for construction.
The decisive vote came 8½ months after project organizers, including several western Nebraska cattle growers and Westco Cooperative CEO David Briggs of Alliance, went public with their plan March 18.
It also followed a final 1½-hour public hearing — the last of several since then — and an hour of questions from council members and Mayor Brandon Kelliher.
If all goes well, Briggs said, construction of the $325 million plant will start before spring and the first cattle will be processed in early 2024.
An analysis led by Creighton University economist Ernie Goss projects North Platte will gain nearly 2,000 jobs — 875 at the plant itself, the rest from supporting businesses — and some $1.16 billion a year in economic impact.
Tuesday's vote doesn't yet transfer title to the former 80-acre lagoon, retired in 2019 and located one mile north of Interstate 80 and southeast of the intersection of Newberry Access and Golden Road.
Sustainable Beef must prove it has completed its $325 million in financing and present a signed construction contract before the city's $142,500 sale of the old lagoon can close.
The redevelopment plan's $21.5 million in TIF assistance gives the firm the chance to gradually recover its costs to buy the site, install city utilities, pave and likely widen Golden Road and especially raise the 8- to 10-foot lagoon's base until it sits 5 feet higher than nearby Newberry.
The city's Community Redevelopment Authority, which drew up the plan and forwarded it to the council, will meet sometime in January to finalize a redevelopment contract.
Briggs said after the meeting that he's confident the rest of Sustainable Beef's financing will be in place by then.
Once it has the title in hand, he added, Sustainable Beef will apply to the Nebraska Department of Environment and Energy for necessary permits that will trigger yet another round of public input and hearings.
"We're excited to get to this point and look forward to starting construction here in the first quarter of 2022," Briggs said.
He thanked North Platte's leaders and people for their support, sentiments echoed by ranchers and fellow Sustainable Beef organizers Rusty Kemp of rural Tryon and Trey Wasserburger of rural North Platte.
"I just couldn't be happier," Kemp said. "The city of North Platte has been fantastic to work with."
"This started a couple of years ago as a pipe dream," Wasserburger added. "I'm proud of North Platte and the way they handled it tonight and the overwhelming support."
Only two of the 20 speakers Tuesday night opposed the project, which drew broad support from Nebraska's agricultural industry as well as top state and local leaders.
Steve Martin of Lincoln expressed the support of several statewide commodity groups, including the Nebraska Farm Bureau.
Gov. Pete Ricketts and Anthony Goins, director of the Nebraska Department of Economic Development, sent letters urging the council to adopt the redevelopment plan.
Larry Golden, who lives a mile east of the project site near the Platte River forks, said he knows he can't stop the beef plant but pleaded with city and project leaders to ensure safety.
He said he's especially worried that fatal crashes are inevitable as motorists and trucks enter and leave Newberry and that he, his brother Tom and another neighbor will be cut off by snow, high water or heavy traffic.
"I think the cattle industry, which is our lifeblood, should do this on their own" without government help, Golden said.
"Are we going to rename Golden Road to Bottleneck Junction? ... Make 'er safe, guys. Make this project safe. Right now, it's scaring me with that road."
Briggs and Dave Post, a design technician for the Olsson engineering firm's Kearney office, said they'll work closely with City Engineer Brent Burklund so Newberry and Golden Road are upgraded to meet traffic challenges.
Jim Jordan, Tuesday night's other vocal opponent, echoed predictions at earlier hearings that North Platte will face an influx of illegal immigrants and higher crime rates.
"If you look at Lexington and Grand Island, there are probably very few residents who work at those places," Jordan said, referring to larger "Big Four" beef plants in both cities.
Most speakers, however, said Tuesday's vote offered North Platte's best chance to put a decisive end to 40 years of economic stagnation.
"I applaud you people tonight for leading this community toward change and toward improvement," said Eric Hansen, fifth-generation operator of the Hansen 77 Ranch north of North Platte.
Though his own children may not continue his family's 144-year ranching tradition, "I feel like this project is the right thing for my industry, my family and my town."
Now it's up to the entire community to make the most of North Platte's two years of lead time, Kelliher said after the vote.
"Yes, there will be some challenges, but we will meet them by sticking together," he told the packed City Hall council chamber. "We will not meet them by being divisive and dividing ourselves. ...
"Now let's get together and make it happen."
For more details from Tuesday's Sustainable Beef hearing and council debate, see Thursday's Telegraph and nptelegraph.com.