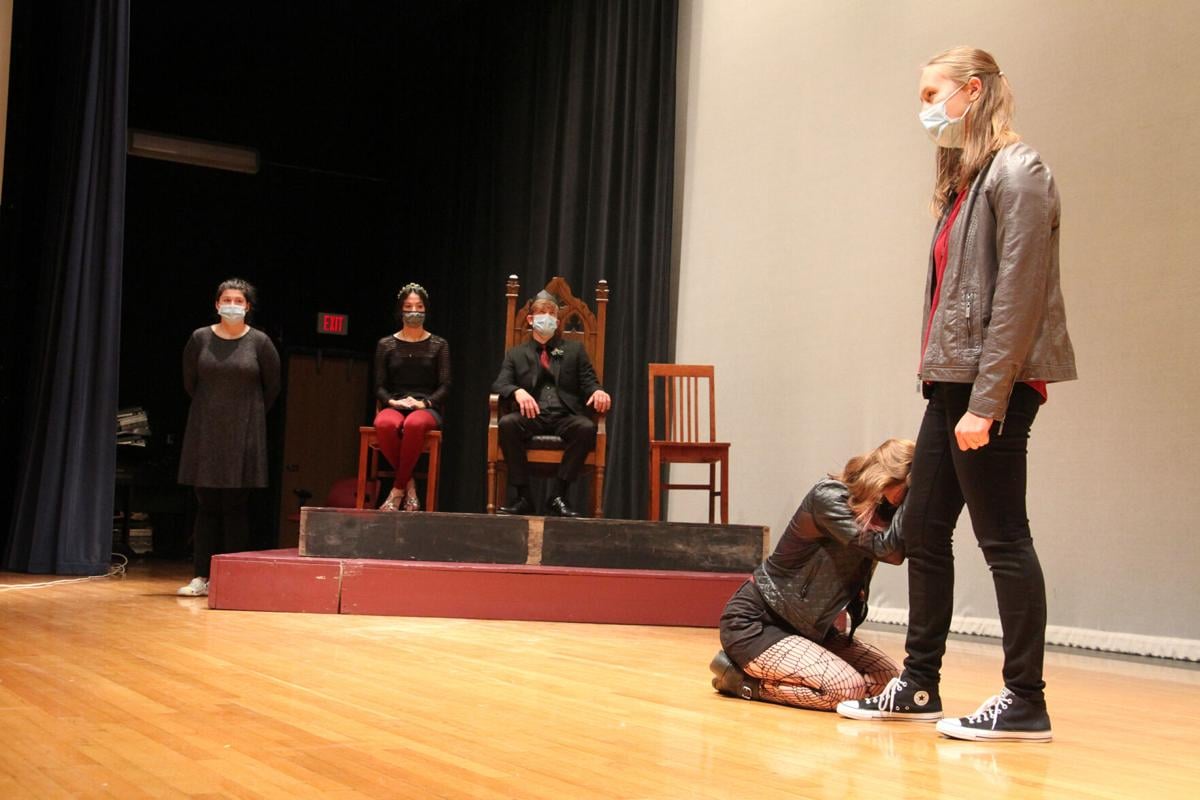 Greek tragedy adapted into a performance featuring vampires brings out the creative aspects of Brittany McDaniel's advanced acting class at North Platte High School.
The show, McDaniel said, is where the students take all the skills they've learned in beginning acting and other theater opportunities at NPHS, and bring it all together.
Performances are scheduled for 7 p.m. Friday and Saturday in the high school Performing Arts Center.
"This production is entitled 'Anne,' and it's a modern vampire adaptation of 'Antigone' by Sophocles," McDaniel said. "It's the story of Anne, whose two brothers have killed each other in a duel."
She said she teaches the original play in her Intro to Theater class.
"When we read it, we always have them adapt it into something different," McDaniel said. "For some kids it's like set in a circus or set in ancient Egypt."
Two years ago, McDaniel said, she had some students who didn't know what to do.
"I said, well, just do it with vampires and they were like, oh yeah," McDaniel said. "That was a loose suggestion, but that might just work."
Sophomore Dana Sorenson has the lead role performing as Anne.
"This class is very in depth with what we're trying to learn," Sorenson said. "We are very focused on the skills and making sure it is believable and just honing skills we learned in beginning acting."
This is the first year the class has been able to put on a production. Last year's production was canceled on the day McDaniel cast the show because of COVID-19.
"We get to show people a story and what we've learned with Mrs. McDaniel," said Sorenson, who has been interested in drama since elementary school. Our Redeemer Lutheran School put on musicals every spring, she said. "Those really sparked interest in drama and acting and being another person."
In the summer between her eighth and ninth grade years, she went to see some Broadway musicals.
"Those were fantastic," Sorenson said. "I've been in a lot of productions here at the school with Mr. Cooper." David Cooper directs the NPHS one-act production as well as fall and spring plays.
Sorenson's role in this production plays out in her confidence in standing up for her brothers.
"(Anne) is a defiant girl to her uncle, the king," Sorenson said. "She was supposed to be the queen if her brothers hadn't passed away."
Sorenson said Anne knows her place.
"She's ready to do what she needs to do to defy her uncle to bring honor to her brother," Sorenson said. "She feels it's a great injustice that he's not to be buried."
The king, Creed, buried one of the brothers, but refused to bury the second, which in Greek tragedy is a great dishonor.
"This is Anne's story, but it's also Creed's story and how he doesn't learn to fold his pride and turn back before it's too late," Sorenson said. "So it's about his grief as well."
McDaniel has taught advanced acting at NPHS for eight years, but this is the first year doing a full production.
Admission is free with opportunity for a donation. Masks are mandatory for audience members.
Chorus: Hillary Menghini, Talea Ochoa, Ally Pierce, Arabella Roe