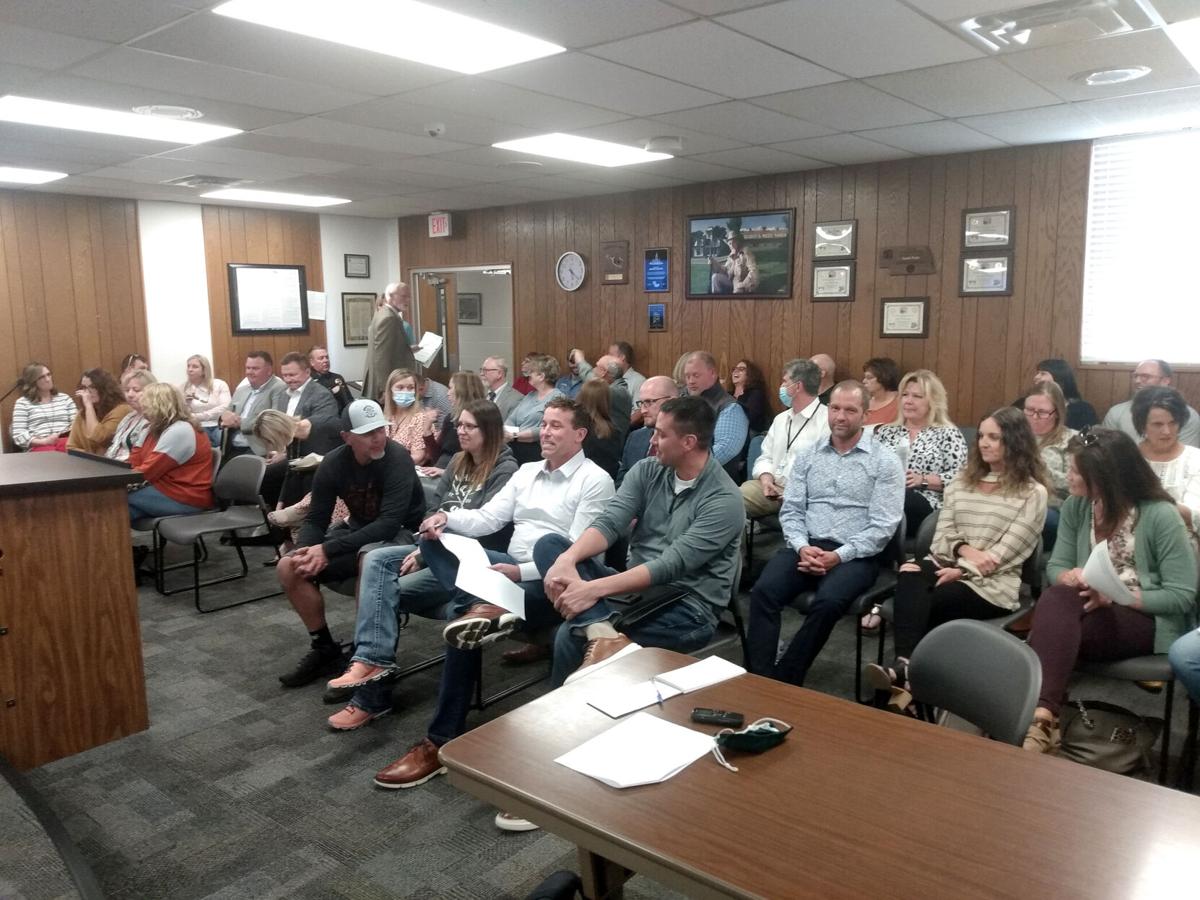 For a solid hour and a half, the theme that North Platte has reached a crossroads dominated Tuesday's City Council meeting.
It dominated public-hearing testimony and comments by a divided council before Platte River Mall's $75 million redevelopment plan won two key test votes.
After voting 7-0 for a $1 million Quality Growth Fund loan, the council split 4-3 against tabling an ordinance declaring the mall an "enhanced employment area" to enable a temporary 1.95% tax on mall purchases.
They then gave the ordinance 5-2 initial approval, though Councilman Mark Woods later said he planned to vote "no" but pushed the wrong button.
The packed house burst into applause at the vote, which came as a relief to Gary Person, president and CEO of the North Platte Area Chamber & Development Corp.
"It's huge for North Platte. It's absolutely huge for our whole trade-center region," Person said Wednesday.
The council May 18 will face not only a second-round vote on the EEA ordinance but also a public hearing and single vote on the full redevelopment plan to grant tax increment financing and — if and when the ordinance passes — impose the EEA tax.
If the ordinance advances again, it will face its final vote June 1. A single vote on Rev's final plat also will be on the May 18 agenda.
The evening revealed a narrow but strong four-member majority for the mall plan among the seven able to vote on the issue.
The eighth, Councilman Ty Lucas, recused himself and left before Tuesday's mall votes. Lucas is a vice president at NebraskaLand National Bank, one of the lenders for new mall owners Rev Development LLC.
All 41 speakers at the hearing, including people from Sutherland and Hershey, pleaded for council support of the key EEA ordinance.
Rev co-owner Mike Works, in attendance with partner and fellow Lincolnite Justin Hernandez, said the turnout heartened them.
"We're ecstatic," he said Wednesday. "It was awesome to see the support from the city. It was really cool to see the passion people have for North Platte."
The audience's unanimity — in numbers usually only seen when residents oppose proposals — caused 40-year businessman Alan Erickson to choke up as he spoke.
"We've just witnessed something that I have never seen in North Platte: Nothing negative!" he said.
"We've been looked over, passed over many times because we didn't have the (economic) tools. Now we've got somebody that has the experience and interest," Erickson said, gesturing to Works and Hernandez.
Most speakers welcomed the chance for broader shopping choices, adding that they're tired of driving to Kearney, Grand Island, Lincoln, Omaha or Denver for options that might be among a remade mall's tenants.
"I'm guilty," said Wendy Thompson, 546 E. Sagebrush Drive. "I take a cooler when I go to Lincoln. ... I hit Hy-Vee. I fill that sucker up as full as I can, and I bring it back."
Her two grown children "choose not to come back to North Platte because there isn't anything here." One lives in Kearney and the other in Lincoln, she said.
Younger speakers, some of whom moved to North Platte from larger cities, said the mall plan encourages them about the city's future.
"I find this a reason for me and my husband to stay in North Platte, and I would much rather invest my money into this community," said Suzanne Knolles, 1101 West B St.
"This project has created more excitement from the people I have talked with," added Marcia Baumann, 902 Sioux Lane, saying she moved from eastern Nebraska "kicking and screaming" with her husband in 1986.
When she and her friends "want to buy something very basic like a graduation gift or women's clothing or children's clothing, we have to go out of town," she added.
Kimberly Backer, chairwoman of the Sutherland Village Board, said many in her town would gladly pay the EEA tax at the mall on top of the current combined 7% state and city sales taxes.
The EEA tax would be "a tax of choice ... that they feel they have the right to use and shop where they want," Baker said.
The hearing testimony failed to sway council members Woods, Ed Rieker and Donna Tryon, who said they like Rev's vision but not its owners' call for city help.
"I'm 100% in favor of this project," Rieker said. But "it seems we have so many factors in our culture that are guiding us toward more and more government involvement. That troubles me immensely."
Woods agreed with his Ward 4 colleague and North Emory Street neighbor. "I know this is the way development is done nowadays," he said. "And it bothers me."
But the EEA ordinance's advancement was assured when Councilman Jim Carman opposed tabling the measure and then forcefully declared himself in its favor.
The retired North Platte police officer cited his fiscal-conservative credentials, saying said he maintained lean budgets throughout his 8½ years as Lincoln County sheriff and always drove a sheriff's vehicle that was 8 years old when he started there.
But despite getting "an earful" from Ward 3 residents, only one opposed the mall project, Carman said.
"If you don't want to pay this tax, shop somewhere else," he said. "I think this is a worthwhile project. It's a strong step forward in growing our community.
"And I want to see some things happening. I've been here 40 years," he added. "I'm proud of where this community is going, and I'm wholeheartedly in favor of approving this tonight."
Councilmen Brad Garrick, Pete Volz and Jim Nisley also opposed tabling the EEA ordinance before voting to advance it.
"We hear a lot about 'tax.' The issue here is free enterprise," said Nisley, the council president. "And we're going to bring a lot of money into this town. That's free enterprise."
Volz, who made the successful motion to advance the EEA ordinance, cited voters' nearly 3-to-1 support last November for renewing the Quality Growth Fund.
"North Platte has directed a mandate to the City Council for us to steer this ship toward quality growth," said Volz, who represents Ward 2 along with the absent Lucas.
Garrick, Carman's fellow Ward 3 council member, seconded Volz's motion. "I have lived in North Platte most of my life," he told the audience. "I am excited to see you all out here in passionate support of this project."
But Tryon, who represents Ward 1 along with Nisley, triggered groans when she moved to table the ordinance for a future work session.
"I hope everyone else has read this 60-some-page (project) document and understood it completely," she said.
Rieker seconded Tryon's motion. No debate preceded the 4-3 vote that defeated it, because council rules don't allow debate on a motion to table, Mayor Brandon Kelliher said.
When discussion resumed, Rieker acknowledged the crowd's support for the EEA tax but said "I've also spoken with a lot of people that are not in favor of the tax."
"Where are they?" multiple voices called out, prompting Kelliher to remind them that the public hearing was over.
Tryon said senior citizens with fixed incomes have told her they don't want new taxes. She suggested the audience would rue its support for the EEA tax.
Highlights of Rev Development LLC's proposed $74.95 million redevelopment of Platte River Mall:
"I just want you folks to know that when times get tough for retail business, the first thing they don't pay is sales tax," she said.
She traced North Platte's streak of monthly net sales-tax records during the COVID-19 pandemic to last year's launch of robust state collections of sales taxes on online purchases.
"Guess where we're doing our shopping," she said, adding that people also could shop online to avoid the EEA tax.