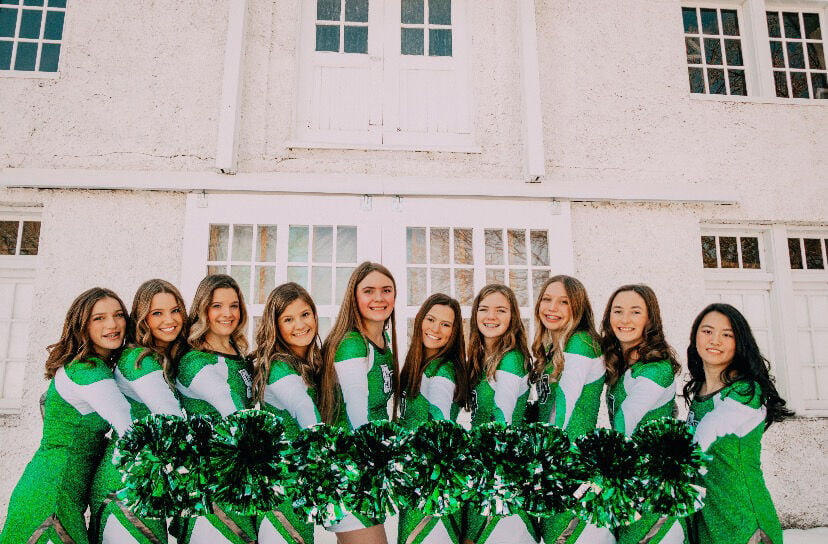 The St. Patrick High School Strutters dance team captured runner-up in pom and high kick at the state competition in Grand Island in mid-February.
Juniors Elise O'Neill and Kate Roberg, captains of the team, summarized their state run and season as a lot of work, but well worth the effort.
"The season went really well this year," O'Neill said. "We didn't have any seniors this year so we had two junior captains."
O'Neill said because of COVID-19, they could not do their regular summer camp before school started.
"It was really hard to get techniques down with the new girls," O'Neill said. "It was a lot harder for them, but they all did really good."
The team performed at football games and at all the boys basketball games throughout the year. The girls do more than dance, as they get involved in the community in various ways as well.
"We do lots of fundraisers," O'Neill said. "We work at Nebraskaland Days concessions; we also do concessions at Dusty Trails Pumpkin Patch."
Currently the team is selling Bug Butter — a mosquito repellent — to raise funds to help with camp costs and uniforms.
The girls said the friendships they have developed on the team are significant.
"I think it's bonding with other girls on the team and getting to know everybody," Roberg said. "Also, we just do a lot of community stuff to bring the community together and I really like that part of it too."
Roberg said performing is uplifting as well.
"It's just fun entertaining people at games and watching them cheer for you and getting the crowd excited too," Roberg said.
An avid dancer, O'Neill's favorite part of being a part of the team is the dancing.
"I also like the friendships that come out of it because if I weren't on the team with some of the girls that are on there, I probably wouldn't be as close to them as I am," O'Neill said.
The team spends a lot of time practicing before and during the school year.
"During summer and fall season, we practice Monday, Wednesday, Friday, usually," Roberg said. "We start stretching at 6:15 and practice routines until about 7:40 (a.m.)."
Once basketball season starts, she said the team practices more often, because games are closer together and they learn a new routine for every game.
"With state practices, we have three- to four-hour practices on the weekends with our usual weekly practices," Roberg said. "State comes with a lot more time and effort for everyone."
O'Neill and Roberg choreographed the state routines for the kick and pom competitions. The strength of the team was doing everything in sync, Roberg said
"I think we were hitting everything at the same time, we were all very sharp and together," she said. "Everyone just did really good on working hard and making sure everything was on the right count."
State dance competition and the boys state basketball tournament were the biggest highlights for both captains.
"For me, it was state," O'Neill said. "We just put in so much time and hard work into those two performances. When you finally get to perform in front of that huge crowd and you do really well, and I do think we did really well, it pays off. It makes everything worth it."
Roberg said her dream came true with the boys state basketball appearance.
"We got to dance at the Pinnacle (Arena)," Roberg said. "That's always been kind of my dream, so that was super exciting.
"We got to do that with our cheer team too, so with all of us that was super fun and definitely a good memory."
The team had 10 members for the 2020-21 season. For the 2021-22 season, there will be 15.
The team is coached by Rachelle Allbery-McQuade.