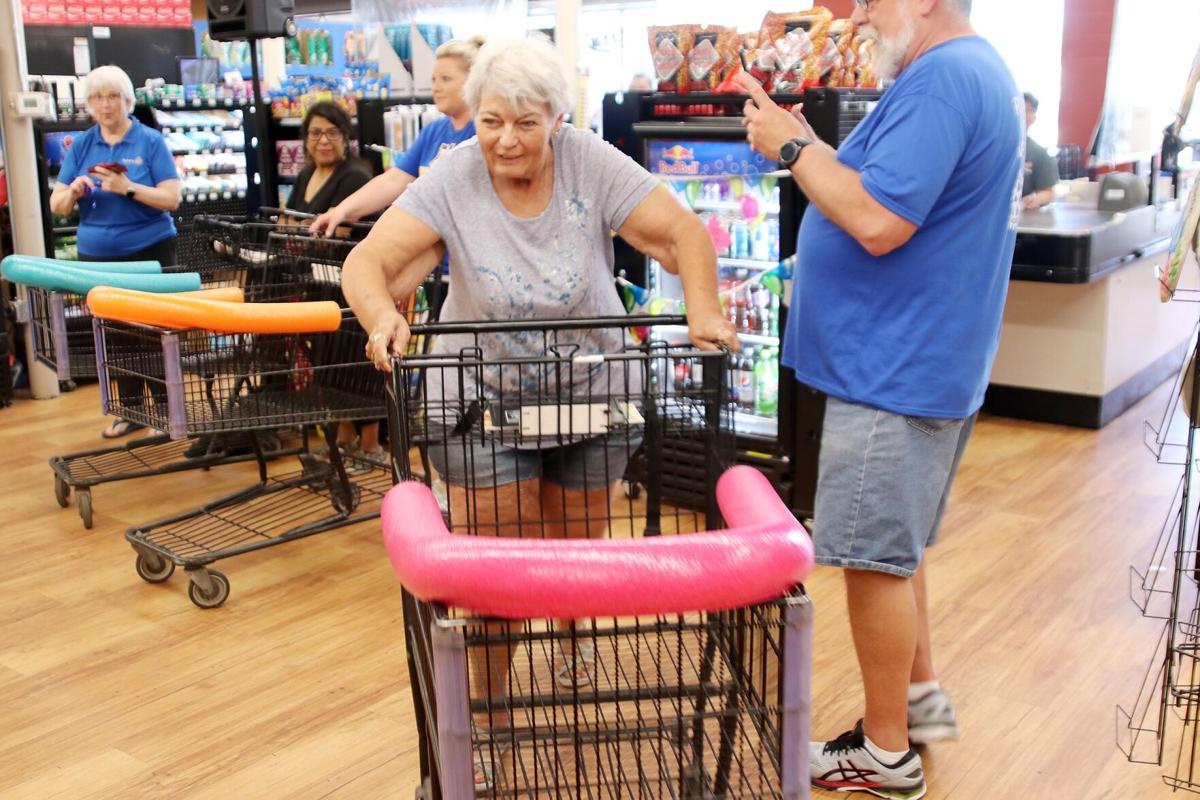 With just one, two or three minutes to work with, a successful shopping spree takes a plan.
The three winners of the North Platte Noon Rotary Club's third "Grocery Grab" raffle all clearly had their strategies in mind before their mad dashes Saturday afternoon through Gary's Super Foods at 1620 E. Fourth St.
Ruth Hyland of Maxwell, winner of the event's top three-minute spree, focused on "higher-dollar items that are more expensive to buy on a regular basis."
Her ticket at the end of her run totaled $297.13, a haul Hyland said she owes first of all to boss and Rotary member Scott Orr of Orr's Draperies and Dry Cleaning in North Platte.
Orr bought several raffle tickets in the names of Hyland and other employees, she said. "He came back from the Noon Rotary meeting (and) said, 'You won,'" she said. "I was like, wow."
Two-minute spree winner Amber McEntire of North Platte trailed Hyland in both time and total value, collecting $227.90 worth of items.
She began with a sprint straight down the aisle to meats and frozen foods. "I have two teenagers," McEntire said in explaining her strategy.
When she won after having entered the raffle in previous years, her first thought was "that everybody's going to laugh at me on Facebook Live."
Though she had just one minute to shop, Melinda Streeter of North Platte nabbed $195.49 worth of "just fun foods" in those 60 seconds.
Once she learned she'd be taking part, "I was like, 'OK, I need to investigate more and check out the store and see what things to grab,'" she said.
Noon Rotary leaders said they collected more than $3,000 from this year's Grocery Grab, which they held in 2018 and 2019 but had to cancel in 2020 due to COVID-19.
Participants were confined to a single cart and couldn't buy more than two of any single item. They were limited to $50 worth of fresh meat, and non-food items were excluded. All three events have been held in conjunction with Gary's Super Foods. "I'm just excited to see what they all pick and what they'll individually go after," said owner Gary Suhr, who also donated $500 separately to Noon Rotary.
Funds raised will benefit such ongoing local Rotary causes as the "Josh the Otter" water safety awareness program and the Rotary Youth Leadership camp for Nebraska and South Dakota high schoolers at the Nebraska National Forest at Halsey, said event chairwoman Misty Robertson.