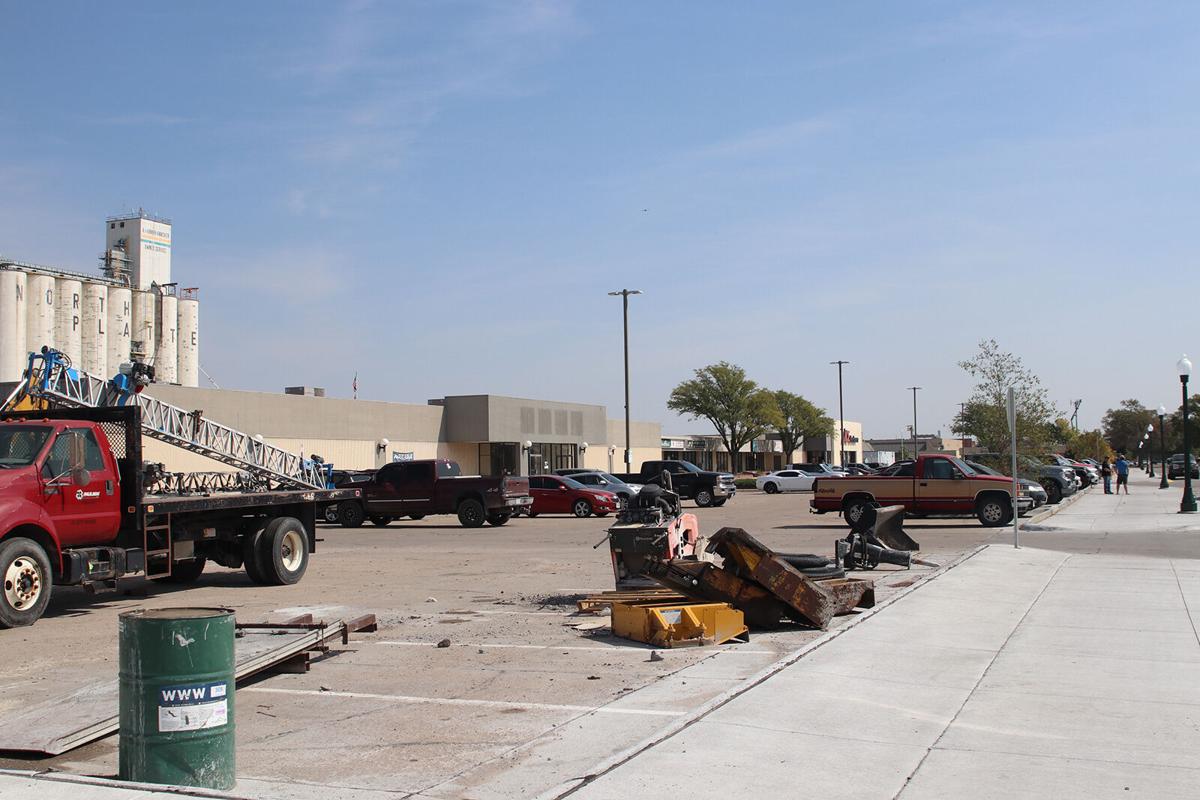 Parkade Plaza, born 42 years ago as the culmination of downtown North Platte's "urban renewal" era, is about to pass into local ownership for the first time.
Shae Caldwell, co-owner with husband, Jeff, of Whitetail Screen Print and Whitetail Cycle Sport, said the couple will close Wednesday on buying the three-block-long strip mall from original owner Noddle Cos. of Omaha.
The news became public Friday with publication of the agenda for Monday's meeting of the city Quality Growth Fund's Citizens Review Committee.
The Caldwells, who are buying Parkade with their own funds, are applying for a $400,000, performance-based QGF loan to help them remodel the former Alco space on its west end for one or more tenants.
North Platte voters will decide Nov. 3 whether to grant 10 more years of life to QGF, which reserves a portion of city sales tax revenues for economic development.
The Caldwells' loan, which also needs City Council approval, would be forgivable if the couple succeeds in recruiting new businesses and adding jobs, said Gary Person, president and CEO of the North Platte Area Chamber & Development Corp.
"I can validate the fact that there are business prospects working with the Caldwells (and) looking over the Alco site," he added.
Shae Caldwell said the needed work in the Alco space, including revamped HVAC systems and Americans With Disabilities Act updates, "is going to be extensive."
But "we don't want to stop with that," she added. "We want to reinvent the whole plaza."
That includes ultimately melding Parkade into the North Platte Downtown Association's overall beautification scheme, set to start taking shape as downtown's "bricks" street reconstruction winds down this fall.
Because its buildings are too young for now, Parkade sits just outside the boundaries of the renamed "Canteen District," added in July to the National Register of Historic Places.
"There's a lot of us that have a lot of involvement with what's happening downtown," said Caldwell, an active association member. "I look at this (purchase) as the cherry on top."
She and Jeff Caldwell own their Whitetail building on North Jeffers Street as well as the 1931 Paramount Theatre Building, which sits near the 1929 Fox Theatre and Hotel Pawnee at East Fifth Street and Bailey Avenue.
Shae Caldwell said the couple plans to install a tall "legacy sign" replica outside the Paramount, further restoring the 1930s appearance of the "Neville Corner." Former Gov. Keith Neville built all three structures.
Built on three blocks cleared in the 1970s of then-aged buildings between East Sixth and Front streets, Parkade opened its doors in 1978.
Its west anchor space near the Jeffers viaduct, however, has been vacant since Alco closed its doors in 2015.
Ace Hardware occupies the east anchor space, originally occupied by the former Sixth Street Food Stores.
The plaza also includes the La Hacienda Mexican restaurant and two other businesses in a detached building south and east of Ace.
Despite hosting temporary indoor and outdoor events, the Alco space has remained empty as the plaza's neighbors to the south have been getting long-needed face-lifts.
Person said the Caldwells' purchase caps several years of behind-the-scenes efforts to clear the way for local ownership.
"Everybody wins," he said. "It fits right into the situation with all the exciting developments in downtown and the renovations going on. They can take it to another level."
He said Noddle Cos. worked with North Platte's leaders a half-century ago to develop Parkade Plaza as one of several regional strip malls it built in "trade center, county-seat towns."
The city of North Platte has owned Parkade's parking lot, while Noddle owned the buildings. Next week's purchase excludes the parking lot.
It also excludes the bay occupied by Brothers Tavern, which sits next to the Alco space and bought its bay from Noddle some years ago.
In recent years, Person said, Noddle has focused more on real estate developments in Omaha and other metropolitan cities.
A "local investment group," which Person declined to identify, negotiated with Noddle to buy Parkade in 2017. It pulled out when retail "big-box" stores started closing in North Platte and nationally.
But that effort paved the way for next week's sale, Person said, because Noddle "said they should put their development interests elsewhere and that it would be good for North Platte to have local ownership."
The Caldwells contacted the chamber six months ago, Person and Shae Caldwell said, as the couple began exploring ways to expand their business interests.
"That made us think of the Alco building," she said.
Person suggested they contact Noddle, which they did. "And they said, 'Why don't you make us an offer?'
"Six months later, here we are."
Parkade has two vacant business spaces besides the old Alco space, she said. Active businesses are Brothers, Tempura Japanese Restaurant, Recognition Unlimited, Ace, La Hacienda restaurant, La Hacienda Market and Star Laundromat.
Person said the sheer size of the Alco space has made it difficult to recruit a sole tenant. The refitting needed to house multiple tenants has been equally daunting financially, he said.
Shae Caldwell said she and her husband aren't devoted to putting multiple tenants in the Alco space.
"If we have a tenant come in who wants it all, we can work with them," she said. "But we'll still need to do some major upgrades there."
Person reiterated that none of the proposed $400,000 QGF loan would be involved in the Caldwells' actual purchase of the plaza.
But he said the loan's remodeling use would fit well with how North Platte has used dedicated sales-tax money for "gap funding" to help businesses of all sizes get started and grow.
"Hopefully it'll bring another couple of businesses downtown that wouldn't be able to come if (the Caldwells) weren't getting the ownership," Person said.
Get local news delivered to your inbox!
Subscribe to our Daily Headlines newsletter.