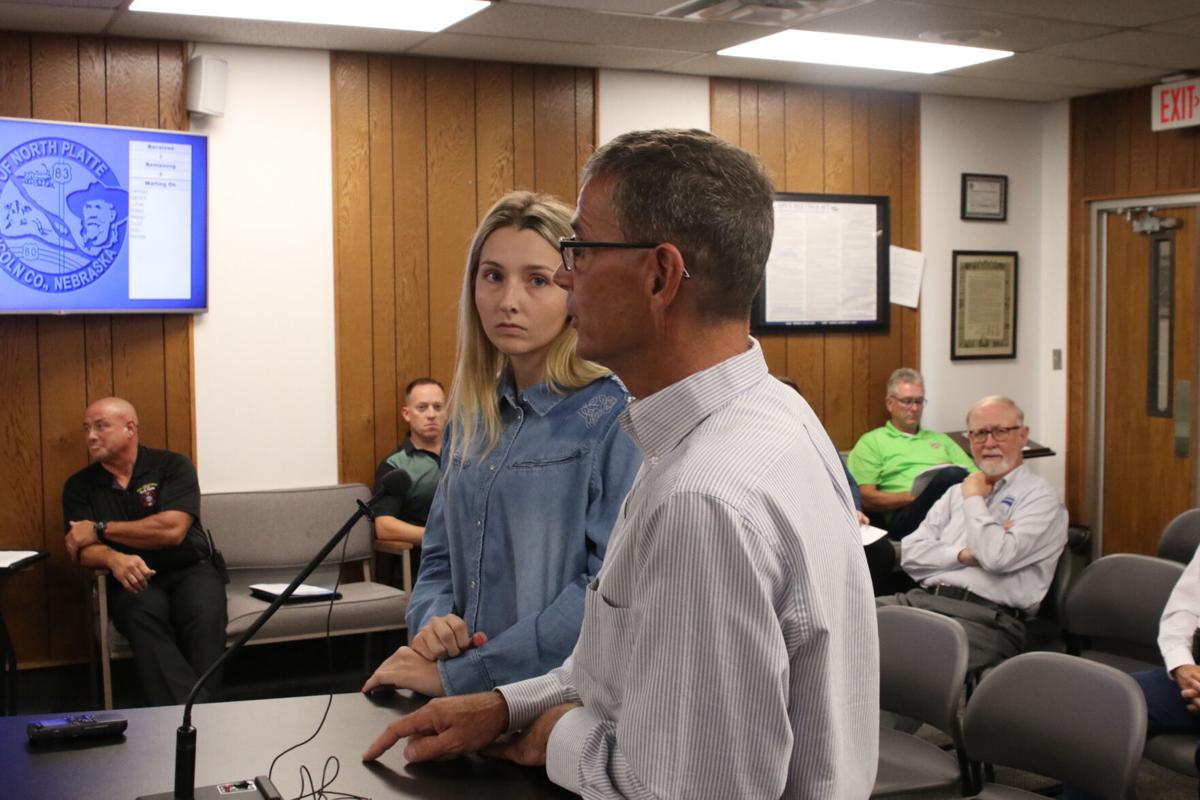 With Mayor Brandon Kelliher breaking a 4-4 tie, the North Platte City Council Tuesday approved a conditional use permit to allow a horse track and eventual casino between the two Interstate 80 exits.
Kelliher's vote, which followed two hours of public-hearing testimony and council debate, leaves North Platte Exposition and Racing Inc.'s project in the hands of the Nebraska Racing and Gaming Commission.
The month-old firm, led by Hastings quarter horse owner and racetrack operator Brian Becker, plans a five-eighths-mile oval track and 32,000-square-foot casino south across I-80 from North Platte Community College's North Campus.
If eventually licensed by the state commission, the casino would have 650 electronic games, 10 table games, race simulcasting and sports betting, a restaurant, bar and gift shop.
The firm's principals have proposed a similar track and casino on the south edge of Gering under the banner of Scottsbluff Exposition and Racing Inc.
Gering officials, who would have to rezone the proposed site there, will start considering the Becker group's proposal next month.
With Tuesday's vote, Prospect Enterprises LLC of North Platte will sell its 70-plus-acre site on East Walker Road to Becker's group. North Platte businessman Alan Erickson owns the site under that entity.
Councilmen Ty Lucas, Pete Volz, Brad Garrick and Jim Carman voted to grant the conditional use permit, recommended July 27 by the city Planning Commission on a 6-0 vote.
Council President Jim Nisley, the last member to vote, created the 4-4 tie when he joined Ed Rieker, Mark Woods and Donna Tryon in voting "no."
Kelliher, responding to council opponents' concerns about a casino's social costs, cited individuals' free will and personal responsibility in voting to grant the permit.
Becker and his partners presented their applications for horse racing licenses at North Platte and Gering July 16 to the state Racing and Gaming Commission.
That panel next meets Sept. 21, but Executive Director Tom Sage said Monday that the Becker group's applications will not be on the commission's agenda that day.
Under the trio of "racino" initiatives Nebraska voters approved in November, casinos can only be operated at licensed horse tracks.
The Racing and Gaming Commission must approve separate horse-racing and casino licenses, with the racing license required first.
The Becker group's proposal says it would seek a gaming license "once we have established North Platte as (a) horse racing destination."
Becker, who has run a one-day quarter horse meet at Hastings since 2004, reiterated Tuesday that the casino is necessary to build a viable long-term horse track.
His group, which also plans to add a casino at Hastings, has said it plans to start with a one-day quarter horse meet at North Platte and Gering. It wants in time to run 30-day meets at all three tracks.
In other business Tuesday, the City Council voted to spend $8,950 on a feasibility study by Olsson Associates on whether North Platte should reopen the city landfill it closed in 1994.
The city has sent its trash since then to the privately owned J Bar J landfill south of Ogallala. Federal environmental regulations adopted in the 1990s led the city to shut down the landfill it had opened in the mid-1970s.
Please see Thursday's Telegraph and nptelegraph.com for more details from Tuesday's City Council meeting.
---
More by Todd von Kampen
5 enticing looks at North Platte's history
2020 was a year that will make history, but it was also a year for us to reflect on our own local history. Special projects reporter Todd von Kampen shares some of his favorite stories from this year that highlight our past.