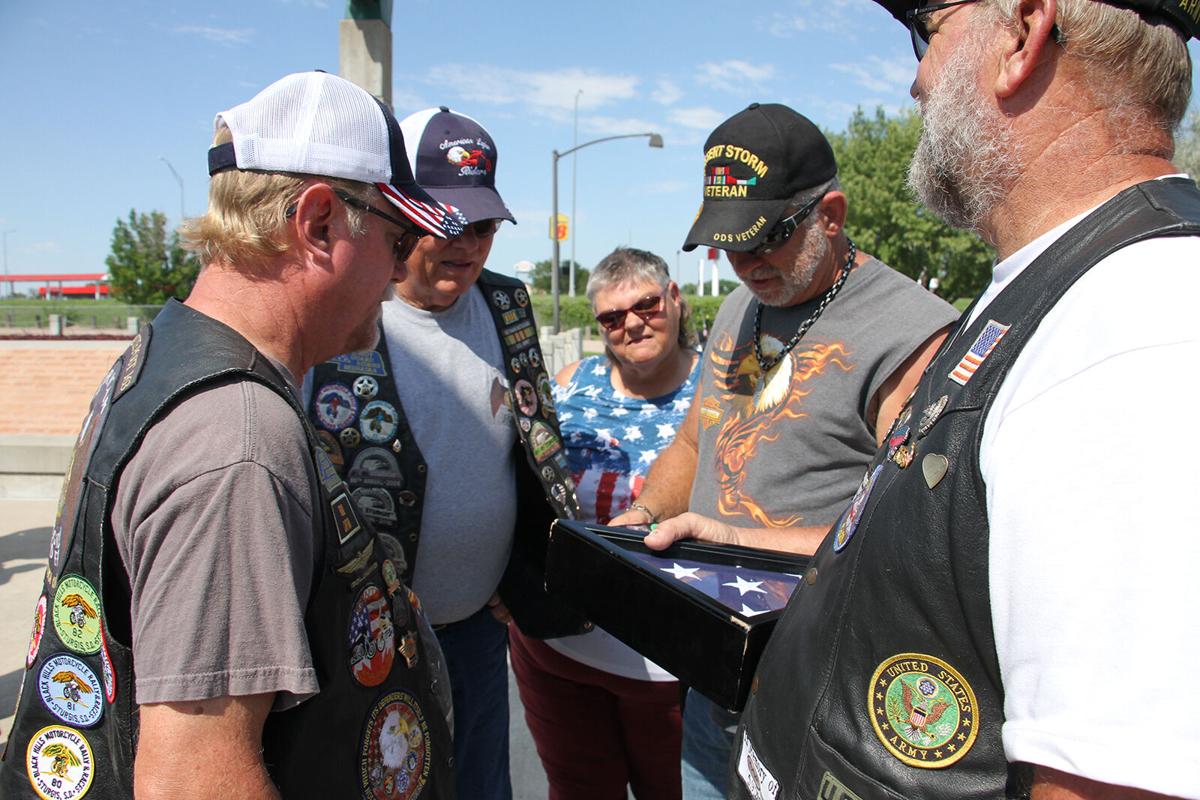 The Nation of Patriots' annual Patriot Tour motorcycle ride stopped Sunday in North Platte at the 20th Century Veterans Memorial for the group's American flag transfer ceremony.
Riders from Grand Island delivered the flag to a group of North Platte riders, who then took the flag Monday to a Harley-Davidson dealership in Denver.
"It starts in Wisconsin and travels through 48 states," said Mike Robb of North Platte, who is one of the riders. "It's just a great honor. I started with it back when it started, and it's been an honor for me to be a part of it."
At each transfer, a ceremony takes place that gives respect to the flag and the Americans — past, present and future — that it represents.
"I carry this flag in a demonstration of freedom, community and pride," said the unidentified reader. "As the next in line, it is a great honor that I present the American flag."
After the transfer of the flag, the riders from Grand Island and North Platte gathered at the American Legion Hall for dinner and fellowship.
The annual Patriot Tour motorcycle ride raises money for disabled veterans and their families. The flag that is carried across the country has flown over a military base.
"We work on a national level to promote the awareness of and financially support the physical, emotional, and economic misfortune that our wounded veterans and their families are living with today and every day," the Nation of Patriots website says. It is a 501(c)3 nonprofit organization.
The money raised through its national network is distributed directly to the families the group strives to support. The families are selected mainly through the VA hospital network.
Be the first to know
Get local news delivered to your inbox!