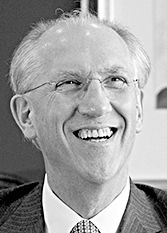 To sue or not to sue — Dave Domina held an informational meeting in Gothenburg on Thursday to help answer that question for corn producers thinking about joining the hundreds of lawsuits against Syngenta.
The suits are coming in from farmers in more than 10 states claiming losses due to Syngenta corn containing the pest resistant trait MIR162 being rejected by China. China inspected every load of corn that was brought in, according to Domina, and if they found any trace of MIR162, the shipment was sent back. The drop in Chinese corn imports allegedly exacerbated the fall of corn prices, which reached a five-year low last year and racked up more than $1 billion in losses for corn producers.
Syngenta claims there was no market harm to U.S. farmers.
Domina, who is a lawyer with Domina Law Group PC LLO of Lincoln, said so many lawsuits are involved that they have become consolidated and are being handled by the Federal District Court of Kansas.
It started when Michael Mack, Syngenta CEO, made a statement in a 2012 earnings conference call. An investor questioned Mack about China approving MIR162.
"There isn't outstanding approval for China, which we expect to have, quite frankly, within the matter of a couple days … we know of no issue with that whatsoever ..." Mack said. However, China didn't actually approve the MIR162 trait until Dec. 17, 2014, which is why many feel that Syngenta misrepresented their product and caused damage to the market.
As of right now, Domina said, the strength of the case is unknown. He stated that every yellow corn producer can be a claimant, and he doesn't see any likelihood for counter claims against producers.
"It makes sense to get in line," Domina said to those considering filing, "It doesn't make sense to get hyped."
He explained that farmers shouldn't order for next quarter expecting to pay for it with the returns of the lawsuit. He believes Syngenta will settle, if only because of the sheer number of cases, but he can't say when or for how much.
During the meeting, Domina also talked about water and the surface water irrigator's lawsuit against the state.
The Nebraska Department of Natural Resources decided that in 2013-14 the inflows out of the streams that are tributaries to the Republican River would be shut off, which meant the bureau of reclamation's lakes and reservoirs would not fill up.
When they didn't fill up, there was no surface water to fill the canal or ditches so the surface water irrigators received a considerably smaller amount of water compared to previous years.
"Almost all of them got together in one room in Cambridge and formed a class," Domina said. "They said 'We the producers have a right to the water, and you as the state has the right to take it ... but when you take it you have to pay us just compensation.'"
The suit claims loss of production and Domina believes it may have an impact on Nebraska's water policies. He encouraged people to speak to the governor and attorney general about how current water laws affect them.
"Don't let the Republican River drive the water policy of the state," he said, adding that it's become "the tail that wags the dog."