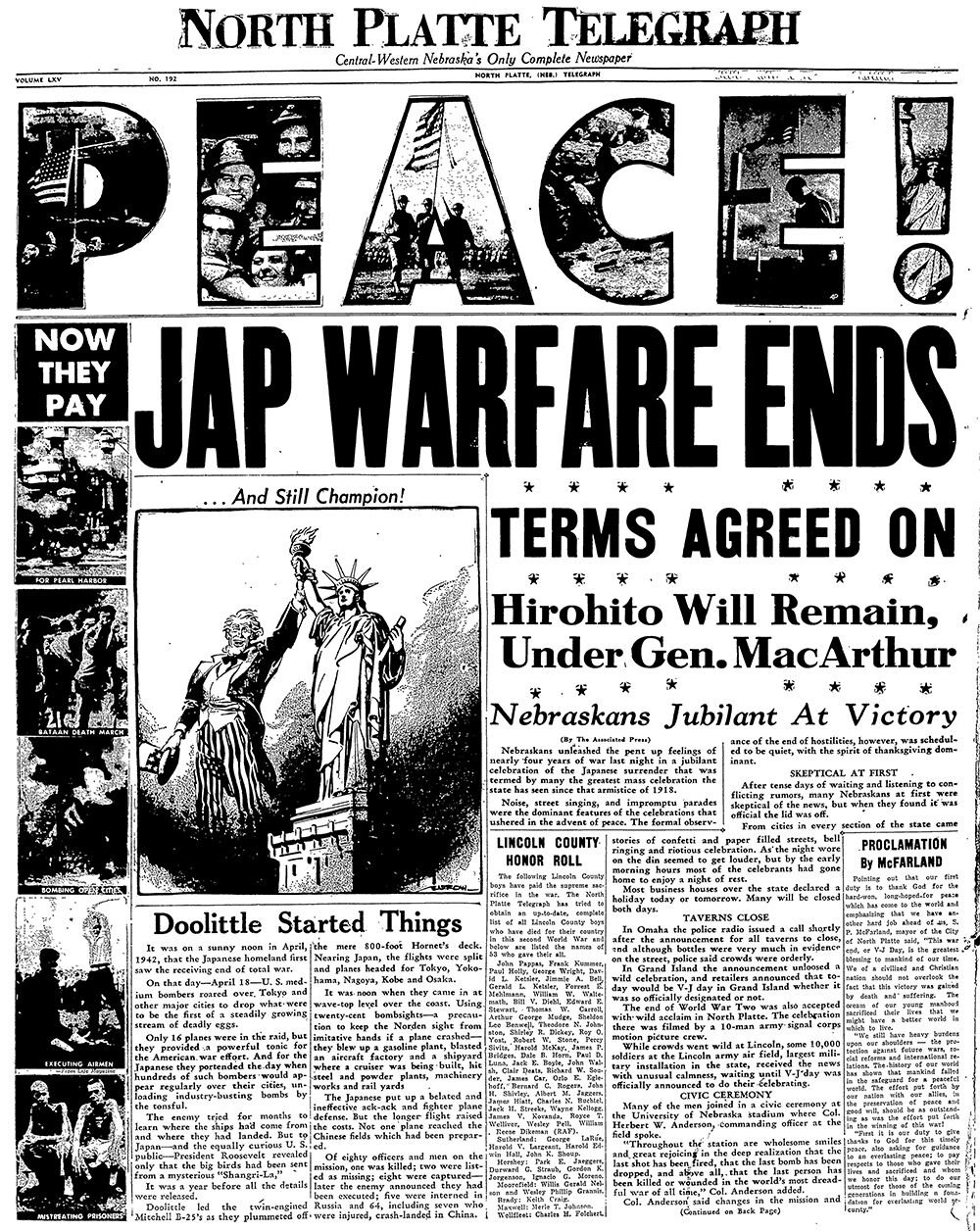 'North Platte Stages own impromptu celebration'
From The North Platte Telegraph, Aug. 16, 1945
This city, which has waited patiently and calmly for the Japanese surrender, letting no false reports of premature announcements set it off on unwarranted celebrations, suddenly cut loose and wildly expressed the emotions which have been checked during the last week of anticipation, when President Truman's announcement of Peace and declaration of V-J Day was received here last night (Aug. 14).
The extemporaneous celebration was unprecedented in its proportions as ninety percent of North Platte's population swarmed to the downtown section, forming impromptu parades, building bonfires and shouting and singing their joy.
Horsemen carrying flags appeared, and the streets and men and women fell in behind them to form a parade. Cars were suddenly painted with signs, plastered with the "Peace" headlines of the North Platte Telegraph Extra and jangling with the cans tied on their bumpers. The cars were overloaded as groups of people jumped on the running boards, fenders and bumpers, riding a short way, only to spy another car with an eye for "attack."
At the Canteen, train after train arrived with servicemen who had to be fed, but (they) formed snake dances in the dining room and listened to snatches of radio reports between their almost continuous shouting, singing and dancing.
Although the crowds downtown began to thin out around 11:00 p.m., the celebrations were not terminated but transferred to homes to be continued far into the night.
The day World War II ended, our nation's capital had nothing on North Platte.
Search for footage of the first V-J Day on Aug. 14, 1945, and you'll find online clips from New York's Times Square, Los Angeles and other large cities.
But a National Archives blog Tuesday on the 75th anniversary features the agency's own footage of two cities celebrating the news of Japan's surrender.
North Platte is the other.
The first 5½ minutes of a 7½-minute clip on "The Unwritten Record" shows what a U.S. Army Signal Corps film crew captured in the future "Canteen District" downtown when news of the war's end set off parades and revelry.
Those filmmakers, which had arrived two weeks earlier to film the World War II Canteen, chose to stick around in case the war ended soon.
"It really gives us a look at what it was like in Main Street America. And it really is fitting, considering the effort this community put in to serve all these servicemen who won the war."
Hollywood in NP
They came at the end of July, ordered to film not just a typical day at the Canteen — then nearly four years into its regionwide quest to serve every service member riding the Union Pacific — but also the town and area.
"Directed by Lt. Louis Lindsay, the ten-member crew revealed the theme of the Canteen was being used in the filming of 'Nebraska,' a pictorial review of the state," the North Platte Daily Bulletin — which would merge with The Telegraph in 1946 — reported on Aug. 1, 1945.
Had the war lasted longer, their work would have been part of a film series for overseas distribution, showing how each of the then-48 states was supporting the war effort.
"All ex-motion picture men from Hollywood, and recently returned from Okinawa, the 10-man crew will spend the next four or five days taking pictures of the Canteen kitchen, dining room, workers and visitors," The Telegraph added.
"'This is just the Army's way of saying 'thanks' to all the home front soldiers who are helping in so many different ways to speed the end of the war,' Lt. Lindsay said."
It was already closer than anyone dreamed.
Flatrock in 1945
An "Unwritten Record" post from Aug. 12, 2014, includes three 11-minute clips of the Signal Corps' work in and near North Platte as well as the V-J Day celebration.
Besides Canteen footage at the 1918 Union Pacific Depot, viewers also will see an ordinary day downtown, 11-year-old Canteen fundraiser Gene Slattery auctioning "the shirt off his back," and farm and downtown scenes in Elsie and Kearney.
On Aug. 6, the world learned America had used the world's first atomic bomb to destroy Hiroshima. Nagasaki suffered the same fate Aug. 9.
"The prospect of being able to complete the (Nebraska) film with shots of the local observance of V-J Day also caused some little speculation" locally, the Daily Bulletin reported Aug. 11.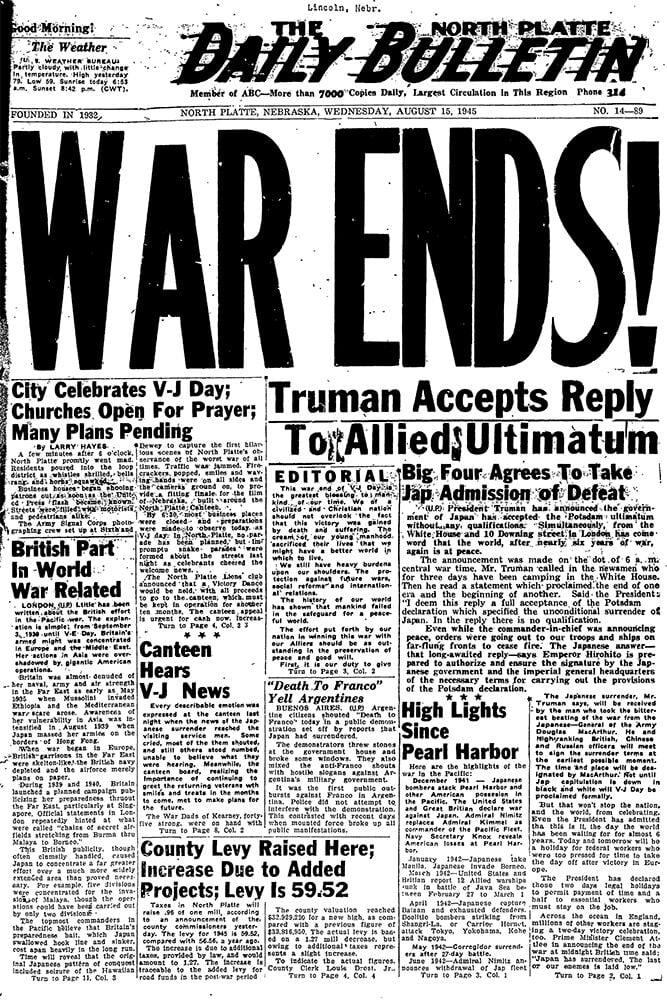 'Canteen hears VJ Day news'
From the North Platte Daily Bulletin, Aug. 15, 1945
Every describable emotion was expressed at the Canteen last night when the news of the Japanese surrender reached the visiting service men. Some cried, most of them shouted, and still others stood numbed, unable to believe what they were hearing. Meanwhile, the canteen board, realizing the importance of continuing to greet the returning veterans with smiles and treats in the months to come, went to make plans for the future.
The War Dads of Kearney, forty-five strong, were on hand with a large donation of supplies. They were assisted by six of the Jewish ladies of North Platte. The Kearney men arrived in a Kearney State Teachers college bus driven by President (Herbert) Cushing. Their truck load of supplies included 480 candy bars, magazines, 10 crates of oranges, 80 cases of Cokes, 400 loaves of bread, 300 pounds of meat, 3,000 hard-boiled eggs, 75 sheet cakes, 49 birthday cakes, 3,000 cookies, 72 pounds of coffee, 500 packages of cigarettes, 30 pounds of butter, eight gallons of dill pickles and five cases of Miracle Whip.
In a two weeks' drive for funds, the Kearney group raised over $1,200, a part of which was used to purchase yesterday's supplies.
The Jewish ladies made a cash donation.
Other donors yesterday were Mrs. Clifton Yanken, Mrs. M.M. Younkin, Mrs. Fred Wright, H.A. Rowe of Wallace, Mrs. James Cox, Lea Karlin of Columbus, Mrs. R.L. Karlin of Columbus, Dennis Bedker, Mike Fitzpatrick, Keenan's Coca-Cola Bottling company, Shirley Munson, (the) Stuckey farm of Maywood, a friend, Barbara Anderson, Sharron Mullikin, Milly Ann Brown, Mrs. D.M. Tatom, T.E. Jefers, Hattie Richter, Mrs. Silver of Philadelphia, Mrs. Harold Van Buren, Mrs. Gene Romans, White Horse Bar and Mrs. Everett Roberts of Kearney.
The American War Mothers, the V.F.W. Auxiliary and the wives of the Union Freightways will be on duty today.
The displaced Hollywood filmmakers were expected to finish Aug. 12 or 13. But with the world anxiously waiting to see whether Japan would keep fighting, they stayed.
Lindsay already had told North Platte how deeply impressed his crew — which jointly donated $10 to the Canteen — was with what they had seen and experienced.
"I'm glad we received this assignment," he told the Bulletin Aug. 3. "Everyone is doing so much here. It is hard to realize North Platte is no larger than it is.
"If our film is a 'thank you,' it is little enough to show our appreciation for what you are doing here."
Their planned documentary was dropped with the war's end. But Lindsay and his filmmakers were ready at 6 p.m. Central War Time on Aug. 14, 1945, when President Harry S. Truman's words from the White House flashed across the world:
"They must have moved quickly to get their cameras in place, because people almost instantly ran out in the streets," Griffin said. "They were really thinking ahead."
Unrestrained elation
They look so young. And so joyous.
We're not referring to the young boys standing on downtown's 1916 brick streets, hawking the hastily printed "extra" edition of The Telegraph proudly displayed by all.
Young men and women, children of all ages and service members in uniform wave and cheer all over downtown, listed in July on the National Register of Historic Places.
Those soldiers almost certainly had run from the Canteen, Griffin said. "There may have been a few local veterans around, but I'm sure most of them (in the film) decided, 'Hey, they won't leave without me,' and they ran down and celebrated."
Note the vertical "Dixon's" sign so prominently seen along North Dewey Street. Because Blakely Enterprises has put up a 21st-century replica of the sign on the 1879 Dixon Building, it's easy to figure out which buildings still stand downtown.
And which ones don't, especially on the three blocks between East Sixth and East Front streets cleared in the 1970s for Parkade Plaza. (The U.P. Depot, torn down by the railroad in 1973, isn't shown.)
An adult man and his two children ride horses and proudly bear 48-star U.S. flags as they lead an impromptu parade up Dewey. Another man points a bugle out his car window, bleating silently in victory.
And at the 4:20 mark, you'll see North Platte's version of the famous Times Square image of the sailor kissing the nurse. In this case, it's an Army staff sergeant kissing a civilian woman, her face beaming brightly.
It's likely many cities across the country, large and small, had local residents shooting home movies of their own V-J Day celebrations, Griffin said.
"But to have a professional film crew here, that's pretty cool," he said.
Special projects reporter for the Telegraph.
Be the first to know
Get local news delivered to your inbox!