One star-studded night 90 years ago, North Platte stood on the verge of change.
Some 250 "of the leading men and women of the city," as the Evening Telegraph put it, helped dedicate the Hotel Yancey on Oct. 16, 1929.
Local residents soon would know it as the Hotel Pawnee.
Inside its elegant Crystal Ballroom, Gov. Arthur Weaver honored North Platte predecessor Keith Neville for spearheading his hometown's new eight-story jewel.
Future Gov. Roy Cochran, a Lincoln County native, listened with Union Pacific Railroad President Carl Gray and Vice President William M. Jeffers, Gray's North Platte born-and-bred successor.
All agreed that North Platte's new symbol of prosperity signaled momentous times.
They were right, in a sense.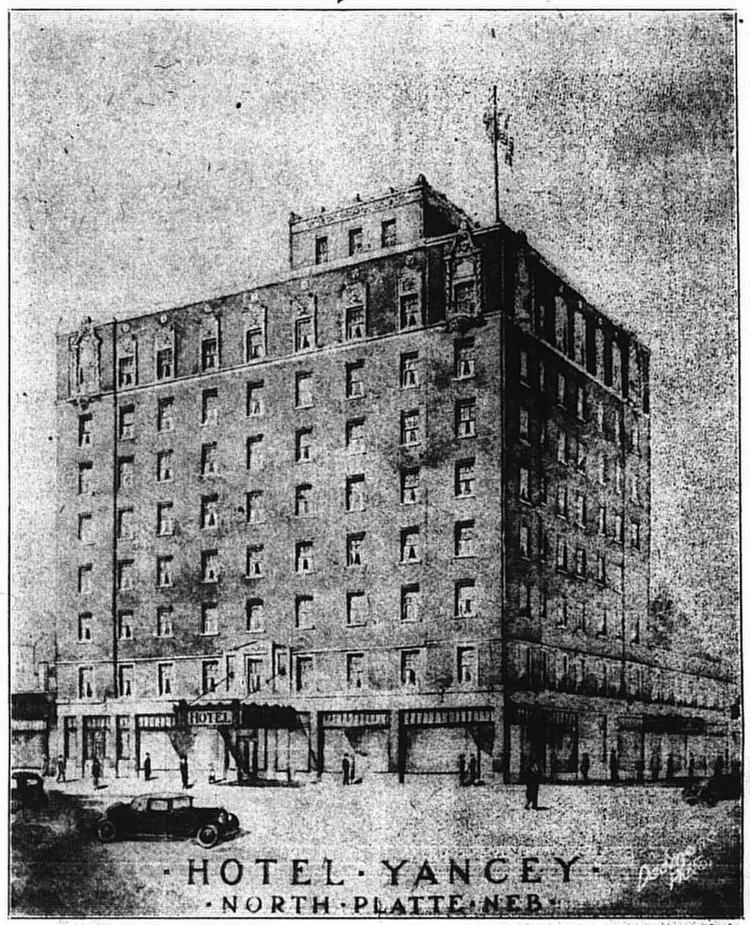 Earlier that day in New York, Wall Street stocks posted a substantial loss. The bottom fell out a week later, triggering the Great Depression that followed.
But when the hotel received its current name in 1932, not one but three impressive buildings stood at East Fifth and Pine (now Bailey).
The Fox Theatre, built along with the hotel, opened across Pine on Nov. 24, 1929. Across Fifth stood the Paramount Theatre, opened on April 5, 1931, and also built by Neville, Nebraska's 1917-19 "boy governor."
The Fox still shines as the Neville Center for the Performing Arts, though the Paramount long ago lost its imposing neon sign. And the Pawnee, empty six years but on the brink of new ownership, patiently awaits a second life.
The first hint of the coming "Neville Corner" surfaced on Feb. 29, 1928, when veteran journalist Ira L. Bare wrote in his Telegraph column "A News Reel of City and County":
"Rumors of a new theatre, a new hotel and a three-story building are flying thick and fast. On these we have no 'inside' information, but there are others who claim to have (some) and seems to be sincere."
On Nov. 13, 1928, The Telegraph announced plans for a hotel similar to the 185-unit structure William L. Yancey had opened in downtown Grand Island in October 1923.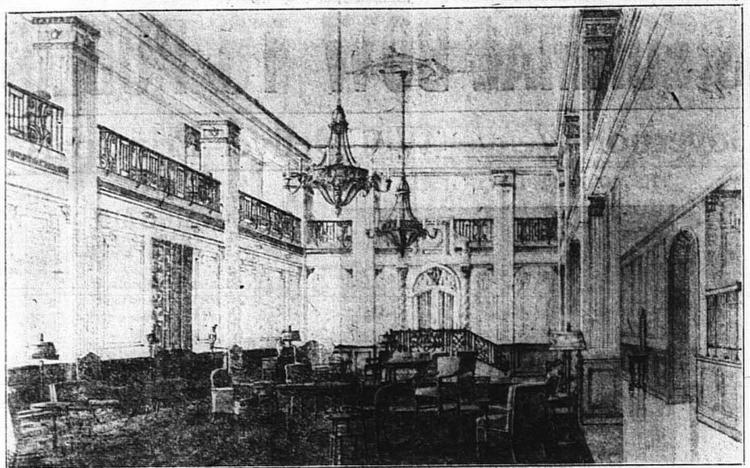 Yancey would run North Platte's version for Alex Beck of Omaha, who had helped finish the Grand Island hotel after World War I delays, and Keith Neville, who had returned home after his term as governor.
Neville's family had been involved in local hotels and theaters for decades. Few likely were surprised when The Telegraph announced the start of hotel construction and and plans for Beck to build a new theater across Pine.
"Work on the theatre will follow immediately, each section being commenced as the workmen finish with the same construction on the new hotel," it wrote on March 11, 1929.
"The name of the new theatre will be the 'Pawnee,'" referring both to the Native American nation and "the business of the (M.C.) Keith and Neville families from the time they settled in Lincoln County."
That name and explanation wouldn't last, though they would be recycled.
Ira Bare closely tracked both projects that summer. Brick-laying had begun by late May, "cream-colored brick for outside facing being used on both buildings," he wrote.
Concrete for the hotel's top floor was being poured as June began, and its terra cotta trimming and "needed steel" had arrived by mid-month.
As July ended, Bare wrote that the theater's steel trusses were in place. "In about another week, some idea of the beauty of the exterior of the new theatre building can be gained."
Meanwhile, Neville bought still another lot at the Fifth and Pine intersection, giving him three of its four corners "with the probable view of erecting a two-story building."
In his Sept. 27 column, Bare reported the theater's operator would be Fox West Coast Co., which would make "minor changes" for its movie equipment.
The Telegraph devoted four pages to the hotel on its Oct. 16 dedication day, featuring tributes to Neville, Yancey and Beck and gushing descriptions of its beauty.
"The structure itself is in Georgian architecture, steel and concrete," it wrote, with the lobby "furnished in English period style with a homey atmosphere."
Of the 143 rooms, 132 had bathrooms. "Banquets can be served in the splendid Crystal room, where as many as 300 guests can be accommodated," with a 50-person private dining room for meetings.
The main dining room opened off the lobby on the ground floor, while the kitchen "is specially designed for quick and efficient handling of the heaviest demands that may be made upon it."
An Egyptian-themed coffee shop opened off the lobby on the Fifth Street side. The Pine Street side held the new North Platte Chamber of Commerce offices and a "splendidly equipped soda fountain."
Also set to open were barber, beauty and flower shops, a Yellow Cab office and a men's clothing store.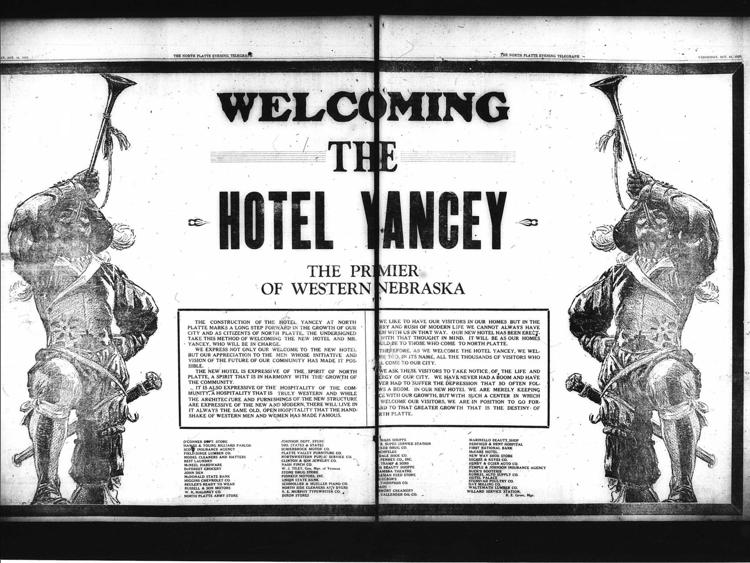 "The new hotel is expressive of the spirit of North Platte, a spirit that is in harmony with the growth of the community," declared an ad signed by nearly 60 businesses.
A festive spirit prevailed on dedication night.
Rotary Club member John Halligan gave Neville a gold and silver cup. As a boy, William Jeffers said, "I could never in those days have looked forward to the time when I should attend a banquet of this character in a splendid hotel built on the site of the old Besack livery stable."
"We have always looked upon North Platte as a growing story with a virility all its own," Gov. Weaver said. "Your days of looking backward, even to the splendid traditions upon which this community was built, are over. From now on you will look forward."
In mid-November, the Nebraska Neon Co. of Lincoln installed the theater's neon "FOX" sign. But less than six months after the Fox opened, Neville and William Maloney announced another theater on the lot Neville had bought in mid-1929.
It would seat at least 1,300 people, Bare wrote on May 16, 1930, with "a small shop space on either side of the entrance. ... In general appointments, it will surpass the Fox in beauty."
Neville would lease it to Publix Theatre Corp., soon renamed Paramount Publix. The Paramount Theatre's opening night featured "a capacity house at all shows," The Telegraph wrote.
But its beginning meant an ending for the Keith Theatre, remodeled for stores after Paramount terminated its lease there in August 1931.
The owners of William Yancey's original Grand Island hotel took it back in spring 1932. The second Hotel Yancey's future was settled in April, when Omaha hotelier William Jensen became manager and announced a renaming contest.
The winning name, announced by Bare April 29 from among 184 entries, was familiar indeed.
"The Hotel Yancey will in the future be known as the 'Hotel Pawnee,'" he wrote, "because the name has stood out prominently in this section since the very early days ... and it is known that to Mr. Neville no small degree of sentiment is attached to the name."
It remained a hotel until the Neville family sold it in September 1973, 10 years after the Paramount's last film and seven before Neville's daughters donated the Fox to preserve it as a performing arts venue.
The Pawnee became a statewide showpiece. Moviegoers packed the Fox and Paramount. Jubilant residents paraded down East Fifth on Aug. 14, 1945, celebrating World War II victory in footage captured by a U.S. Army film crew.
The Fox and the Pawnee joined the National Register of Historic Places together on May 9, 1985. And looking west on East Fifth, one can see afterimages of momentous times.