ATOP LOOKOUT MOUNTAIN, Colo. — Buffalo Bill's next life began here, five months after William F. Cody left the world to which he bequeathed his vision of the Wild West.
His passage from living legend to historical icon owes much to the three cities in neighboring states where Buffalo Bill "backtrailers" can find the most relics of his colorful life.
His 35-year hometown (to the extent Cody ever truly had one) of North Platte preserves his Scout's Rest Ranch, the youngest of the three major Buffalo Bill museums.
The town he co-founded, Cody, Wyoming, boasts one of the nation's largest Old West museums and research centers.
And yet the oldest Cody museum — along with the remains of Buffalo Bill and his wife, Louisa — overlooks Denver, where "Buffalo Bill's Wild West" and Cody himself passed from this earth four years apart.
How could that have happened?
Like everything about the "Last of the Great Scouts," there's a tale behind that.
Last possessions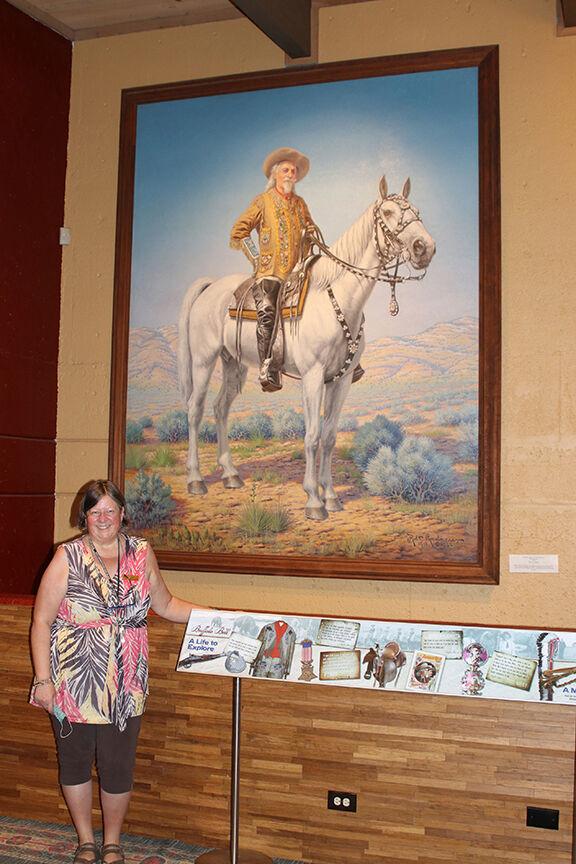 It's one of the stories treated in the historical displays at the Buffalo Bill Museum & Grave, which opened near Golden and just below the Cody gravesite on May 30, 1921, six months before Louisa's death.
The brainchild of Cody's foster son Johnny Baker, the museum's original log structure was modeled and named after the "Pahaska Tepee" hunting lodge Buffalo Bill built near Yellowstone National Park's east entrance.
The gift shop and café remain there, but the museum moved into a newly built wing in 1979, said Betsy Martinson, the museum's program administrator for the City and County of Denver.
"It was started by (Cody's) foster son and his wife (Olive), and the core of our collection is the last things (Cody) owned in his life," she said.
"Our audiences are either locals or they're traveling to Denver from someplace else, and they want a feeling for the Old West. ... By the time they leave, they know who (Cody) was and how he was different."
Lookout Mountain Park attracts half a million visitors each year, with the museum recording 81,436 paid admissions in 2019, said Shannon Dennison, cultural resources and engagement administrator for Denver Mountain Parks.
Museum visitors are greeted by a series of Wild West Show posters and a 10-foot by 7-foot painting of Cody on horseback done the year before his death on Jan. 10, 1917.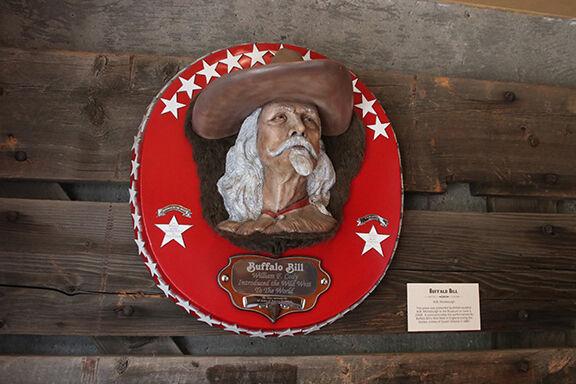 A mounted bust of Cody just inside the entrance was donated in 2008 by British sculptor W.B. "Bryan" Mickleburgh. He used it as a study piece for the life-size Buffalo Bill sculpture given to North Platte in 1998 and encased in glass in the gazebo at Cody Park's Wild West Memorial.
A 15-minute orientation film introduces visitors to Buffalo Bill's story, which the museum covers from his 1846 birth in Iowa to his funeral and legacy with help from a graphically intricate timeline.
Key museum items include two of Cody's show outfits, including the one in the 1916 portrait; a .44-caliber Colt Dragoon revolver reportedly used by Cody as a Pony Express rider in 1860-61; and one of two versions of the Medal of Honor Cody won as a U.S. Army scout in 1872.
Cody gave away his original medal but requested and received a replacement in 1903. The other version resides at the Buffalo Bill Center for the West in Cody, Wyoming, but the two museums have disputed which has the original.
Wild West posters, show programs and photos abound, and a "Did Buffalo Bill Visit Your Town?" spiral notebook allows U.S. or international visitors to check whether Cody performed in or near their hometowns.
Cody and Sitting Bull
Another display area examines Buffalo Bill's relationship with Native Americans, which Martinson said has been distorted by Cody's success in setting the Old West stereotype.
Though some historians dispute it, Cody was credited with killing the Cheyenne warrior Tall Bull during the Battle of Summit Springs near present-day Sterling, Colorado, on July 11, 1869.
The battle launched the Fort McPherson Army scout — already known as "Buffalo Bill" as a bison hunter for 1860s Kansas Pacific Railroad track gangs — toward worldwide fame with help from sensational "dime novelist" Ned Buntline.
No one disputes that Cody killed and scalped another Cheyenne, Yellow Hair, during the Battle of Warbonnet Creek in present-day Sioux County, Nebraska, on July 17, 1876.
Cody called the fight the "First Scalp for Custer," referring to the annihilation of Lt. Col. George A. Custer and his 7th Cavalry contingent three weeks before by a combined Lakota-Cheyenne force in the Battle of the Little Bighorn.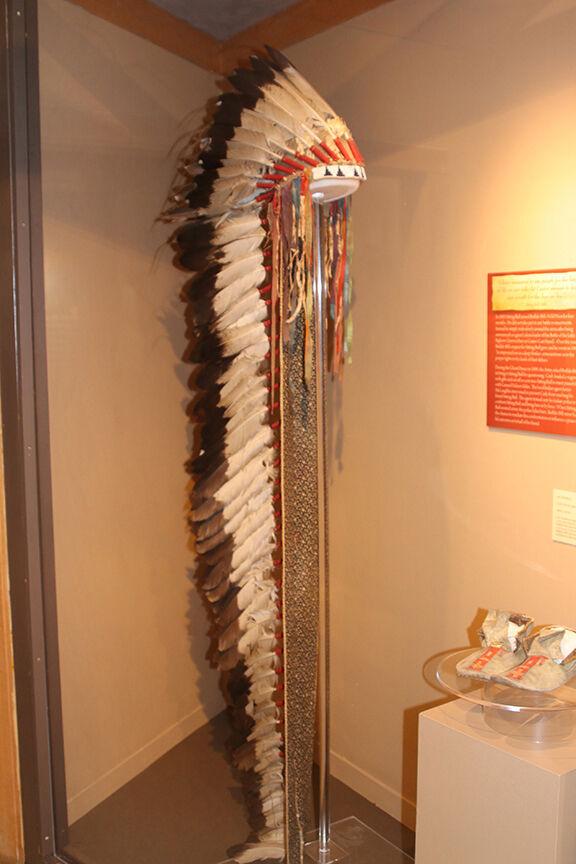 But Sitting Bull, who engineered Custer's defeat alongside fellow Lakota Crazy Horse, went on to appear in Cody's Wild West Show — though not as a performer — for four months in 1885.
He and the many other Lakota in Cody's shows generally honored Buffalo Bill for helping them preserve their language, lifestyle and traditions when other whites were trying to suppress them, Martinson said.
One of the Lookout Mountain museum's prized items is the Lakota headdress Sitting Bull wore in the 1885 shows, she added. He presented it afterward to Cody, who in turn gave Sitting Bull the pony the latter rode in the show.
"He had great respect for Sitting Bull, and Sitting Bull had great respect for him," Martinson said.
Which mountain?
But back to the first question: Why is Buffalo Bill buried near Denver rather than Cody, Wyoming, or North Platte?
Lookout Mountain records show Cody played Denver nine times between 1879 and 1915, including his pre-Wild West stage shows.
"His role with Denver was slightly on line with most cities" where he performed, Martinson said. "I wouldn't put it on par with (his role with) North Platte or Cody."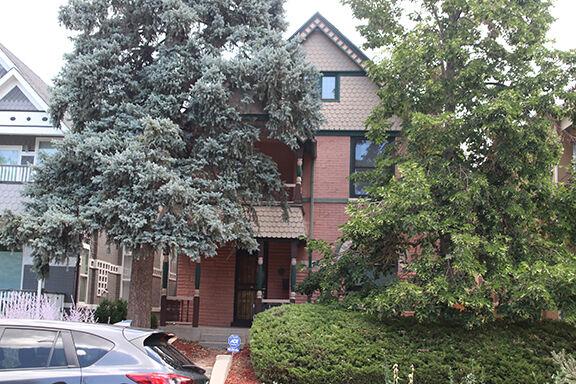 But Cody died in the Denver house of his sister, May Cody Decker. That city offered $10,000 — equivalent to just over $200,000 today — for Cody's funeral and Lookout Mountain burial, Martinson said.
They "offered to pay for everything and give him a funeral that would be more spectacular than anything (Louisa) could have afforded," she said.
Denver had begun developing a city park on the mountain in 1913, long before Cody's death, she added. Lookout Mountain Park is one of 22 parks and 24 conservation areas Denver operates in four counties outside its city limits.
Many perceived machinations by Denver newspaper publisher Harry Tammen — the key player in the Wild West Show's demise — in the fight over Buffalo Bill's final resting place.
Tammen, who co-owned the Sells-Floto Circus, had loaned Cody $20,000 to keep his faltering show going into 1913. But Cody seemingly didn't notice that the loan papers committed him to appear in Tammen's circus starting in 1914.
While the Wild West performed in Denver on July 21, 1913, sheriff's deputies sent by Tammen seized Cody's receipts and equipment. It was the end of the show he had launched from North Platte in 1883.
Tammen paid for Cody's Lookout Mountain grave, which had to be blasted out of the mountaintop. Until that was finished, his body was stored at Olinger Mortuary, now a downtown Denver restaurant.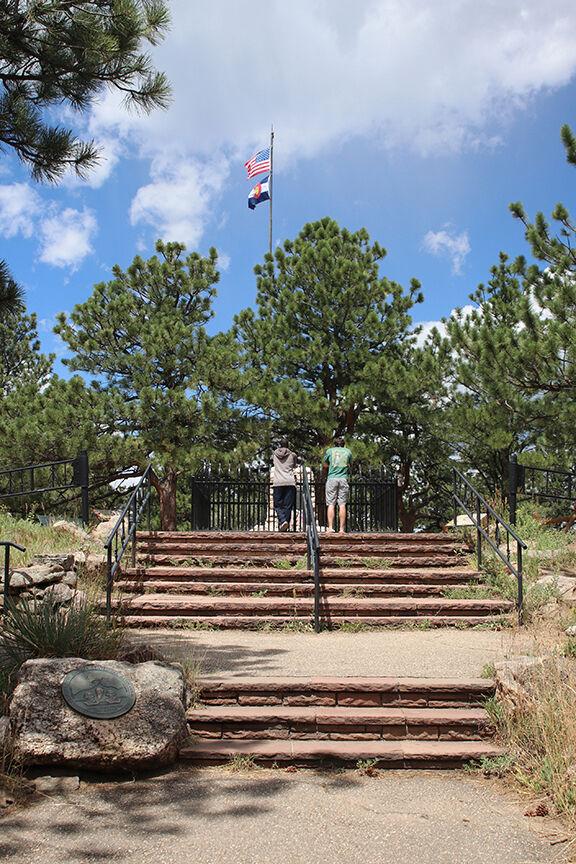 Cody's final burial site shocked the residents of his namesake town, for which which he and several Wyoming entrepreneurs began laying the groundwork in 1894.
He wrote in a 1906 will that he wanted to be buried on Cedar Mountain, west of Cody. But on his Denver deathbed, Martinson said, he told Louisa and other witnesses that he wanted to be buried on Lookout Mountain.
Buffalo Bill had told her, "It's pretty up there. ... You can look down into four states," the late North Platte author Nellie Snyder Yost wrote in her 1979 biography "Buffalo Bill: His Family, Friends, Fame, Failures and Fortunes."
Martinson noted that Cody had written his choice of Cedar Mountain into his will after his notorious but failed effort to divorce Louisa in a 1905 trial in Cheyenne.
But the couple later reconciled, and Buffalo Bill changed his will again in 1913 to let Louisa decide his burial site, she said.
Though some in North Platte would later regret it, Cody's home base from 1878 to 1913 didn't seriously contend for Buffalo Bill's body.
But Knights Templar members of North Platte's Masonic lodge served as an honor guard at both Cody's funeral and burial. Cody was a charter member of Platte Valley Lodge No. 32, which marked its 150th birthday this year.
Cody's Lookout Mountain grave later was reinforced with concrete, Martinson said, in part to foil any efforts to steal his body for either his namesake town or North Platte.
Some still believe Cody was spirited away from Denver and secretly buried on Cedar Mountain, said Jeremy Johnston, historian of the Buffalo Bill Center for the West.
He's not one of them. "I would say he's definitely at Lookout Mountain," he said.
Photos of Cody's June 1917 burial show his casket was open. A substitute corpse would have been easily spotted, Martinson said.
Next Sunday: Though foiled in hosting Buffalo Bill's body, Cody, Wyoming, honors its co-founder with one of the nation's most comprehensive Old West museums.
---
More reading on William F. "Buffalo Bill" Cody