You can't live long in North Platte without learning William F. "Buffalo Bill" Cody lived at Scout's Rest Ranch.
But Cody and his wife, Louisa, had two other North Platte homes, both dubbed "Welcome Wigwam" and both lost to time.
The first, built in 1878, burned to the ground in 1891. It likely stood in today's 1800 block of West Front Street, though others put it a block southeast near West Sixth and Sherman Avenue.
Nothing remains of the second Welcome Wigwam, built in 1892 and owned by the Codys from 1893 to 1912.
Nothing, that is, except within and outside Joel and Amy Jay's house.
Not until they moved with their family from Chappell and bought the house last June did they learn it rose in 1930 with parts of the second Welcome Wigwam — which it replaced — embedded inside.
"It was exciting to see we could be part of that history," said Joel Jay, who grew up in Paxton and was sworn in May 31 as a North Platte-based county judge.
Not only that, but Amy Jay's birthday falls on Feb. 26, the same day as the "Last of the Great Scouts" himself.
"Other people have said that," her husband said.
First roots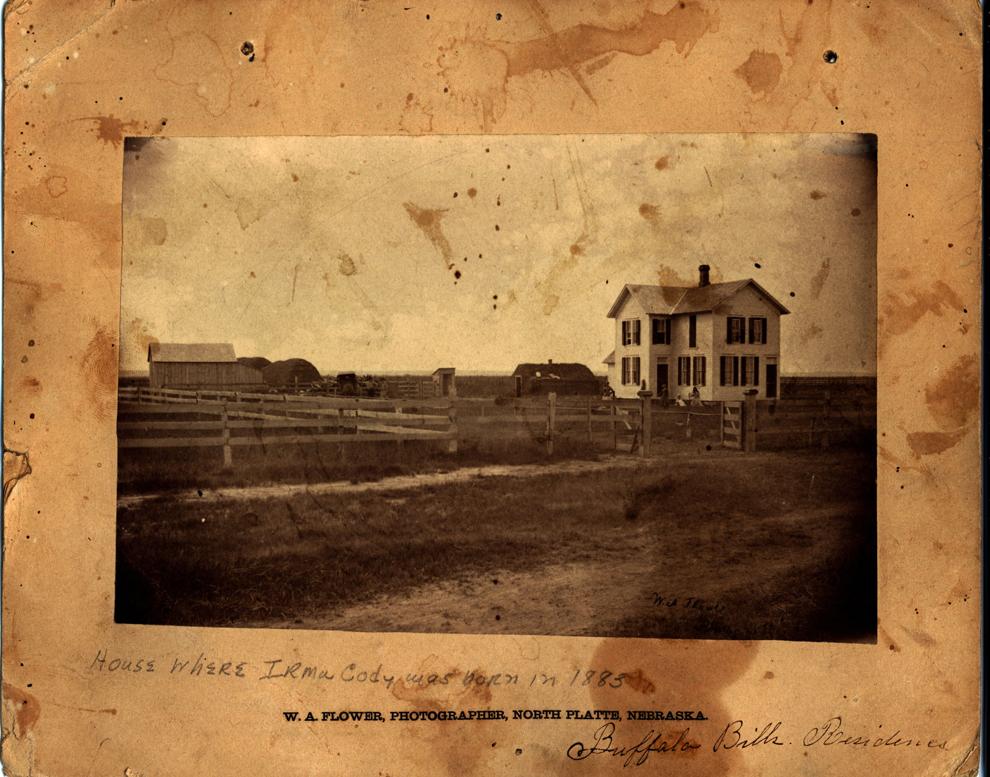 Since arriving at Fort McPherson on May 20, 1869, Cody had won his nickname shooting bison for Kansas railroad builders, earned fame as a U.S. Army scout and spent several years playing himself in melodramas across the land.
While he roamed the ranges and stages, wife Louisa spent half of the 1870s living with their young children in Rochester, New York. Three of them are buried there.
But while Cody kept up his ties to North Platte, it wasn't until Feb. 4, 1878, that he bought the first 160-acre tract of what became Scout's Rest.
Located just south of the Union Pacific tracks, the originally simple two-story Welcome Wigwam rose there.
It remained Louisa's main residence even after the Scout's Rest mansion was finished in 1886, three years after the launch of "Buffalo Bill's Wild West" that catapulted Cody to lasting renown.
Their youngest daughter, Irma, was born in the original Welcome Wigwam in 1883. Remodeled several times, it was a far more imposing structure when The Telegraph wrote on Jan. 1, 1889: "The hospitality of both the 'Scout's Rest' and 'Welcome Wigwam' is a matter of comment by visitors and a pride to the citizens of North Platte."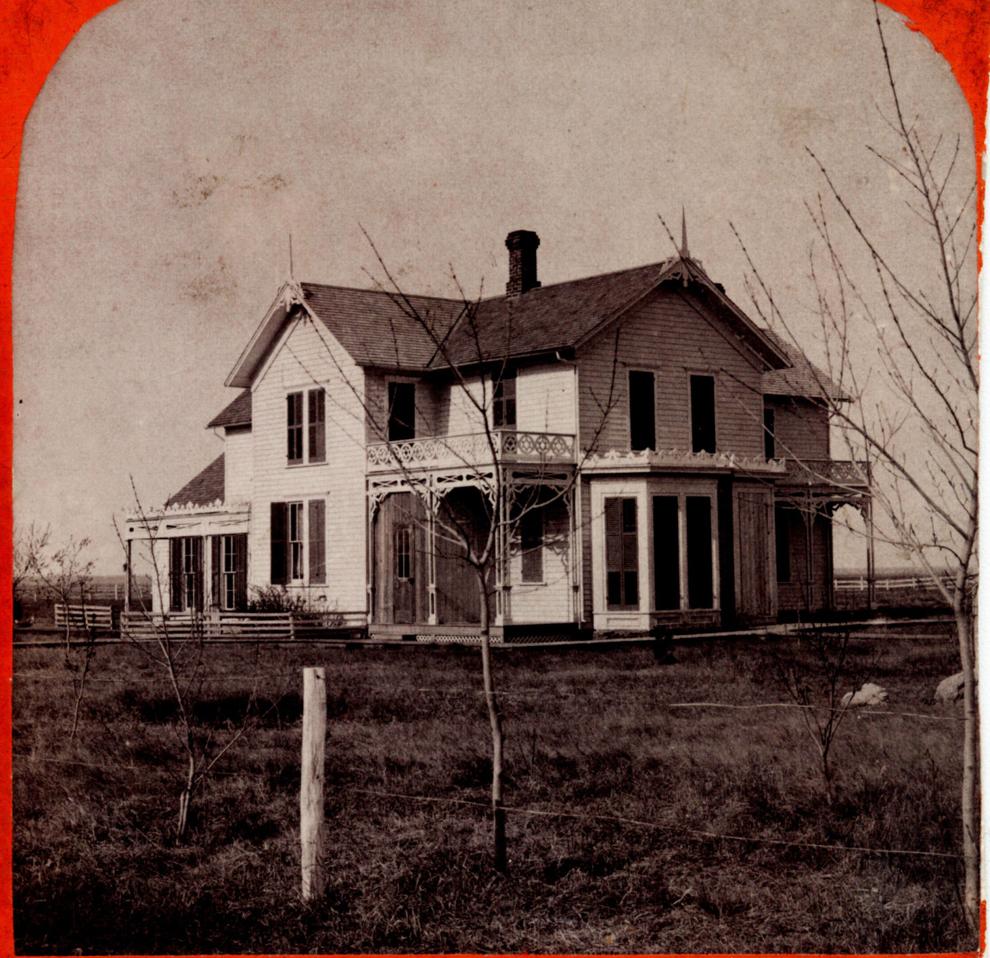 Then disaster struck on Nov. 5, 1891.
The engine crew on a passing U.P. locomotive saw Welcome Wigwam on fire. It sounded the alarm about 8:30 p.m., the late North Platte author Nellie Snyder Yost wrote in her 1979 biography "Buffalo Bill: His Family, Friends, Fame, Failures and Fortunes."
The home burned slowly enough that community members were able to rescue most of the Codys' possessions.
They included an 1889 painting of Cody on his favorite horse, Tucker, by French painter Rosa Bonheur when the Wild West Show played the Paris Exposition.
It was in Glasgow, Scotland, when Cody got a telegram about the fire. Sister Helen Cody Wetmore, in her 1899 book "Buffalo Bill: Last of the Great Scouts," says he replied: "Save Rosa Bonheur's painting, and the house may go to blazes."
Finest in town
Less than a year later, George G. McKay, founder of North Platte's first exclusive dry goods store, built a spectacular mansion for his wife, Jennie, on land purchased from A.D. and Lizzie Buckworth.
Later designated as 1207 W. Fourth St., it had "inlaid parquet floors and a fine, open stairway ascending from the front parlor to a wide landing with a window above it, then on up to the spacious, many-bedroomed second floor," Yost wrote.
But the McKays didn't own it long, Yost wrote, because Jennie McKay's health soon failed and "she could no longer manage such a large place."
After touring Europe for five years, Cody and the Wild West Show had spent most of 1893 raking in profits just outside the Chicago World's Fair.
Buffalo Bill used some of it to buy the McKay house, which he presented to Louisa when he returned in November.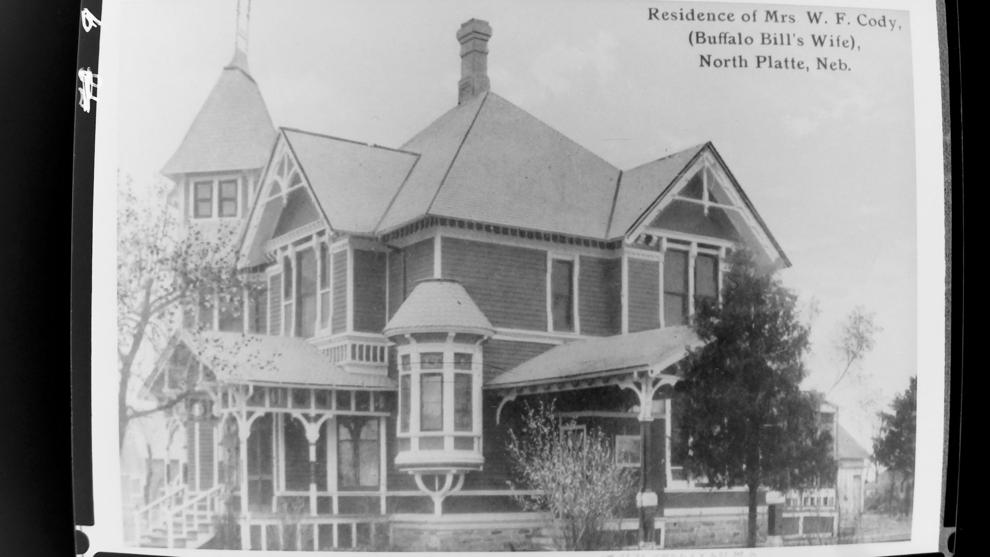 Louisa owned the second Welcome Wigwam for 19 years. Irma Cody, 10 years old when they moved in, regularly threw "house parties" there as a young woman.
Buffalo Bill, who added a barn after the purchase, used the single large room on the top floor as a museum "of the mementos Cody brought or sent home from his travels," Yost wrote.
On Dec. 9, 1912, Louisa Cody "and husband" sold Welcome Wigwam II for $10,000 to Harriet E. Welch, whose son Hershey served many years as Lincoln County surveyor and North Platte water commissioner.
'Pahaska' lingers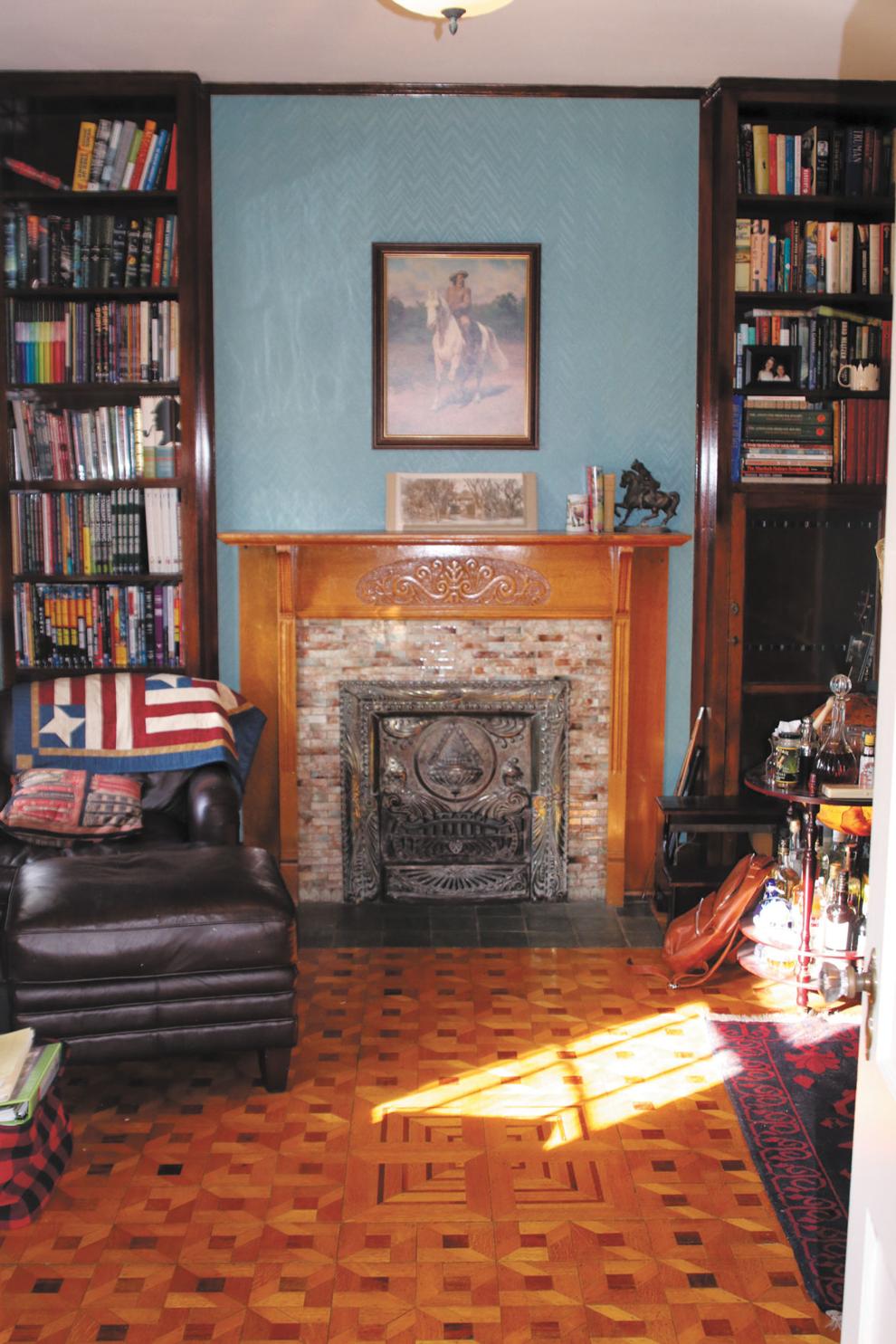 It's in Joel and Amy Jay's first-floor study that Buffalo Bill's presence lingers.
It boasts a handsome brown parquet floor and an amazingly ornate fireplace fixture. Both came from the second Welcome Wigwam, according to old newspaper clippings and what the Jays learned in buying its 1930 successor.
A photo of Welcome Wigwam II is propped up on the mantel, one of several confirming that the circular drive outside has always been there, though not always paved with brick.
Above the mantel hangs a copy of Rosa Bonheur's painting of Cody on horseback, Buffalo Bill's prized possession saved from Welcome Wigwam I.
The original hangs at the Buffalo Bill Center for the West in Cody, Wyoming. Its copy "was in the garage," Jay said.
In the back yard, one sees a pair of circular stone planters, one stone high, and a rock wall surrounding the yard.
Among their home-closing papers, Jay said, was a letter from Gerry Waltemath, who lived nearby in the 1940s and 1950s.
The "planters" were once three stones high, she wrote, because Buffalo Bill used them as horse troughs. The rock in the wall likely was reused, too.
During the 1970s, Waltemath wrote, she saw the "planters" were being torn down. When she told their history to the current home's then-owners, they stopped.
Waltemath's grandmother "knew Buffalo Bill in his heyday and told me the story(s) behind the property," she wrote.
Harriet Welch and her children, including son Hershey, lived in Welcome Wigwam II for just over 17 years.
It then boasted a short buffalo-horn fence gradually "stolen piece by piece," according to a 1989 letter in the Jays' papers from Hershey Welch's stepdaughter Ann L. Gamble.
Now and then, "strangers would knock on the door and ask to sleep the night in Buffalo Bill's old town house.
"No one was ever turned away. They were bedded down in the ballroom."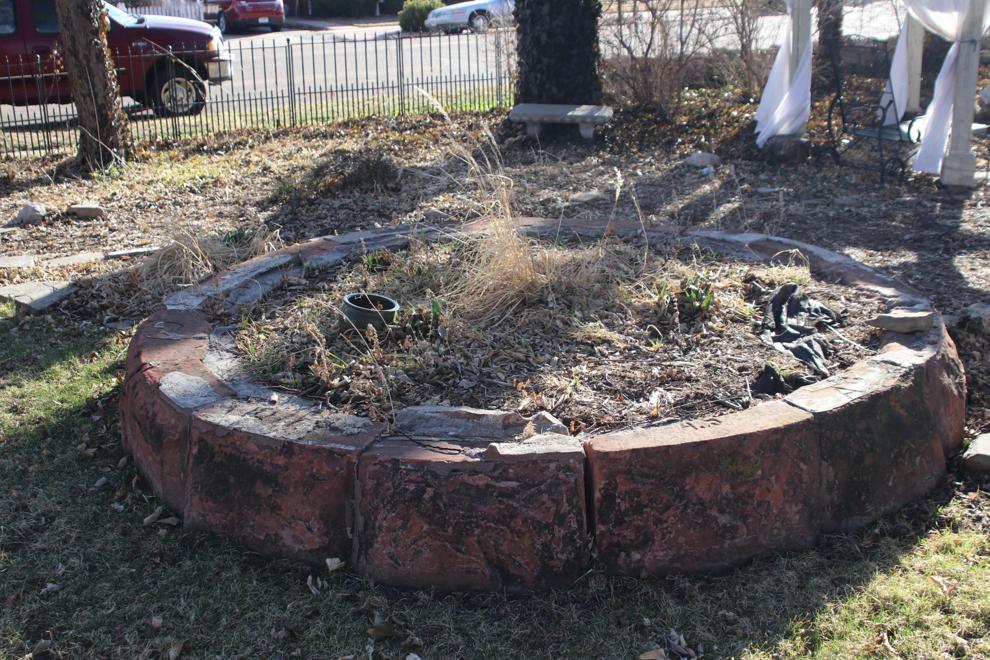 Three months after Harriet Welch's death on Feb. 8, 1930, Hershey and sister May Welch sold the second Welcome Wigwam for $12,500 to Dr. Charles F. Heider Sr.
Before putting it on the market once more, Gamble wrote, Hershey Welch "first offered it to the City of North Platte for $2,500."
Yost writes in her Cody biography that the North Platte Women's Club tried "to raise $2,000 to purchase Welcome Wigwam from Hershey Welsh (sic), with the object of restoring and preserving the mansion as a Cody museum.
"The town was not interested enough."
Dr. Heider tried one more time after he bought the old mansion, the late Telegraph sports editor and publisher Jim Kirkman wrote in his Jan. 14, 1952, "Dots and Dashes" column for the Telegraph-Bulletin.
He "made overtures to the city hoping that they might purchase the building and move it to one of the parks," wrote Kirkman, who confirmed "the original Wm. F. Cody fireplace" survived there.
"All attempts to market the building failed, so Buffalo Bill's old home here was torn down."
But North Platte architect C.C. Coursey's specifications for Heider's new home directed contractors "to visit (the) site and ... to inspect building material on (the) grounds and determine its worth to be used in (the) new building."
That's how remnants of the second Welcome Wigwam — and even a reminder of the first — have lived on for 90 years in the Jays' first North Platte home.
Though everyone knows Scout's Rest Ranch, "the two Welcome Wigwams were, in many ways, just as important," said Jim Griffin, director/curator of the Lincoln County Historical Museum.
Cody planned the 1882 "Old Glory Blowout" in the first Welcome Wigwam, Griffin said, and his favorite child, Irma — who died three days after husband Fred Garlow during the 1918 Spanish flu pandemic in Wyoming — grew up in both.
"If a complete story of Buffalo Bill is to be told," he said, "these two homes have to be part of it."