Editor's note: The writer, who grew up in Ogallala, is a 1978 eighth-grade graduate of St. Paul Lutheran School and a 1982 graduate of Ogallala High School.
For the sake of clarity, former Ogallala volleyball players in this story are generally referred to by their maiden names.
OGALLALA — No photograph would be complete without the instrument of Steve Morgan's coaching success.
Jingling his keys, the 72-year-old legend unlocks an Ogallala Auditorium closet door to find a volleyball.
North and south, concrete-anchored bleachers rise to the ceiling. The west end holds the stage where the Ogallala High School pep band revved up one capacity crowd after another to a fever pitch.
The young women Morgan coached did the rest, diving for saves or soaring to pound the ball into the wooden floor of "the Aud."
The roots of volleyball in Nebraska, a statewide passion now second only to Husker football, were sunk in many towns over many decades.
This is the story of one such town, one where volleyball still thrives proudly as Morgan steps down after 45 years as Ogallala coach.
Even Morgan will tell you, however, that Ogallala's volleyball story doesn't start at "the Aud" or even with him.
It starts on a concrete slab near a church.
The first St. Paul Lutheran School and its original outdoor court are both long gone. The Missouri Synod congregation built its current school and fellowship hall, featuring a carpeted court, where it stood 40 years ago.
Next to that concrete slab stood a small white house where two of the unsung parents of Ogallala volleyball once lived.
Lee Schroeder, a pastor's son, began teaching at St. Paul's in 1960 and became principal a year later. He and his wife, Doris, spent their first years with daughters Pam, Diane and Jennie in that little white house.
The concrete slab was their playground and their backyard.
And that's where volleyball in Ogallala was born.
"At recess, whatever was in season, we played," said Diane Schroeder, the middle daughter. "There was no separation as far as girls and boys. We all played together."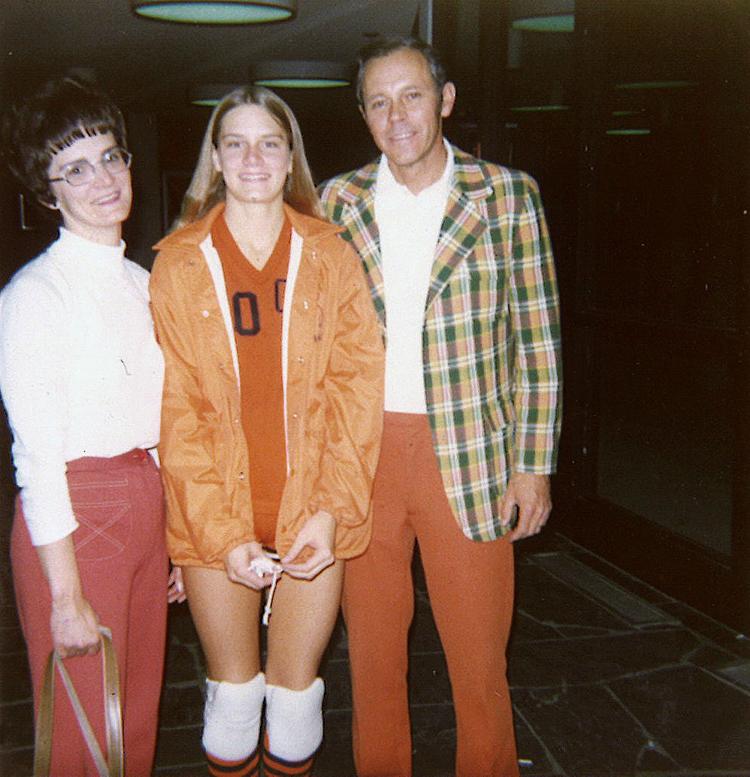 Most Nebraskans know her as Diane Mendenhall, University of Nebraska-Lincoln director of volleyball operations from 2000 to 2006. She then held other Athletic Department and UNL Alumni Association positions until Chancellor Ronnie Green made her one of his assistants last summer.
The court was built for basketball, and the fence around the Schroeders' house made for a great outfield wall for kickball. But sometime in the mid-1960s, Lee Schroeder put up a portable volleyball net hanging from steel poles and anchored with concrete-filled tires.
Why did he introduce volleyball?
Pam Schroeder traces that to her mother — one of uncounted hundreds of Nebraska women who planted what current Husker Coach John Cook calls volleyball's "hidden DNA."
Organized girls volleyball teams spread across Nebraska's smaller high schools starting in the 1920s — a time when school administrators were banning full-court girls basketball, labeling it too dangerous.
But girls volleyball flourished — and it received a further boost when Peru State College founded a state high school tournament in 1946.
Some 178 Nebraska schools were playing volleyball by the late 1950s, Omaha World-Herald columnist Dirk Chatelain wrote in 2017. The group included Waco, east of York, where Lee and Doris Schroeder grew up and where Doris played volleyball and softball.
"My dad was an athlete, so he had the background," said the oldest daughter, Pam Schroeder. "My mom had an athletic spirit. They had a love of sport."
Ogallala wasn't part of Nebraska's early volleyball wave. But when its high school added the sport in 1972, St. Paul's alumnae already knew and loved volleyball.
That group included the two daughters of the Rev. Juraine Hornig, who became St. Paul's pastor in 1969 and lived across West Third Street from the court.
In the winters, Diane said, "I remember playing (volleyball) with mittens on." On warmer days, Hornig would hang around the concrete court while Lee Schroeder, who retired as principal in 1994 and died in 2015, joined in his pupils' spirited matches using that portable volleyball net.
Then Steve Morgan came back from the service.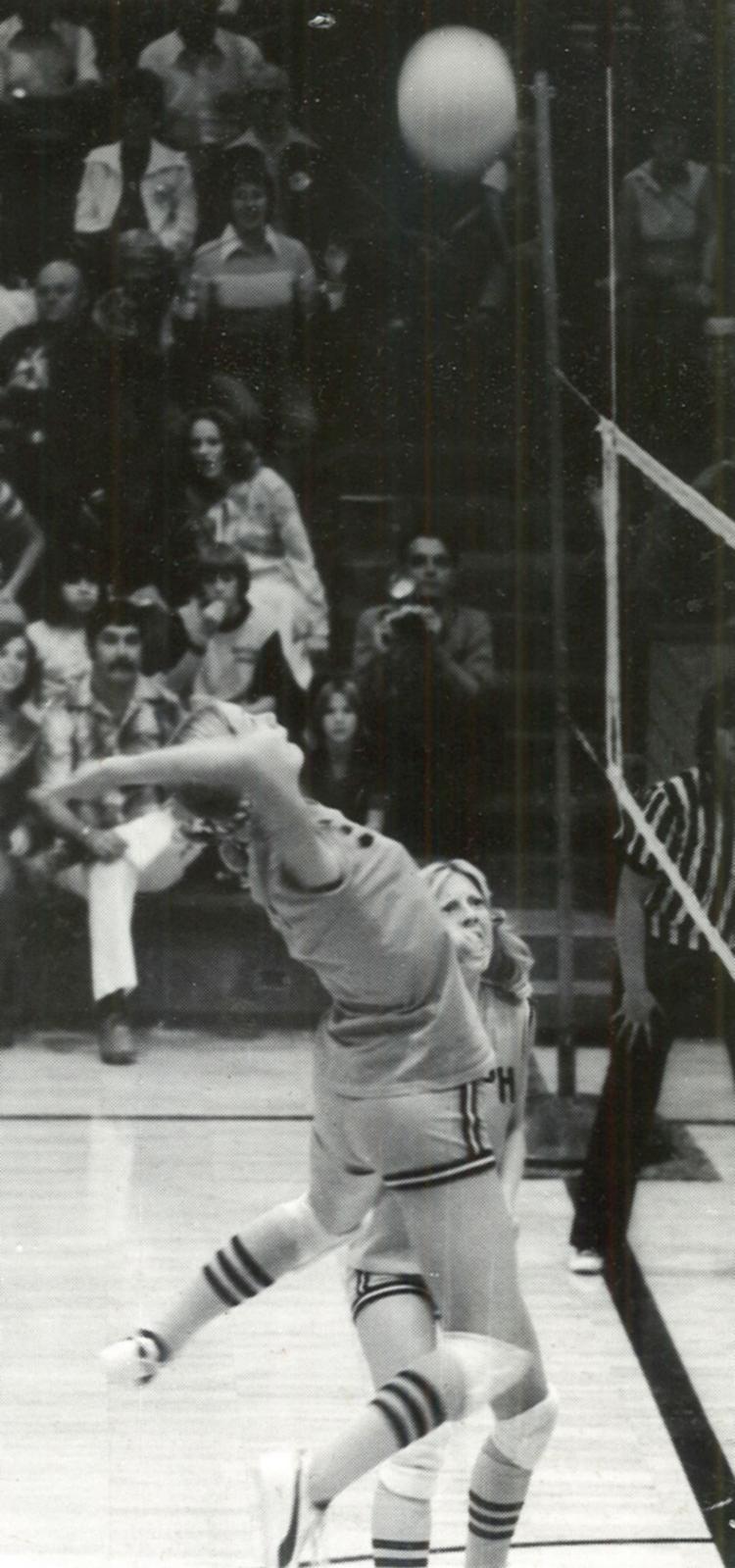 He knew nothing about volleyball before he left, he says. The small-school volleyball movement that initially missed Ogallala also missed Mitchell, next door to Scottsbluff, where Morgan graduated from high school in 1964.
Nor did he pick up the game at Kearney State College (today's University of Nebraska at Kearney), from which Morgan received his teaching degree in 1968.
He first taught elementary P.E. in Ogallala's public schools until 1971, when the U.S. Army drafted him. Morgan was assigned to a military police unit at Fort Leonard Wood in Missouri — where a member of his unit had recently been cut from the U.S. national men's volleyball team.
When he heard that, Morgan said, "I told him I thought it was a sissy sport. And he said, 'Why don't you come over? We have a makeshift gym, and I'll teach you a few skills.'
"I fell in love with it."
Discharged in 1973, Morgan brought his new love back to Ogallala's public schools. They now had a high school volleyball team — though current school board President Jim Ayres, then a high school math teacher, said administrators had added it without much enthusiasm.
"It's kind of like the girls basketball program," which debuted a few years later, Ayres said. "It was, 'Well, we're just going to start girls basketball.'"
But Pam Schroeder, now a junior, and her old St. Paul's schoolmates eagerly embraced the new opportunity.
"I remember watching the boys play my freshman and sophomore years and thinking, 'I want to be out there. I want to compete. Why can't I compete?'" she said. "I was a cheerleader, but that wasn't my thing."
She and Leah Hornig, the pastor's older daughter, showed up for founding coach Marci Tucker's first practice. So did St. Paul's classmates Marcia Adkins and Margie and Kathy Bauer.
Ellen Kolste and Rita Knight had come up through the public schools. Tammy Berry, who had played in Arthur's schools, drove 37 miles south through the Sandhills to join the Indians.
That first Ogallala volleyball team won about half its matches. In 1973, with Brenda Van Newkirk taking over from Tucker, the Indians posted their first winning record but lost in the district semifinals.
But the next wave of St. Paul's players, led by Diane Schroeder and Leah Hornig's sister Lois, would be joining the 1974 Indians as sophomores. Steve Morgan, meanwhile, had already started teaching volleyball to his P.E. pupils at West Fifth and Progress-West Ward schools.
At the latter — the site of Ogallala's future public library — he had his female pupils throw and "bump" a red rubber ball off the east wall.
"That's all we had," Morgan said. "We didn't have a legal volleyball of any kind."
He had known junior high science teacher Dick Lungrin since both had attended Kearney State. Lungrin's wife, Carol, had been assistant coach for Van Newkirk, who didn't return for 1974.
Carol was asked to take the job, Dick Lungrin said, but they both wanted Morgan to take over — if they could persuade athletic director Elwin Tophoj that a man could coach teenage girls without causing scandal.
"We bought a 12-pack of beer and drove out to Elwin's place with Steve, and we sat down and had a two-hour conversation with Elwin and polished off the six-pack," he said.
Even before that, "we had a few drinks, and I think that's how I had enough guts to go over and ask for the job," Morgan recalled.
Carol Lungrin agreed to remain as assistant and supervise the girls in the locker room. Morgan would enter only when they were ready to play.
In late August 1974, Morgan took the Ogallala Auditorium floor for his first practice. From the start, Diane Schroeder says, he focused relentlessly on fundamentals — and motivation.
He quickly debuted three-on-three scrimmages. With only half the usual six players per side, it put a premium on diving to keep the ball in play. It also showed which players had mastered the skills to anchor the Indians' starting lineup.
That's where St. Paul's concrete court paid off, Diane Schroeder said. She and Lois Hornig needed little time to win their places alongside Leah Hornig, Margie Bauer, Berry, Barb Reimers and Susan Bailey.
"The cool thing about St. Paul's was there's so many transferrable skills from volleyball to other sports. We were prepared so well," she said.
Meanwhile, Lee Schroeder had launched his school's first competitive volleyball team and encouraged St. Luke's Catholic School to start one. To the very end of his career, Morgan — a native Catholic who joined the St. Paul's congregation at his 1977 marriage — could count on a steady stream of players from his own church.
His first team was both talented and unusually cohesive, he said. "They were a group. No one was left out."
But Diane Schroeder said Morgan also knew how to bring out their best.
"My memory of Coach Morgan is just psychological — believing that we had all this great talent and that we could win."
Morgan, who retired with a 984-217 record, won nearly 82 percent of his matches. He never came close to a losing season. His first Ogallala team posted a 15-3 record.
But only a couple hundred people were seeing their matches — until one day in November 1974.
With relatively few Nebraska high schools yet playing volleyball, the Indians were the 32nd and smallest team in Class A. Its district included North Platte — already playing Ogallala at least twice a year — and Scottsbluff and Gering, Panhandle neighbors and rivals.
When the four schools' coaches chose their district tournament site, Lungrin said, Scottsbluff and Gering canceled each other out. But NPHS Coach Linda Carlson, whose Bulldogs would win back-to-back state crowns in 1979 and 1980, sided with Morgan. Ogallala would host.
All three matches would be played the same day. Morgan's Indians won that morning, before their usual sparse crowd, to set up an evening match with Scottsbluff for a state tournament berth.
Schroeder, the Hornig girls and their mates emerged from their locker room for warmups — to a huge Auditorium crowd.
"We went out to the gym to warm up, and it was just packed and hot," Schroeder said. "It was an amazing atmosphere between the students and the community and the parents."
All that afternoon, Lungrin said, Ogallala's radio stations had been reminding the town that the volleyball team was playing for a trip to state. Though the cross-country team had won a Class B crown in 1972, the school had never won a team title in football, basketball or track.
"That night, the whole damn town came to that game," Lungrin said. "We had people who were hungry for something."
The Indians played the match of their lives. The crowd roared on every point. With a full house, Ogallala enjoyed an intimidating home-court advantage. It was the night the town fell in love with volleyball.
The match went the full three sets. Ogallala prevailed. The Indians were district champs in the program's third year.
They traveled up the North Platte River the next week to Scottsbluff, host of the Nebraska School Activities Association's first state tournaments from 1972 to 1976.
Ogallala kept its fans' enthusiasm stoked with a first-round, three-set victory over Papillion. But semifinal opponent Lincoln East had future Nebraska player Nancy Grant, whose left-handed serve proved difficult to stop, Schroeder said.
The Spartans won in straight sets, then won the state crown. But Morgan's teams would never play before tiny home crowds ever again.
With Schroeder and Lois Hornig leading the way, Ogallala posted a 14-2 record in 1975. When Ayres would drive around town, he said, "you didn't see girls shooting baskets. You'd see them bumping volleyballs or hitting them against the house."
The Indians got used to sweaty conditions, noisy timeouts, football players leading cheers and Leo Ruhlman, chief cheerleader of the adults' Whompem-Stompem Booster Club, parading through the stands garishly outfitted in orange and black.
"All right!" Ruhlman would cry through a bullhorn. "Whaddya say we given them a big Whompem-Stompem? One, two, three: WHOMP-EM! STOMP-EM! GO BIG O!"
Years later, the Auditorium thunder would remind Lynne Lawson, then a sixth-grader on St. Paul's volleyball team, of the atmosphere Terry Pettit's Husker teams would create in time at Lincoln's NU Coliseum.
Ogallala Auditorium "was the Coliseum before the Coliseum was the Coliseum," she said.
Morgan's first state title team had another advantage. To help their daughters and their classmates hone their serve-receiving skills, Pastor Hornig and Lee Schroeder designed and built a homemade spiking machine that Morgan eagerly put to use.
Hornig engineered the machine, which Omaha World-Herald sportswriter Steve Pivovar described after the 1975 season as a contraption made out of "irrigation tubing, bicycle parts, an electric motor, springs and some lumber." It shot a ball at a player every eight seconds.
"It gave us an edge," said Schroeder, who made the World-Herald's all-class All-State team that year.
Now in Class B, the Indians once more advanced to state in Scottsbluff. Morgan and his players stayed in private homes and ate their meals at his parents' nearby home in Mitchell.
"He didn't want any distractions and wanted us all together," Schroeder said. "We traveled in station wagons. It was just this unbelievable faith in our ability to win."
Ogallala pounded Ord and then Wayne in straight sets to set up a final with 18-1 Waverly, winner of the state's first and only three Class B titles to that time.
The high school shut down as hundreds of Ogallalans drove up U.S. Highway 26 to Scottsbluff's Cougar Palace. "That was the biggest group we'd ever played before," Morgan said. "There wasn't a place to sit anywhere."
Those who stayed home listened to Lungrin and his partner, the late Jim Thalken, on KIBC-FM (now KMCX). It was Nebraska's first play-by-play volleyball broadcast, said Lungrin, the Indians' volleyball "voice" through the 1983 season.
Before modern 25-point "rally scoring," high school matches were best-of-three with 15-point sets. Then and now, a team had to win a set by two, playing past 15 if need be. But teams could only score when serving.
Waverly won the first set, 15-12, but Ogallala rallied to even the title match with a 15-6 second-set victory. At a critical point, with Ruhlman leading his town's fans in their Whompem-Stompem cheers, Morgan motioned to freshman Janet Adkins, still another St. Paul's product, to come in and serve.
"It was really intense, and she was just a freshman," Schroeder said. "This little freshman from St. Paul's comes in and serves like a machine. We had a huge run."
The Indians raced to a 7-0 third-set lead, but Waverly stormed back to lead 11-10. Ogallala recaptured the lead and, with the score 13-12, drove home the last two points.
In what Pivovar called "perhaps the finest (match) ever played by Nebraska girls" up to that time, Morgan — and Ogallala — were state champions.
"I used to remember exactly what went down," Schroeder said. "I remember the fans pouring onto the court, and I remember our male students trying to cut down the net and (us) having to tell them you can't do that in volleyball."
Schroeder, Hornig and Adkins returned in 1976 as Ogallala completed Morgan's initial three years with a 52-7 overall record. But Lincoln Pius X, led by left-handed hitter Kim Hermes, derailed the Indians' title defense in the semifinals.
Southwest Conference mate Lexington, which Ogallala had easily defeated twice, claimed that Class B crown. But a pattern had been established: From 1975 to 1985, every state champion in the Indians' class came from their conference or from the Panhandle.
Morgan's teams would always be in the mix, playing at state 30 times over his 45 years. But those initial successes were soon followed by frustration amid one of Nebraska's showcase volleyball rivalries.
By the late 1970s, Ogallala's public and parochial schools were equally churning out skilled players. Lawson, who played for St. Paul's and the Indians with her sister Karen, remembered how her congregation's volleyball alumnae would come to St. Paul's practices to teach what they had learned from Morgan.
He started his first summer volleyball camps in 1977, but he had a scheduling conflict. His wedding to Kate Mohr, who met Morgan while teaching at Progress-West Ward, fell on the camp's last day.
Fortunately, he married a big volleyball fan. "In the early years, we watched the games at home on video," said Kate, who became her husband's statistician. "It really became kind of a family affair for us."
Diane Schroeder, who became a four-year scholarship starter for the Kansas Jayhawks, helped out at that first camp. That's where she first met "little Angie" — Angie Millikin, who was destined to help continue Ogallala's dynasty and build another.
Millikin attended school in nearby Brule until sixth grade, when her mother transferred her to Ogallala. During her first lunch period in the Progress-West Ward gym, Morgan would get the girls to find a partner to practice "bumping," initial hit after the ball comes over the net.
She hadn't yet played volleyball, Millikin said. And Tami Armstrong, her partner and eventual high school teammate, was way ahead of her.
"I went to Brule for the weekend, and Kampfe's Store did not have a volleyball," she said. "But they had an orange plastic basketball that was the same size and virtually the same weight as a volleyball.
"So I used the roof as my partner and spent 10 hours a day that weekend working long enough to be Tami Armstrong's partner."
Lynne Lawson joined the Indians in 1979, a year before Karen, as Morgan sought a sixth straight trip to state. They opened with a home victory over Sidney, then Ogallala's traditional first-weekend opponent.
But neither the Lawson sisters nor their classmates would taste the state tournament — or beat the Red Raiders again — over four long years.
Coach Bill Willburn had been blessed with his own set of gifted young volleyball players — a group including Patty Hecht, Barbie Young and Linda Loeschen.
"They could get under our skin like no other team," Lawson said.
"Bill was a pain in my butt, and I was a pain in his," Morgan said. "It went that way for many years."
While Sidney was regularly beating Ogallala in the season's first and last matches, outstanding Minden teams twice snatched away the Southwest Conference title and won Class B in 1980.
Ogallala finally recaptured the conference crown in 1981, but Sidney once more awaited as the Lawson sisters and Lynne's senior classmates Shelly McQuillan, Julie Moore and Dee Hoover rode the bus to the Class B-8 district final in Gering.
For more than two hours, the Indians and Raiders slugged it out as a jam-packed gym roared after every sideout. But Sidney prevailed — 15-13, 7-15, 15-11 — en route to its first state title.
"To me, it was the hardest-played game I'd ever played in my life," Lawson said.
History would repeat itself in 1982, after a district final even more memorable than the first.
Angie Millikin had broken into Morgan's rotation, which also included such players as returning starter Lori Dealey and St. Paul's alumnae Karen Lawson, Jackie Morrow and Suzanne Reimann.
As yet another district final with Sidney approached, Millikin said, she wanted nothing more than to help the seniors slay the Raider dragon.
The two titans met on the same Gering court to settle matters in a B-8 district so stocked with great teams, Lungrin says, that it deserved to be called the "mini state tournament."
"It was in Gering, but it felt like an Ogallala game," Millikin said. "That's how well-attended it was. We had virtually the whole city there."
Typical five-set college matches, in this rally-scoring era, can run two hours. That night in November 1982, Sidney and Ogallala battled for two hours and 45 minutes.
"We duked it out," Millikin said. "It was 1-1, 2-2, 3-3 — nobody ever got a substantial lead." In the third set, "we really thought we had them — and then we didn't quite hang on."
The Raiders took it — 15-17, 15-13, 15-10 — en route to another Class B crown.
"I remember Bill Willburn saying the No. 2 team in the state was Ogallala," Lungrin said.
But fate lent a hand in 1983. This time around, the Indians would play in the B-7 district, with most of their Southwest Conference partners but without Sidney. If the high-stakes rivalry were to continue, it would be on the state's biggest stage.
Loeschen had graduated, though Young remained to help guide Sidney toward a three-peat. But Millikin, Dealey, Morrow, Sandy Hecht, Tami Armstrong, Missy Barnica and Tracy Tompkins finally stopped their nemesis in the season opener.
For the next two months, the top-ranked Indians and No. 2 Raiders steadily marched toward their inevitable destiny. It came in November's Class B final at Pershing Auditorium in Lincoln, where the state tournament had settled in 1981 after a four-year Kearney stopover.
The 7,000-seat downtown arena sold out. "I remember they closed down Pershing," Morgan said. "It was chaos to get in."
The opening set was as closely matched as ever. The Indians fell behind 11-6 in the first set. Then they erupted with a rally into which they seemingly poured five years' worth of frustrations.
"The sets I was hitting were in the perfect place," Millikin said. "I remember hitting the ball inside the 10-foot line and thinking, 'My gosh, we're on fire."
Morgan's Indians scored 24 of the match's last 29 points. They stormed back to take the first set, 15-11, then dominated the second set, 15-5.
"That's when I got to hold my firstborn (Ryan) up and see him crawl around the court and hold the trophy," he said.
Like Diane Schroeder and her 1976 senior classmates, Millikin and her class would fall just short of a repeat crown. Sidney had the last word in the two schools' six-year epic, beating the Indians 15-6, 18-16 in the 1984 Class B semis before winning its third title in four years.
But Millikin would take Morgan's influence back to Lincoln the following year, just in time to join in the blossoming of another volleyball power.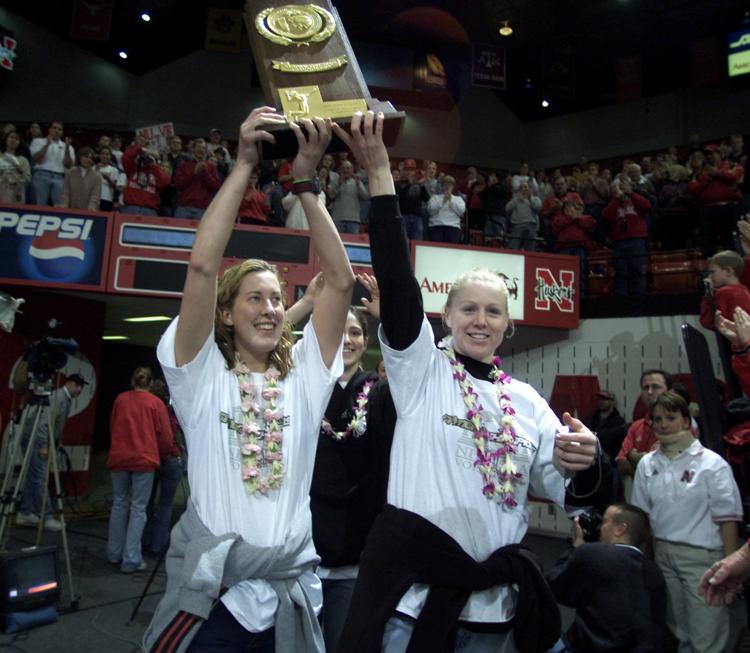 The University of Nebraska-Lincoln didn't field its first interscholastic volleyball team until 1975, the same year as Morgan's first state title. Like Ogallala, Husker volleyball would enjoy early low-key success until its dynasty-maker came along.
Founding coach Pat Sullivan led Nebraska's first squad to a 34-8 record, reaching the regional finals of the Association of Intercollegiate Athletics for Women, then the women's counterpart to the NCAA.
Sullivan compiled an 84-21 overall record before Pettit took over after the 1976 season. Like Morgan, he built on his predecessors' early victories but initially coached in front of tiny crowds.
But the Huskers encountered quite a different scene on Sept. 22, 1979, when he brought his 11-0 Huskers to meet Northern Colorado halfway between the two schools — at the Ogallala Auditorium.
Pettit's team had walked into a volleyball madhouse. Two thousand Ogallala fans roared boisterously for the Huskers, who took Northern Colorado to the limit before losing in five sets.
"We talked to the (Husker) girls after the match. They were awestruck," said Lungrin, who called the match on radio with Thalken. "I told them our high school girls played before crowds like that all the time."
Pettit said he doesn't remember much about the 1979 Ogallala match. But he said there's no doubt that the program Morgan built — especially his annual summer camps — played a significant role in developing volleyball throughout Nebraska.
"Steve was one of several coaches I think was able to create an environment for volleyball to develop," he said. "It never happens by accident. It's because somebody is willing to go above and beyond in developing the sport. ...
"We never talked about this, but it helped he was an elementary P.E. teacher. He was able to develop the sport from both ends and make sure the kids were introduced to the fundamentals."
One of those kids, Morgan's own Angie Millikin, had committed to play for Nebraska before her final Ogallala state tournament game.
She joined the team in 1985, three years after the Huskers had beaten a Penn State team coached by former Pettit assistant Russ Rose — now a seven-time national title winner — to open its first of 37 consecutive NCAA tournament appearances.
That was Nebraska's first taste of the type of enthusiastic crowd Millikin had been used to at Ogallala. The Coliseum, which wouldn't be reconfigured into a 4,030-seat, volleyball-only arena until 1992, still didn't sell out much during her time.
But by scheduling volleyball matches after football games and enticing Memorial Stadium visitors with cheap admission, Pettit built an intimidating home-court environment for his Husker squad.
It paid off in 1986, Millikin's sophomore year, when Nebraska advanced to its first NCAA championship match at Stockton, California. Also part of that team was Sidney's Barbie Young, her one-time rival who became her lifelong close friend.
To get there, the Huskers trounced Stanford, one of several West Coast teams that had dominated the college game during those first post-Title IX years.
"Stanford was especially vocal about us not deserving to be there," Millikin said. "And we creamed them."
The University of the Pacific beat the Huskers for the crown, but not before Millikin had indirectly introduced the nation to Ogallala. ESPN announcer Chris Marlow, she said, kept calling her over to press row to ask her how to spell and pronounce her hometown's name.
Finally, she said, she stepped back and did a half-dozen jumping jacks while calling out the cadence Morgan had taught hundreds of his students: "O! G! A! L-L-A-L-A!"
"And he said years later that's how he remembers it," Millikin said.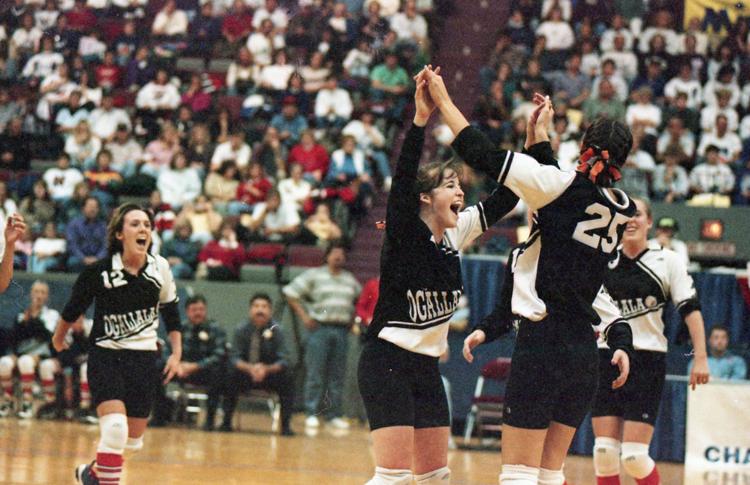 As the millennium turned, Steve Morgan would win his third and last state title — then watch another Angie he coached reach volleyball's national pinnacle.
His Indian volleyball teams remained a formidable Class B force, posting second-place finishes in 1988, 1992, 1994 and 1995. Those last two runner-up teams were led by Angie Oxley, who like Millikin had shown her determination to master the game in Morgan's P.E. classes.
"I remember his first competition was to get a hundred consecutive bumps," she said. "If you succeeded, you'd get this awesome little ribbon that said '100.' And then his next challenge was 200, 300, 400, all the way up to 1,000. ...
"It took me to my fifth-grade year, but I did get to that 1,000."
As seventh-graders in 1992, Oxley and her volleyball-playing classmates were part of Ogallala's first offseason club volleyball team. They traveled to Kearney, Denver and especially Omaha for tournaments.
Though Morgan organized the club squad, he asked Chappell High School coach Jim Behrends to coach it. Behrends' daughter, Kim, was Oxley's age and already showing promise as a future star.
Bring her along, Morgan said.
Oxley and Kim Behrends played together on various clubs throughout high school. Pettit, who coached Nebraska's first national champion in 1995, was recruiting both of them. He offered Behrends a scholarship first — but she hesitated.
Oxley didn't. But Behrends, who had several national scholarship offers, soon decided to join Oxley at Nebraska as a walk-on. She earned a scholarship a year later.
Both joined the Huskers in 1997, a year after Pettit had recruited Wallace's Mandy Monson — one of the many players who had come from across the state to Morgan's summer camps.
The three Morgan-coached women played together on Pettit's final Husker squad in 1999. "We'd always see a western Nebraska article with Kim and Mandy and I," Oxley said.
Oxley and Behrends returned as seniors when Cook, who had left a successful squad at Wisconsin to become Pettit's heir apparent, took over after coaching alongside him his last year.
For his director of volleyball operations, Cook turned to another Ogallala veteran: Diane Schroeder Mendenhall, then head coach at Concordia University in Seward after holding the same position at York College.
"I came back from an early-morning spring practice, and I came back to my office," Mendenhall said. "And it was John saying he was creating a director of operations position and I'd be great."
The 2000 Huskers unveiled a breakout player in Greichaly Cepero, but Cook's first squad had lost future Olympian Nancy Meendering to a medical redshirt.
"I tell people we treated (that year) as a dress rehearsal," she said. "But the one thing we forgot to do was tell the players."
Instead, Cook's first Husker team not only won the school's second national title but also posted a perfect 34-0 record. Only Long Beach State in 1998 had done it before. No team has done it since.
While Oxley took the floor for the NCAA final against Cook's former Wisconsin players, Diane Schroeder Mendenhall was thinking of Ogallala and Steve Morgan. And her parents, Pastor Hornig and St. Paul's.
"Those thoughts are with me always," she said. "I was in Richmond, Virginia, after we won, looking around and saying, 'This is where we've come.'"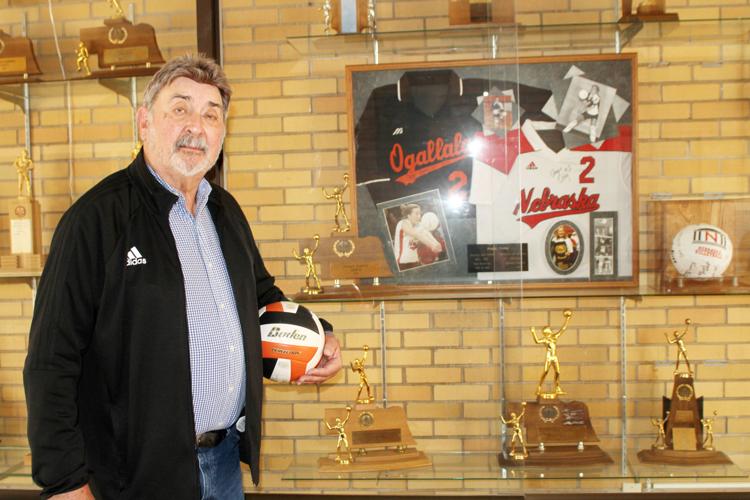 A month earlier, Morgan's Indians had once more reached the Class B championship at Pershing Auditorium. Led by such players as English Brodbeck, Erica Towell and Jayme Eichner — and including Morgan's own daughter Amanda — Ogallala won its third state title by upsetting top-ranked and undefeated Aurora, 15-13, 11-15, 15-10.
"They were really hard workers," Kate Morgan said. "They were dedicated. They had that desire to win the state championship."
There would be many more state tournament visits, including an 11-year run from 2006 to 2016. All three Morgan children, including son, Ryan, would play volleyball. His other daughter, Lindsay Nedlinski, helped coach the Indians by her father's side his last seven years.
Neighboring Paxton, which boasts Keith County's other high school, has won six Class D state titles and long drawn on Morgan's expertise. He welcomed Cook's Huskers to Ogallala for exhibition spring volleyball matches in 2003 and 2016 — before enthusiastic capacity crowds, of course.
He's watched from a distance as NU won three more national titles and introduced a nation to Nebraska volleyball madness as a then-NCAA record crowd of 17,209 jammed Omaha's CenturyLink Arena (now CHI Health Center Arena) to watch UNL capture the 2006 crown.
Cook has promised Morgan courtside seats at the Bob Devaney Sports Center, where its 8,000 seats are regularly sold out, any time he wants.
"I can't tell you how many times I've heard the same story: 'He was my P.E. teacher,' 'I went to his camps,'" Cook said. "He has touched a lot of people in the state, and he's one of the reasons we call Nebraska volleyball a state treasure."
And Morgan has seen many young women enjoy lifelong success.
Diane Schroeder Mendenhall would reach the upper echelon of UNL's administration, while older sister Pam Schroeder Borer taught and coached in Colorado.
Lynne Lawson Werner became a nurse, a lawyer, a Grand Island bank president and leader of that city's airport authority. Angie Millikin tried her hand at volleyball coaching before becoming a sales manager for Newell Rubbermaid in Georgia and Arizona, where she now lives.
And since 2002, a year after her NU playing career ended, Angie Oxley Behrens has sat on Creighton University's volleyball bench, helping build Coach Kirsten Bernthal Booth's Bluejays into an NCAA Sweet 16 and Elite Eight squad.
The coach who guided them all was inducted in 2012 into the Nebraska High School Hall of Fame. He retired as a P.E. teacher in 2013, but not until after the 2017 season did Morgan decide the next year would be his last as coach.
"I didn't know what else I could do for the sport," he said. "I felt because of my age, it might be time for a younger person to take over."
So Shelly Byrn, longtime coach at nearby St. Patrick High School in North Platte, will lead the Indians in 2019. "She's no rookie," Morgan said. "She's been around the block, and she knows how to coach and work with kids."
But Morgan isn't done with volleyball. Not yet. Part of his retirement deal, he said, was to be allowed to keep renting Ogallala's high school practice gym — and his beloved Auditorium — for his summer camps.
Ogallala debuted a new high school competition gym at Prairie View School in 2015. That's where Cook's national champion Huskers played Colorado the next spring. And Morgan had his teams play there for a while.
Then he moved Ogallala volleyball back to the Auditorium. The sight lines were better for his players, he said.
He poses for one last set of photos, as the sights and sounds come to mind once more.