As Bob Hope played the Fox Theatre, he paused to take it in.
The famous entertainer gave his only North Platte performance on Sept. 17, 1988, during a reunion for World War II Canteen volunteers and customers.
"This is a beautiful little theater," Hope, who died at age 100 in 2003, told the packed house of more than 800. "It reminds me of my vaudeville days."
The Fox opened at noon on Sunday, Nov. 24, 1929, 90 years ago today. Talking movies were still new. Traveling performers toured the land. The brand-new theater would showcase them in style.
It did, despite many nights of dark Depression and wartime houses.
A bright launch
Thirty-nine days and different eras separated the debuts of the Fox and the Hotel Yancey (later Pawnee), its East Fifth Street neighbor across North Pine Street (now Bailey Avenue).
The stock market crashed within two weeks of the Yancey's Oct. 16 dedication. It kept falling until the day before the Fox's opening.
But nothing tempered the flowery descriptions of the new theater in the Nov. 22 Evening Telegraph.
Leased by the Fox West Coast Theatre Co., it "compares favorably with any theatre in Nebraska, not excluding Omaha or Lincoln," the paper declared under the headline "Wonder House Best in the West."
It cited former Gov. Keith Neville's role in the Fox and Yancey and the theater's Renaissance-style interior, spring-cushioned seats, five-stop pipe organ, air conditioning and state-of-the-art sound projectors.
Today's audiences still can see the recently restored 27-foot by 5-foot neon sign and the fireproof curtain bearing Overland Trail artwork by Seattle artists Frank Labama and William Bender.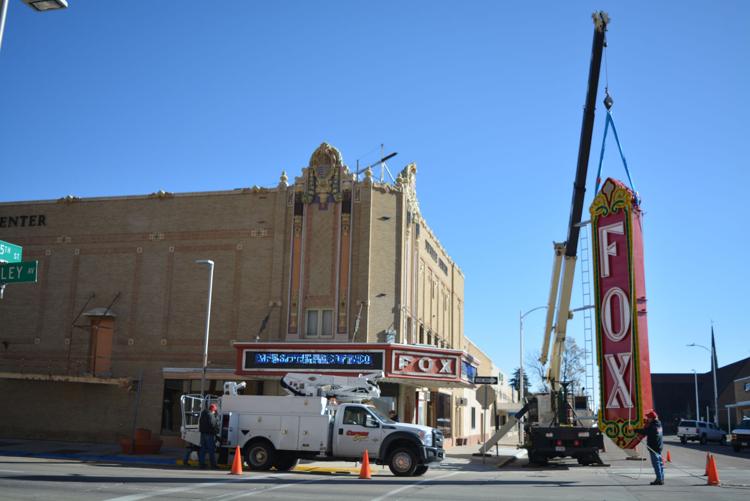 A Nov. 25 ad touted the first feature film, "Salute," a football-themed romance starring George O'Brien and Helen Chandler and directed by Hollywood legend John Ford.
The showings at 2, 7:15 and 9:15 p.m. included a Fox Movietone News reel, a short film featuring the Jubilee Singers and the 1928 Bobby Clark-Paul McCullough comedy "The Bath Between."
A brief 'Big Time'
Local and touring college performers used the Fox from the start, while ads promoted Edgar "Eddie" Stone, successor to opening-night organist Edward Soetje, with catchphrases like "EDDIE STONE at the Organ Will Help You Make Whoopee!"
An 83-person touring company of the 1927 Florenz Ziegfeld musical "Rio Rita" presented the Fox's first Broadway-type show on Jan. 7, 1930.
After a test run over New Year's, the national RKO (Radio-Keith-Orpheum) Vaudeville circuit offered weekly live shows from April to June.
Headliners included Hollywood "bathing beauty" Donna Darling, Broadway dancers Earl Mossman and Ray Vance and the comedy team of Chester Spencer and Lola Williams.
"PARDON US For Dominating This Page," a large Telegraph ad purred. "But we cannot help being enthusiastic over the show value we have to offer North Platte and in fact all of western Nebraska."
Then the Smoot-Hawley Tariff Act, signed June 17, set off a world trade war and choked off the partial recovery from the Wall Street crash.
Movies and live shows at the Fox soon would be rare.
Too many screens
Even as his hotel and theater rose in 1929, Neville had acquired an option on another lot across East Fifth from the Yancey.
Paramount Publix Corp. "has made a casual inquiry as to possible locations" for its own theater, veteran journalist Ira L. Bare wrote in the same Telegraph issue previewing the Fox's opening.
The company in May 1930 signed a 20-year lease with Neville, who built the Paramount Theatre on his empty lot. Its April 5, 1931, opening gave him three sides of the Fifth and Pine "Neville Corner."
But it also ended the show-business life of Neville's Keith Theatre on North Dewey, open since 1908.
His theaters competed for cash-strapped audiences with one built in 1925 at Seventh and Jeffers streets, known successively as the Platte, Alhambra and Luna.
Fox West Coast Theatres — which on Sept. 25 cut the Fox's movie schedule to Fridays, Saturdays and Sundays — soon would control all three moviehouses.
It started managing the Paramount in January 1932 and leased the Luna after its screen went dark that June. But before it could reopen the latter, it had to shut down the former when Paramount Publix filed for bankruptcy in February 1933.
The Fox resumed daily movies, but only until the Paramount reopened under a new lease in January 1934. The north-side theater reopened as the State a month later.
The Fox stage was never entirely dark. Managers welcomed cooking classes and cake-baking, cow-milking and beautiful-baby contests — anything to attract rental income.
The theater hosted conventions with the Hotel Pawnee and an October 1934 U.S. Senate debate between former U.S. Rep. Robert Simmons of Scottsbluff and electoral winner Edward Burke of Omaha.
British star Boyd Irwin led a London company in a November 1931 production of George Bernard Shaw's "The Apple Cart."
But the Fox's three ensemble shows during 1937, led by Edward Bowes and his "Major Bowes Amateur Hour" radio troupe, matched its 1932-36 total.
If movies played, they usually fit into a live-show bill.
DeMille, close up
Then Union Pacific Railroad President and North Platte native William M. Jeffers arranged for Cecil B. DeMille's "Union Pacific" to premiere in Omaha and North Platte.
DeMille, who had acted in North Platte in 1902, and film stars including Barbara Stanwyck and Robert Preston arrived with Jeffers for four days of festivities on April 26, 1939.
The film opened at 11 a.m. April 29 at the Paramount and noon at the Fox, which soon was renovated and launched a regular weekend movie schedule July 28.
It "has been equipped with the best in RCA sound," the North Platte Daily Bulletin wrote, "and comfortable seating and cool ventilation add to the pleasantness of moviegoers as this deluxe theater, which is considered one of the best in western Nebraska, again opens its doors to the movie public."
When "Gone With the Wind" played there March 1-9, 1940, Fox managers had to add two days to the Oscar-winning classic's week-long engagement.
But movies ceased in April. The theater tried again with a "gala opening" in May 1941. But as World War II began, its screen was dark once more.
Lowbrow and highbrow
Burlesque, vaudeville's titillating cousin, was rare to nonexistent on the Fox stage. But professional wrestling appeared regularly in 1940 and 1941, as choreographed — if not as glitzy — as Hulk Hogan's Wrestlemania 40 years later.
A forerunner to today's Town Hall Lecture Series debuted in February 1940, when the North Platte Rotary Club launched a monthlong speakers series featuring national and international figures. It ran into the late 1940s.
Less than four months after Pearl Harbor, the Fox welcomed an undisputed star.
Pioneer film actress Lillian Gish, the "First Lady of American Cinema," wasn't scheduled for a national touring company's North Platte presentation of the 1939 Broadway smash "Life With Father."
Gish and her equally prominent sister Dorothy played the lead female role of Lavinia Day in separate troupes. It was Dorothy's troupe that played the Fox on March 2, 1942.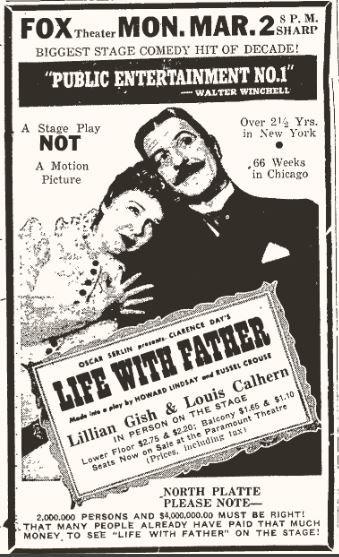 But when Dorothy developed gall-bladder trouble in Denver, Lillian replaced her opposite Louis Calhern. The audience "was completely won by the stellar cast," The Telegraph wrote.
Gish, who ended her 75-year film career in 1987 and died at age 99 in 1993, remains the Fox's most distinguished actor.
Nature intervenes
A 4-inch snowfall on Jan. 26, 1944, caused the State Theatre's roof to collapse the next day "under the weight of a heavy blanket of snow," The Telegraph reported Jan. 28.
Though the State's owner and manager intended to rebuild, "rumors that the Fox Theatre might open two or three days a week are entirely unfounded." Said local Fox Manager A.C. Stalcup: "Fact is, we haven't even considered it."
Eleven days later, The Telegraph ran this ad: "HELP WANTED — Complete Staff for the Fox Theatre, which will open Feb. 18."
It showed movies four days a week at first, but by July, the Fox and Paramount were both running full schedules for the first time in 13 years.
The State reopened that fall, but the Fox showed daily films long past the north-side theater's demise in the late 1950s and the Paramount's closing on Feb. 6, 1963.
A year after Mann Theatre Corp. showed its last film at the Fox on Sept. 9, 1979, Neville's family donated the theater to the North Platte Community Playhouse.
The group, which formed in 1955, staged its first show in the Pawnee's Crystal Ballroom in February 1956. But it performed often at the Fox before buying the now-vanished State in 1969 for its first permanent stage.
Living traditions
Two live Fox shows deserve special mention: the U.S. Army Air Forces' WACaravan production on Aug. 22, 1944, and the Army 7th Service Command's "Production Urgency Caravan" on March 13, 1945.
The latter appeared, the Daily Bulletin wrote, "in appreciation for (the) service of the North Platte Canteen."
After the war, the Fox hosted a short-lived "North Platte Greater Artist Series," similar to the older North Platte Concert Association series now presented there.
It presented noted violinist Isaac Stern in 1946 and 1948 and the Trapp Family Singers, the inspiration for "The Sound of Music," on Nov. 23, 1945.
With the fall 2017 debut of "Movies at the Fox," today's Neville Center for the Performing Arts could cite precedents for each of its 21st-century series of films, live plays and musicals, lectures and concerts.
More stories lie ahead, unwritten, for North Platte's proud theater — along with its 2029 centennial.