CODY, Wyo. — One bumpy ascent of craggy Cedar Mountain suggests it's just as well that William F. "Buffalo Bill" Cody rests on the smoother Lookout Mountain near Denver.
The city below has done quite well since his 1917 death, boasting nearly 10,000 people, 1 million tourists annually and the largest of the museums telling the story of Cody's life.
"I like to say (that), basically, Lookout Mountain has the body but we have the objects," said Jeremy Johnston, historian and former curator of the Buffalo Bill Center for the West.
Cody has more: the legacy of Buffalo Bill's most successful investment.
He promoted North Platte across the nation and world throughout his Wild West Show's 1883-1913 run. But though Cody was connected with North Platte for 34 years, he didn't found it.
He succeeded with his Scout's Rest Ranch at North Platte and TE Ranch southwest of Cody. He also invested in Wyoming hotels, Arizona mines and coal and oil fields — all blamed for draining much of his fortune by his 1917 death.
But Cody, Wyoming, is going strong 125 years after Buffalo Bill and others saw its potential as an agricultural center and the eastern gateway to Yellowstone National Park.
And its leaders "very quickly realized after Buffalo Bill's passing that tourism and the founding of the American West was a good draw," Johnston said.
Watering a desert
Buffalo Bill's attention turned to northwest Wyoming in the early 1890s, when the Wild West was at the peak of its fame.
Yellowstone Park, the nation's first, had been created in 1872. But the area's main river bore an unattractive name based on its high sulfur content: Stinking Water.
No matter. Several Wyoming entrepreneurs, led by a Kentucky native and U.S. senator's son named George Beck, saw productive irrigated farmland where a desert stood.
One of them, Horton Boal, had married Buffalo Bill's daughter Arta and invested with Cody in a hotel in Sheridan. Beck, who spent much of 1893 surveying for a canal, was in Sheridan when Cody arrived that fall.
Beck reasoned, "If we can get Cody on board, we'll have the best PR man in the world to promote this project around the world," Johnston said.
Buffalo Bill, who had engaged in irrigation in Nebraska and dreamed of a stage line into Yellowstone, eagerly climbed aboard.
He claimed he first saw the area after bathing his eyes in the Stinking Water as treatment for an eye infection, sister Helen Cody Wetmore wrote in 1899's "Last of the Great Scouts."
He "came up with this crazy, Moses-like founding of the town of Cody," Johnston said. "I look at the pictures of early-day Cody. How did they buy this?"
But "Buffalo Bill sold the hell out of this place."
The Cody Canal along the Shoshone River, renamed for the Native American nation, was enhanced by a 1910 dam six miles west of Cody.
Renamed Buffalo Bill Dam in 1946, it's surrounded by a state park and backs up a reservoir, both also bearing Cody's name. It was the world's tallest dam when finished.
Park County ranked fifth among Wyoming's 23 counties in total agricultural products sold in 2012. It ranked No. 8 just before the 2020 census with an estimated 29,194 people, led by Cody (9,860) and nearby Powell (6,128).
The county's Burlington Northern Santa Fe Railroad line can be traced to Buffalo Bill's influence, along with the road from Cody into Yellowstone, U.S. Highway 14-16-20.
Cody's enterprises
One can find echoes of Buffalo Bill's North Platte experiences in Cody, which formally began with a post office in 1896 and was incorporated in 1901.
When the Wild West played Washington, D.C., in 1899, Cody was visited by John H. Peake, who had published the North Platte Enterprise in 1873-74.
He launched the Cody Enterprise on Aug. 31, 1899, with Buffalo Bill as co-owner. It's still in business.
Cody's 1882 "Old Glory Blowout" in North Platte — the precursor of rodeo and the Wild West Show — paved the way for July's annual Cody Stampede and summer-long Cody Nite Rodeo, founded in 1919 and 1938 respectively.
And downtown Cody's crown jewel, the Irma Hotel, was named for his youngest daughter and only child born in North Platte.
Opened on Nov. 1, 1902, the Irma continues to welcome diners and lodgers. Buffalo Bill had two reserved suites, and Irma and her husband, Fred Garlow, ran the hotel after serving as Scout's Rest Ranch managers from 1908 to 1913.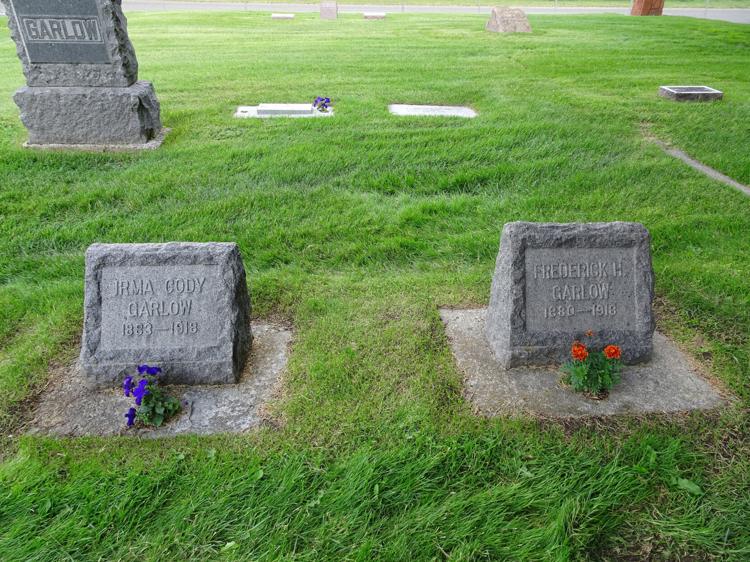 The couple also died there, three days apart, in October 1918 when the Spanish flu pandemic swept through Cody. Irma and Fred Garlow are buried in Cody's Riverside Cemetery.
Buffalo Bill's TE Ranch, 33 miles southwest of Cody, is privately owned. But visitors bound for Yellowstone Park can stop by or stay at Pahaska Tepee Resort, which Cody opened near the east entrance in 1904.
A friendlier rivalry
Cedar Mountain offers an impressive vista of all Buffalo Bill and his partners wrought. But it doesn't hold Cody's body, because he took out that stipulation in his will in 1913 to let his wife, Louisa, make the decision.
Angst over losing his grave to Denver planted the seeds of today's Buffalo Bill Center of the West.
Some Cody relatives had loaned items to the Lookout Mountain museum found by Johnny Baker, Buffalo Bill's foster son, near his grave in 1921.
But Helen Cody Wetmore's daughter, Mary Jester Allen, began pushing for a museum in the town her uncle co-founded.
She had national figures on her side like sculptor Gertrude Vanderbilt Whitney, who created the "Buffalo Bill — The Scout" sculpture of Cody on horseback behind the museum.
It was dedicated on July 4, 1924, with Whitney paying the $50,000 cost of the sculpture and the future 40-acre site of the Center of the West.
Allen co-founded the Cody Family Association in 1925 to raise funds and buy items for the museum, which she led until her 1960 death.
It opened on July 4, 1927, in a log-cabin replica of TE Ranch headquarters now home to the Cody Country Chamber of Commerce.
But Allen and some other relatives also called from moving Buffalo Bill's body from Lookout Mountain to Cody. Baker and his backers reburied it under 12 feet of concrete to thwart that idea.
Meanwhile, relatives backing the Wyoming museum reclaimed their loaned items from Colorado.
"I really think Mary Jester Allen wasn't too interested in the bodies" of Buffalo Bill and Louisa Cody, Johnston said. "I think she was interested in all the objects the family had on display at Lookout Mountain."
Today's Buffalo Bill Museum & Grave at Lookout Mountain retains photographs of the items removed to Wyoming, said Betsy Martinson, its program administrator for the City and County of Denver.
They included Cody's 1870s Springfield .50-caliber bison-hunting rifle, "Lucretia Borgia," on display in the Center of the West's Buffalo Bill Museum.
It's missing its gunstock because it broke off in 1875 when Cody used it to fend off a charging elk, Johnston said.
Lookout Mountain also originally exhibited French painter Rosa Bonheur's 1889 painting of Cody on horseback, now in the Center of the West's Whitney Western Art Museum.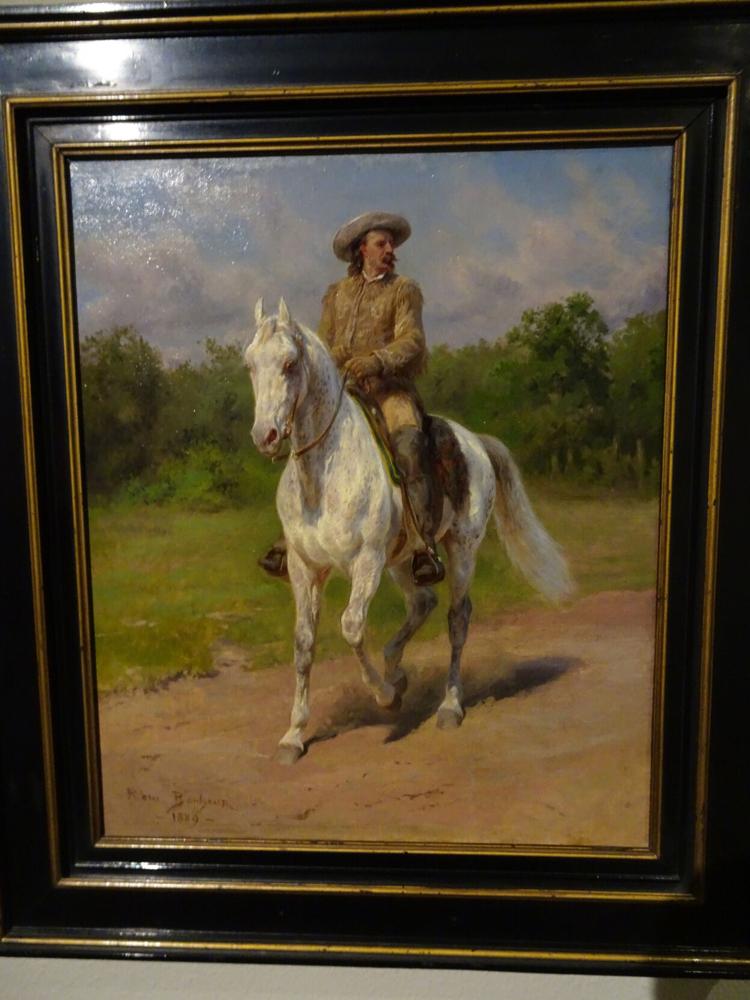 One of Buffalo Bill's prized possessions, it was rescued in 1891 from the flames that consumed his original "Welcome Wigwam" on or near the 1800 block of West Front Street in North Platte.
Buffalo Bill Museum visitors will find many items from throughout Cody's life: an authentic "Deadwood stage" from the Wild West Show, sharpshooter Annie Oakley's wool riding habit, a replica of his show tent with authentic furnishings and many family photos and Wild West posters.
North Platte visitors also will see an 1870s George P. Bent "pump organ," played by Louisa and Arta Cody, that once was in the parlor at Scout's Rest Ranch.
But current displays mostly omit Cody's North Platte years. That will be fixed when the museum next updates its exhibits, Johnston said.
The Buffalo Bill Museum moved across U.S. 14-16-20 in 1966, three years before completion of its current home in the second-oldest wing of the Center of the West's 300,000-square-foot complex.
The Whitney wing, which opened there in 1959, includes other artworks featuring Cody, Western paintings from the Irma Hotel and the works of famous Old West artists such as George Catlin, Albert Bierstadt and Frederic Remington.
Other wings hold the Plains Indian Museum (1969), the Cody Firearms Museum (1976), the McCracken Research Library (1980) and the Draper Museum of Natural History (2002).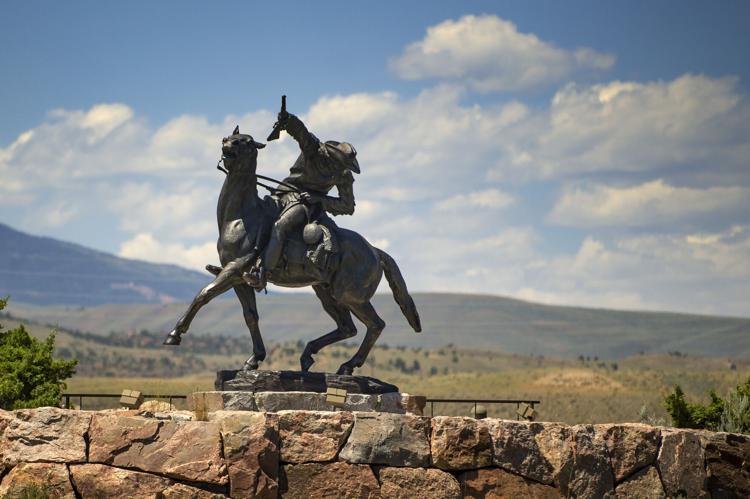 Admission is good for two days, Johnston added, offering plenty of time to see how his museum — which drew some 170,000 people in 2019 — continues Buffalo Bill's original mission of making sure the Old West he knew wasn't forgotten.
The Cody-Lookout Mountain rivalry — which gained a third player when Scout's Rest Ranch was restored in the 1960s — has evolved into a friendly relationship in which they sometimes loan artifacts to each other, their directors said.
"He was all over the West and played such a critical role in opening the American West (that) you can't really say one community owns him," Johnston said.
Next Sunday: Though it's the youngest major Cody museum, Scout's Rest Ranch ably anchors North Platte's tributes to the townsman who took its name around the world.
---
More on William F. "Buffalo Bill" Cody and his legacy: