When one looks around lush, peaceful Scout's Rest Ranch in summer, it's strange to think William F. "Buffalo Bill" Cody rarely would have seen his North Platte home base at its best.
Of the three major museums holding relics of Cody's memorable life, only Scout's Rest can boast that "Buffalo Bill slept here."
He was dead more than 40 years before North Platte saved his home, barn and outbuildings, restored and dedicated in June 1965 as Buffalo Bill Ranch State Historical Park.
The two-story, French Second Empire mansion, built for $6,000 and finished in October 1886, remains a proud icon of the city that claimed Cody longer than any other.
"Buffalo Bill's Wild West" and the sport of rodeo can be traced to Cody's "Old Glory Blowout" celebration of July 4, 1882. Its site lies partly within North Platte's largest park, established in 1915 and named for Cody on Aug. 16, 1927.
And though Cody earned his famous nickname elsewhere, his career as a U.S. Army scout began near here at Fort McPherson on May 20, 1869.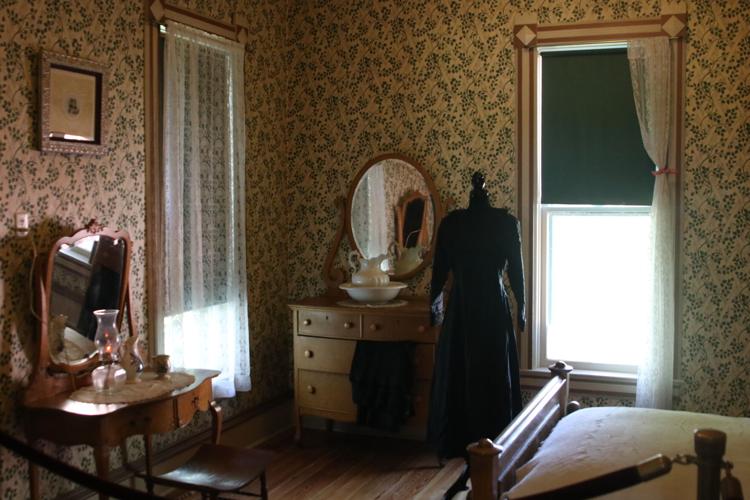 He owned three homes within present-day North Platte, but only the one at Scout's Rest remains.
"I think the visitors who come in here and learn about him keep his story and (his family) alive and relevant," said Superintendent Adam Jones.
Enduring pride
North Platte's newspapers have never stopped writing about Buffalo Bill, with the oldest surviving example dating to the Feb. 12, 1870, issue of the Platte Valley Independent:
"Another successful hunting expedition has returned to Fort McPherson. Over 150 buffalo were killed. Major Brown, Capt. Taylor and Lieutenants Alma and Hall composed the party and were accompanied by 'Buffalo Bill.'"
Cody's 24th birthday was two weeks later.
Two days after his death at age 70 on Jan. 10, 1917, Semi-Weekly Tribune editor Ira L. Bare spoke for all who knew Buffalo Bill as a respected though imperfect neighbor and friend:
"Colonel Cody's life in North Platte, his character and his deeds will be remembered as long as North Platte exists."
When North Platte staged its "Semi-Centennial Celebration" marking Nebraska's 50th birthday on June 26-30, 1917, Cody's spirit was palpable.
It featured a parade, Queen's Ball, fireworks, carnival and outdoor pageant in Wild West Show fashion. All prefigured Nebraskaland Days, the state's Cody-inspired "official celebration," which began in Lincoln in 1965 and moved permanently to North Platte in 1968.
Homes and ranches
Buffalo Bill and his wife, Louisa, made their first Lincoln County home at Fort McPherson until December 1872.
His growing family spent the next five years in Rochester, New York, while he scouted summers on the Plains and toured the nation in stage shows loosely based on his exploits.
But the Codys set down North Platte roots on Feb. 4, 1878, when Buffalo Bill bought 160 acres for $750 south of the Union Pacific Railroad tracks and east of today's Buffalo Bill Avenue.
He built the first of two homes dubbed "Welcome Wigwam" on its east edge, approximately in today's 1800 block of West Front Street.
It burned down on Nov. 5, 1891, but Cody two years later bought a mansion that stood until 1930 at 1207 W. Fourth St. He put it in the name of Louisa Cody, who sold it in 1912.
Its replacement, a brick home still occupied today, includes pieces of the second Welcome Wigwam.
Scout's Rest eventually covered more than 4,000 acres, crossing the U.P. tracks and running to the North Platte River. Cody secretly sold the ranch to Wild West partner Gordon "Pawnee Bill" Lillie in late 1911. The sale wasn't revealed until 1913.
The descendants of Henry Kuhlmann, who bought Scout's Rest in 1927, still raise cattle on former Cody land west of the park.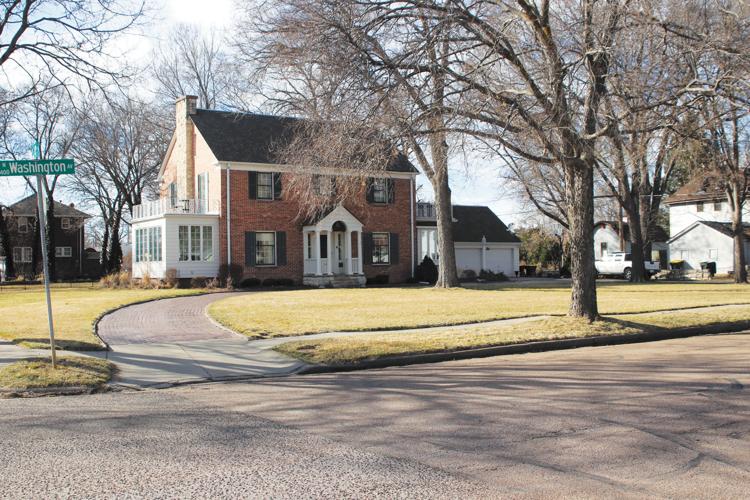 The Kuhlmanns sold the 25-acre park site in 1961 after a Lincoln County Historical Society fund drive matched $37,500 provided by the state. They later sold more land for the Wild West Arena and Nebraskaland Days headquarters.
"They did a great job preserving this place," Jones said.
Restoring the jewel
But North Platte and the Nebraska Game and Parks Commission had a lot of catching up to do.
Efforts in the 1920s to make a museum of Cody's second Welcome Wigwam failed while Buffalo Bill museums sprouted at Cody, Wyoming, the town he co-founded in 1896, and his grave atop Lookout Mountain near Denver.
But Scout's Rest's restoration, aided by additional state funds, was so successful that "Buffalo Bill himself could not have told it from the ranch that had been his pride and joy in the 1880s," the late North Platte author Nellie Snyder Yost wrote in her 1979 biography "Buffalo Bill: His Family, Friends, Fame, Failures and Fortunes."
"It was surprising what a wealth of furniture and artifacts came flowing back to Scout's Rest Ranch," she added.
The mansion holds some 3,000 artifacts, Jones said, thanks in part to gifts and fundraising over the years from local residents and Cody fans.
He said the house drew 24,920 paid admissions in 2019, though many more likely visited the park without paying the mansion's separate entry fee.
It remains closed due to the COVID-19 pandemic, though the grounds and the rest of the buildings can be seen with a valid Game and Parks permit.
Jones and his staff, including naturalist Meghan Manary and history specialist Meghan Ward, have used the forced shutdown to begin updating the mansion's displays.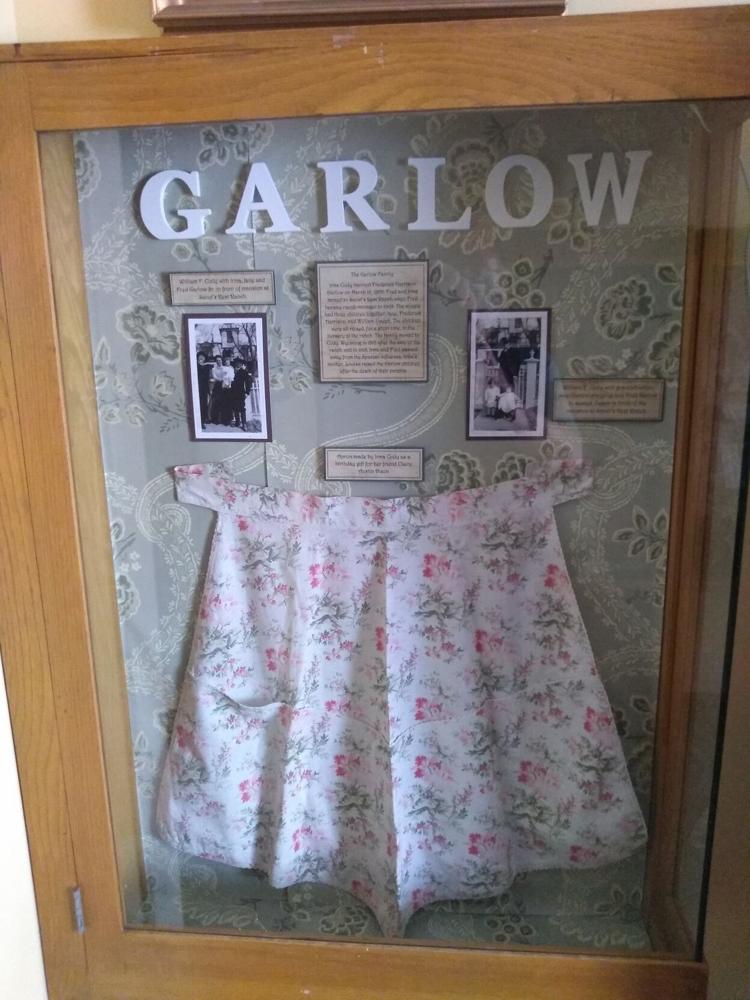 Second-floor cases in its 1909 addition display such items as Cody's Masonic gear, possessions of foster son Johnny Baker and artifacts from the "Cowboy Band" directed by William Sweeney throughout the Wild West's 1883-1913 run.
The projection room has a case with the Colorado and 48-state U.S. flags flown over Lookout Mountain at Cody's burial on June 3, 1917.
Future tourists will see displays designed by Manary and Ward on various branches of Cody's family and "Women of the Wild West," led by "Little Sure Shot" Annie Oakley.
In the rest of the house, period furniture continues to complement such verified Buffalo Bill artifacts as one of his traveling Wild West rolltop desks in the first-floor living room.
A sideboard and liquor cabinet dating to the Codys' 1866 wedding graces the dining room, where the wallpaper was re-created during the 1960s restoration from remnants still on the walls.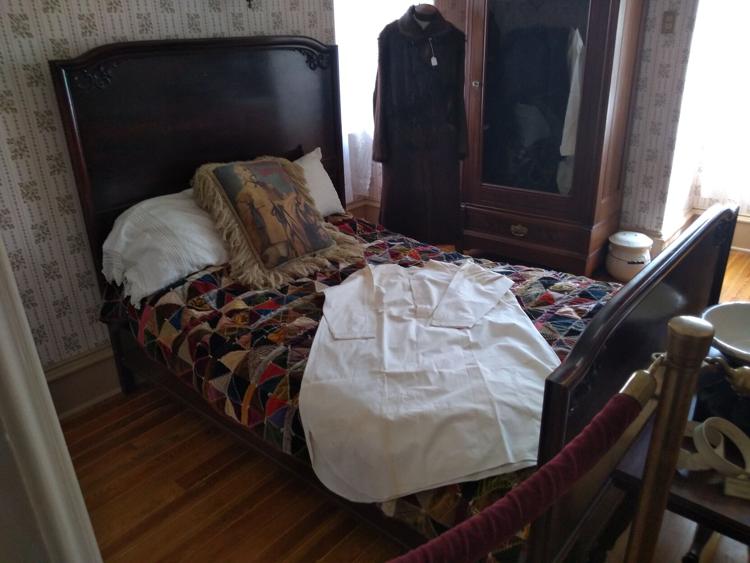 Louisa's and Buffalo Bill's bedrooms are upstairs, with the latter connected to a guest room holding Cody's bed from his Irma Hotel suite in his namesake Wyoming town and a wardrobe on loan from its Buffalo Bill Center of the West.
The top-floor cupola is typically closed to the public, but Jones said it afforded a clear view to the U.P. tracks in Cody's time.
Scout's Rest's signature barn, finished in October 1887, focuses on the ranch's working aspects but includes Wild West Show artifacts and remnants of original show posters on the walls.
A larger "T-barn" built in 1891 burned down during a March 1904 prairie fire. But visitors will see tall trees Cody planted in 1886, the mansion's root cellar, spring house and cob house and a log cabin from a Sandhills ranch near the Dismal River owned by Cody and Army "Pawnee Scouts" leaders Frank and Luther North.
And, of course, they'll see buffalo near the barn.
Where the Wild West began
It's unlikely, Yost wrote, that Cody rehearsed his first Wild West Show in North Platte before its Omaha premiere on May 17, 1883.
But "a large and excited crowd" came to the U.P. depot as Cody and his entourage left for a May 10 dry run in Columbus, she added.
Early resident Isaac Dillon helped assemble the show that took up "six boxcars and several passenger cars," as daughter Maude Walker related his memories to Yost.
Cody apparently said as he departed: "I will not only exhibit my show in every state capital in the United States but also in Washington, D.C., and some capitals in Europe."
"At that," Walker said, "someone in the crowd said, 'That's a hell of a lot of wind, even from Bill Cody.'"
But "Buffalo Bill's Wild West" had toured 10 European nations, Canada, the District of Columbia and all then-48 U.S. states when it died in Denver on July 21, 1913.
It had performed the day before in Julesburg, Colorado, 84 miles west of Scout's Rest. The Wild West played North Platte three times: Oct. 12, 1896, Sept. 10, 1898, and Aug. 19, 1911.
William Frederick Cody truly cannot be limited to any one community. But he was associated with North Platte and Lincoln County for 44 years.
If ever he had a hometown, this was it.
---
Looking for more on Buffalo Bill?
Part one of our series "Preserving Pahaska: The Museums of Buffalo Bill" starts in what seems to be an unlikely place for William F. "Buffalo Bill" Cody to rest eternally: Atop Lookout Mountain in Golden, Colorado.