To be an "old settler" a century ago usually meant one of two things.
You "came out" on purpose — as a railroader, soldier, homesteader, missionary. Or you were headed elsewhere but wound up staying.
Ira Leslie Bare was one of the latter.
He wasn't yet 21 years old when he got off the train at 15-year-old North Platte, boasting only 363 people, five months after the newspaper you're reading was born.
He died just past his 92nd birthday, in a city of 15,433, having reported on, taken part in or influenced most everyone and everything in the city's early history:
William F. "Buffalo Bill" Cody. Keith Neville. William M. Jeffers. Cody Park. The Hotel Pawnee. The Fox Theatre. Both of North Platte's wartime canteens.
As Bare was buried in the North Platte Cemetery, a street already bore his name: Bare Avenue, on the west side of town, in a subdivision filed on Dec. 2, 1949.
It's a centennial year for Bare. In 1920, he sold the Tribune, the newspaper he co-founded and edited for 35 years, and published a two-volume work on his adopted home with William H. McDonald, the first white child born in Lincoln County.
"An Illustrated History of Lincoln County, Nebraska, and Her People" reflects Bare's front-row seat for the county's history, said Jim Griffin, director/curator of the Lincoln County Historical Museum.
"He may not have been here during the pioneer period, if you will, but he was here to see the growth," Griffin said.
Ira L. Bare holds a copy of the North Platte Daily Telegraph-Bulletin in this portrait taken in February 1948, when he was 87. Bare, founding editor of the North Platte Semi-Weekly Tribune (1885-1920) and a former Telegraph columnist (1926-36), died at age 92 on Dec. 17, 1952.
An unexpected home
Born on Nov. 24, 1860, Ira L. Bare learned printing as a teenager in his native Mount Union, Pennsylvania, halfway between Pittsburgh and Philadelphia.
He first worked "as a printer's devil and printer for various Pennsylvania newspapers," his Telegraph-Bulletin obituary said in 1952.
A 1910 Mount Union history lists an older brother, John S. Bare, as local editor of the Mount Union Times as of September 1879. But it might have listed the wrong brother.
"Ira L. Bare & Co. now publish the Mt. Union Times, but our friend, Dr. (A.R.) McCarthy, continues to do the brain work for the concern," the nearby Huntingdon Journal wrote on Nov. 7, 1879.
Ira was just shy of 19 years old.
He didn't stay much longer, leaving Mount Union sometime in 1880 to "go to Colorado to seek his fortune," the Telegraph-Bulletin wrote on Bare's 90th birthday in 1950.
But the morning of Sept. 18, 1881, found Bare getting off a Union Pacific train in North Platte. A brief Tribune biography on March 2, 1937, said he was sick with "mountain fever," now called Rocky Mountain spotted fever.
"In North Platte, he ran low on funds and asked for a temporary job to tide him over and help him finish the trip (home) to Pennsylvania," the Telegraph-Bulletin said.
He'd make it home. Eventually.
The earliest surviving local mention of Bare comes from the Jan. 5, 1884, issue of the Western Nebraskian.
"Ira L. Bare, for the past two years foreman of this office," had left suddenly for Pennsylvania for his father's funeral in Mount Union, the item said.
The next time Bare's name appears in type, it was in his own paper.
'Owner and proprietor'
The Lincoln County Tribune first appeared on Jan. 24, 1885, with L.A. Stevens as "proprietor" and Bare as "local editor."
Stevens moved from Fairbury to buy the Western Nebraskian in 1883, then sold it in November 1884, Bare said in a Jan. 24, 1935, piece marking the Tribune's 50th anniversary.
They set up shop in a 19-foot by 18-foot upstairs room in downtown's 1879 Dixon Building. Its subsequent homes are gone.
Stevens' mission statement aligned the paper with the Republican Party. But it vowed to be "just as independent as the interests of the public may seem to require" and "temperate and respectful on all occasions, remembering that others have opinions which to them may seem as proper and correct as those entertained by us."
Stevens made Bare a partner that June, calling him "a young man well known to our people, having resided in North Platte several years, long enough to become thoroughly acclimated and a good (news) rustler."
Bare married another Pennsylvania import, Mary "Mollie" Thompson, on Valentine's Day 1888. They raised their two children, Leslie and Geraldine, in a modest one-story house at 514 W. Fourth St. that they bought in 1892.
Stevens sold his Tribune share in August 1890 to S.R. Moulden, who retired in December — making Bare, now 30, "editor and proprietor."
He remained so until he sold the Tribune in July 1920, apparently in the first of two failed attempts at retirement.
By March 1921, Bare was working as secretary of the North Platte Chamber of Commerce, which he had helped to organize in 1911.
He resigned in April 1926, having said that December "he had been taking the work too seriously and that recently he had not been able to get his mind at rest during the night."
But that Aug. 13, Bare debuted in The Telegraph with his column "A News Reel of City and County," one of three names it bore.
Though he went silent for most of 1934 — the year Mary Bare died — as well as 1935, Bare didn't write his last column until Sept. 12, 1936.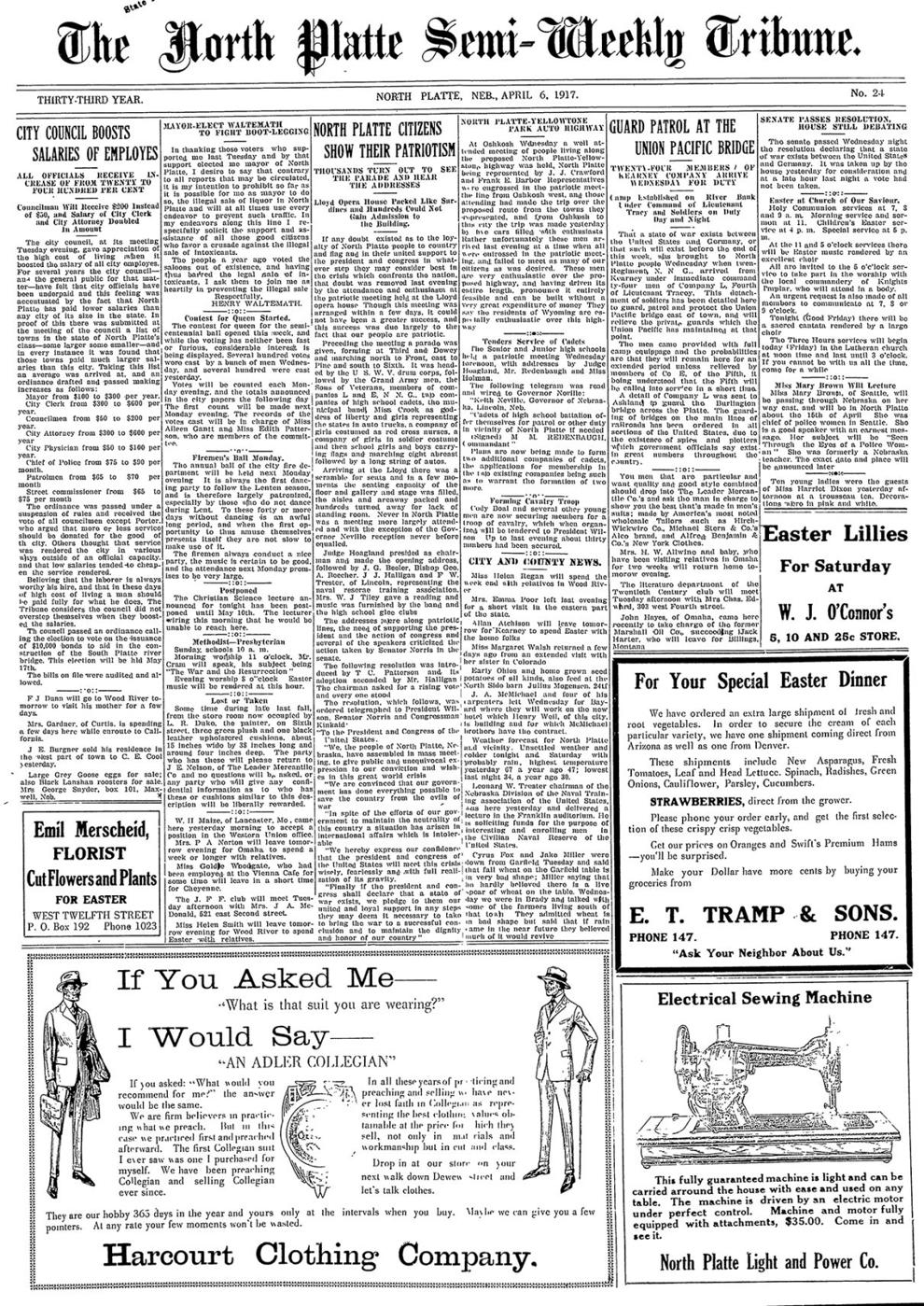 Life in the 'banana belt'
Bare's first column in the Tribune's inaugural issue began: "Several interesting local articles already in type are crowded out for want of room."
Twenty-eight items did make Bare's cut — but the "lead" items were toward the end.
"The 'Wild West' is now exhibiting in New Orleans and is reported to be drawing crowds in its usual mustard-plaster style," Bare wrote of William F. "Buffalo Bill" Cody's two-year-old extravaganza.
Another item described City Council talks about a seven-year franchise for citywide electric lighting.
"We have not had time or facility to investigate this scheme," Bare wrote, "but if our citizens have enterprise enough to put in an expensive plant for the purpose, it would seem proper they should receive some protection."
He would steadily describe the evolution of North Platte's electric, gas, water and telephone services. He was still writing about electrification 50 years later, this time in Nebraska's rural areas.
"Is not John Smith who lives in the canyons of Deer Creek precinct just as much entitled to the conveniences of light and power as Tom Brown, who lives in the thickly populated Nicho's precinct?" he wrote in The Telegraph on Jan. 15, 1936.
He wrote about the weather, too. A lot.
When Bare first came to town, early settlers interpreted occasional winter warm spells as normal everyday winter weather. A series of 1880s blizzards set them straight.
But warm spells there were, due to periodic warm winds off the Rockies. They inspired Bare to a nickname as the 1900s began.
"Weather in the banana belt of western Nebraska yesterday was perfect as an April day," he wrote in the Tribune on Jan. 15, 1901, a day after temperatures peaked at 62.
Bare's competitors quickly spread the phrase. A Telegraph-Bulletin editorial on March 6, 1950, credited Bare for coining "banana belt" without knowing just how old it was.
"While Mr. Bare probably will not be remembered in this community for creating this phrase," it said, "he will be remembered for his great community work, which he continues very actively now, despite his 89 years of age."
Friend of Buffalo Bill
Like all publishers, Ira L. Bare was involved in most every community event and issue.
He was "the popular young bachelor editor" before his marriage, dependable for "a full and flattering account of the functions he attended," the late Nellie Snyder Yost wrote in her 1979 book "Buffalo Bill: His Family, Friends, Fame, Failures and Fortunes."
Bare attended the local Brotherhood of Locomotive Engineers' first formal "May Party" ball in May 1883. At the 70th ball in 1952, he was honored for never missing one.
Cody's daughter Arta usually hosted the sociables and card parties Bare attended. It sparked a long friendship with Buffalo Bill.
"Colonel Cody's life in North Platte, his character and his deeds will be remembered so long as North Platte exists," he wrote in a Tribune tribute on Jan. 12, 1917, two days after Cody's death.
Nearly 20 years later, Bare chided Telegraph readers that Cody's namesake town in Wyoming planned to celebrate his 90th birthday while North Platte had never built him a memorial.
He "did much toward starting this city on its way toward reaching its present importance and modernity," he wrote on Jan. 20, 1936. "Certainly we have been lax in our appreciation of him."
Locals hastily organized a 90th-birthday banquet at the Hotel Pawnee, a precursor of today's "Buffalo Bill Birthday Bash."
Parks and 'bricks'
Bare had known the family of the hotel's builder, Keith Neville, since he first came to town. That they were Democrats meant nothing in 1916, when Neville was elected the first governor from western Nebraska.
After a torchlight hometown parade, Bare urged "every lover of the west to rally behind Keith Neville and give him the support that he deserves personally and as a representative of that west which has so long been ignored," The Telegraph wrote on April 4, 1916.
Bare chronicled the rise of not only Cody and Neville but also William Jeffers, whose long ascension from North Platte call boy to Union Pacific president peaked in 1937.
Bare's Telegraph column documented the development of downtown's "Neville Corner" — the Pawnee, the Fox and the Paramount Theatre — between 1929 and 1931.
After North Platte was included on the Lincoln Highway in 1913, Bare sat on "good roads" committees pushing to pave the first transcontinental motor route. He saw its coast-to-coast completion just west of town on Nov. 5, 1935.
He had used his Tribune perch for years to support improved schools, a new county courthouse, parks and better streets.
The last two figured in a bond election on Sept. 14, 1915, to improve downtown lighting, pave downtown streets with bricks — the same ones set for resetting in 2020 — and buy what in 1927 would be named Cody Park.
Bare, who devoted much of the Tribune's Sept. 10 front page to the proposal, lauded its approval in a Sept. 17 editorial:
"Seven o'clock tomorrow morning will mark thirty-four years since the editor of The Tribune emerged from a box car filled with coal and set his feet on North Platte soil. ...
"The dream of long years ago — which at times seemed Utopian — that North Platte by reason of its geographic location and its environments would eventually become a gem city — the real commercial center of western Nebraska — promises now to be fulfilled."
'An Illustrated History'
It took more than 800 pages, starting with prehistoric times, to finish Bare and McDonald's Lincoln County history, published in September 1920.
Statistics and stories of the county, its Native American and later white inhabitants, its towns and organizations take up Volume 1. Dozens of brief biographies fill Volume 2, with Bare's in the middle.
"You could tell he had pride in the fact the town had grown because of the time he took (in writing about) every type of institution, whether it was a business or a church," said Griffin, the historical museum director.
Without Bare, who founded the Lincoln County Historical Society with McDonald and others in 1931, "what we would have is minor sketches of what people said."
He was North Platte's undisputed elder statesman when he took part in the supreme community effort of its 154-year history.
The World War II Canteen had been operating for more than two years when Bare joined its auditing committee with Mayor S.P. McFarland and downtown businessman Arthur T. Tramp.
Bare, who had promoted the 1918-19 World War I Red Cross Canteen in the Tribune, appears in the Canteen's final group photo on April 2, 1946, the day after it closed.
When North Platte threw a parade and celebration for Canteen volunteers that Aug. 16, one speaker was "well-loved adviser Ira L. Bare," The Telegraph wrote.
When he finally passed away on Dec. 17, 1952, no one could doubt what Tribune successor Wilson Tout had written about Bare for his former paper's 50th birthday:
"His personal character and reputation for honesty caused people to believe what The Tribune said."