Here's a different kind of story of a west central Nebraska pioneer family:
Nine doctors. Four generations. Three medical fields. One community.
As their North Platte centennial looms in 2019, the members of the States family are a bit amazed how their family's professional and community heritage keeps renewing itself.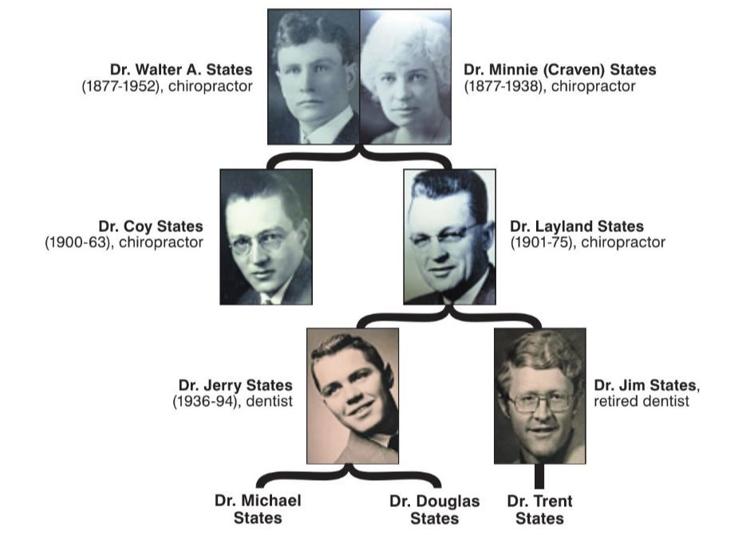 At most, "I think it was a silent thing toward (going into) health care," said retired dentist Dr. Jim States, the family's current North Platte patriarch. "One of our assistants said," he added with a grin, "we didn't want to get our hands dirty and work hard."
Chiropractors wrote the first two generations of the States story. Dentists wrote the third. Generation Four's story is at 25 years and counting, featuring a Dr. States in each of three different disciplines: Jim's son Trent, a dentist; Trent's cousin Michael. a chiropractor; and Michael's brother Douglas, a family practice physician.
Other relatives have worked in medical fields, though not in North Platte. The current States trio figures on at least 10 more years here.
But it's not impossible they'll witness the advent of the fifth North Platte generation: Doug's son, Dr. Josh States, is now in radiology residency in Omaha.
"I think one thing I've always gotten a kick out of is practicing in my hometown," Doug said.
His brother and cousin would agree.
Just like their region's historic farm and ranch families, the States medical history begins with groundbreaking ancestors.
Walter States and Minnie Craven, born three months apart in the same Illinois county in 1877, both moved to western Kansas in the early 1890s. But the couple realized, Jim States said, that there were too many mouths to feed where their family had set up farms.
Minnie's brother, John Craven, offered them a different career.
He was a graduate of and instructor at Palmer College of Chiropractic, the world's first such school when it opened in 1897 in Davenport, Iowa. Its founder, Canadian emigrant Daniel David Palmer, had been a "magnetic healer" there when he performed the first recorded chiropractic adjustment in 1895.
Walter and Minnie, who married in 1899, entered Palmer in the 20th century's first years. Minnie States became one of the world's first female chiropractors when she and Walter graduated from Palmer in 1912, Michael States said.
Though they had three sons together, the couple's marriage was troubled. After living for a time in Blair, Walter States arrived in Alliance just after World War I to "take charge of the office and practice" of fellow Palmer graduate Dr. Anna Graham Jeffery, the Alliance Herald wrote on Dec. 5, 1918.
Son Layland accompanied Walter there, Jim States said, while Minnie looked after the other two sons, Coy and Palmer. But within a few months, the couple seems to have attempted a reconciliation — and North Platte was the place they settled upon to try it.
The North Platte Semi-Weekly Tribune of April 15, 1919, carried three articles on the sale of Dr. L.D. Smith's two-year-old chiropractic practice to "Dr. States & States." Minnie "arrived from Alliance the latter part of last week," the Tribune said. "Her husband will arrive here about May 1."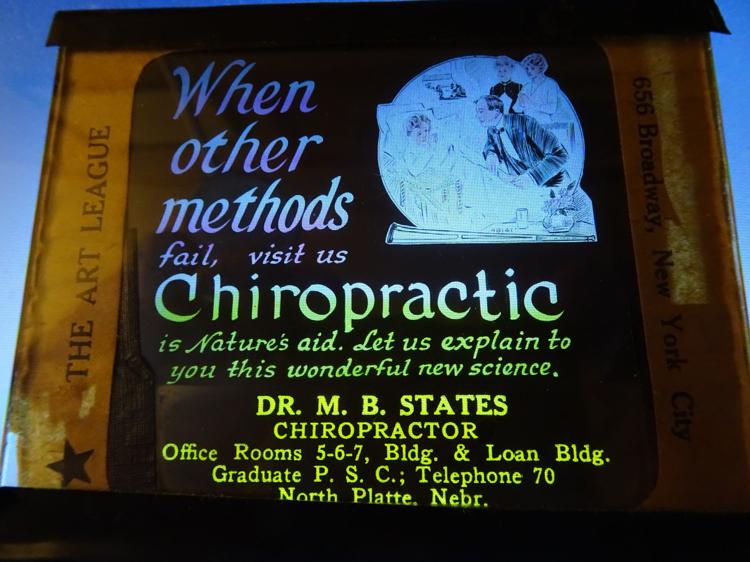 Not until Aug. 14, however, did the Alliance paper say Walter "has gone to North Platte to engage in his chosen profession." He "contemplates the establishment of a branch office at Ogallala."
He did, at least for a time. While Minnie practiced in Smith's old office in North Platte's downtown Mutual Building, Walter covered for her when she visited Omaha relatives. Later, "Dr. States of Ogallala spent Thanksgiving with his family in North Platte," the Evening Telegraph reported Nov. 28.
But Minnie, alleging "abandonment and non-support," divorced Walter in July 1921. He remarried and settled in Ravenna, where he died in 1952. She kept custody of Palmer, who would pursue a non-medical career on the Rockies' Front Range.
And Minnie pressed on as a woman in a male-dominated business community, practicing a medical discipline that medical doctors disdained for decades.
A few years ago, Michael States received a set of six oversized, full-color slides that projectionists in North Platte's 1920s movie theaters would slip in front of their cameras. He said the slides, advertising his great-grandmother's practice, were found while someone was cleaning out a rental property.
When he began his own practice in 1993, he said, some of his older patients would tell him about having been treated by his parents and ancestors. That included Minnie, who eventually bought a home on South Vine Street that doubled as her office.
"It sounded like Minnie was a little hellcat," he said. She moved to Denver by the end of the 1920s, where "she hung out with the mobs. I can neither confirm nor deny those stories."
When she left, though, the second States generation had sunk its roots in North Platte.
Coy and Layland, born in 1900 and 1901 respectively, were adults when their parents divorced. After receiving their Palmer chiropractic degrees, both had returned to North Platte by the end of the 1920s.
While Coy set up a separate practice, Layland practiced with his mother and bought her home and office when she left for Denver. Both stayed the rest of their lives, joining their wives in bustling activity in community and social groups.
Layland, who married Mildred Koopman in 1927, served several years on the North Platte school board in the 1940s and 1950s. He tried to retire briefly, Michael said, but he was still seeing chiropractic patients when he died in July 1975.
Minnie States also returned in her final years, Jim States said, after having left Denver for California "as a brighter place to live and have a practice."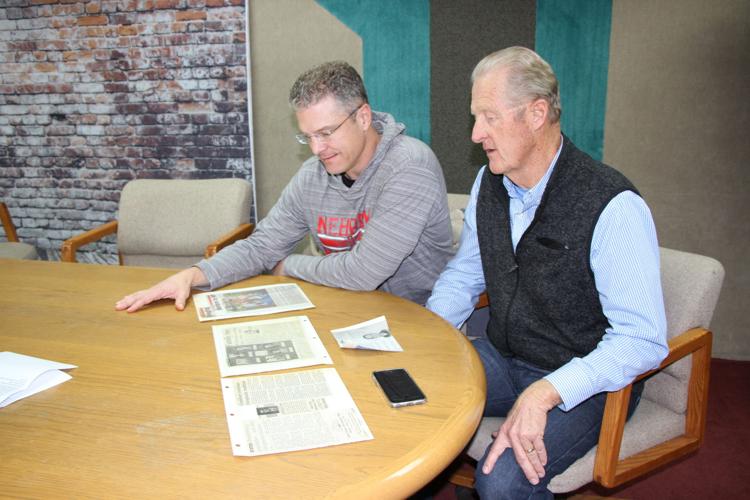 She still had a cabin at Red Feather Lakes, northwest of Fort Collins, Colorado, and was there when her appendix burst, Jim said. After she died in North Platte in August 1938, Minnie's ashes were scattered over the Colorado lake. Coy, who took over the cabin, had the same done with his ashes when he died in June 1963.
Jim States said the descendants of Coy and his wife, Lucille Zimmer, have included other chiropractors and medical professionals. But none settled in North Platte, unlike Layland and Mildred's sons, Jim and Jerry, who extended the family's local medical tradition in a different field.
Not until the late 1970s, Michael said, did physicians with M.D. degrees — under directive from an adverse nationwide court decision — begin to regard chiropractors as legitimate medical peers. Because "Dad was worried about the competition between chiropractors and physicians," Jim said, Layland States suggested his sons pursue dentistry.
Jerry, the older of the two, practiced for several years at 222 N. Jeffers St. before establishing the clinic now known as States Dental in 1968 at 112 West F Street. Jim joined his brother there in 1969 and worked alongside him literally until Jerry's death at age 57 on Dec. 19, 1994.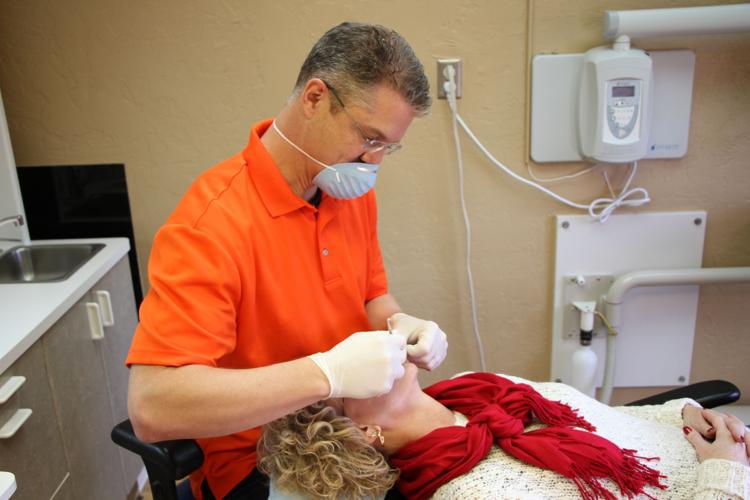 "The day he was to retire, he had a heart attack and we lost him," said Trent States, who had just finished dental school and joined the practice himself.
Jim, now 74, kept working alongside his son until his 2009 retirement. Like Layland, he has served on the North Platte school board and pursued community activities with his wife, Mary.
They live on the south side of Lake Maloney, not far from a cabin that Layland had built as one of the lake's first property lessees. That cabin stayed in the States family until a few years ago, Doug States said.
From States Dental's window, Trent, 50, can see the home and office where his great-grandmother, grandfather and great-uncle all adjusted patients. He does more specialty dental work than did his father and uncle, who fought to teach better dental hygiene to their patients.
"There were people who needed a filling on every tooth" in Jerry's and Jim's day, Trent said. "By now, we don't see as much of that."
Along with Jerry's sons, Trent cited the west central Nebraska pace and lifestyle as reasons for extending his family's North Platte tradition. Another member of their generation, Michael and Doug's sister Kristi, is an occupational therapist in Denver.
Michael, 55, picked up his family's chiropractic heritage at the urging of retired North Platte chiropractor Dr. Jim Gale. "He encouraged me to check out the college" — Palmer in Davenport — "because he knew our family history." And Jerry States "was steering me away from dentistry because he feared the profession was too crowded."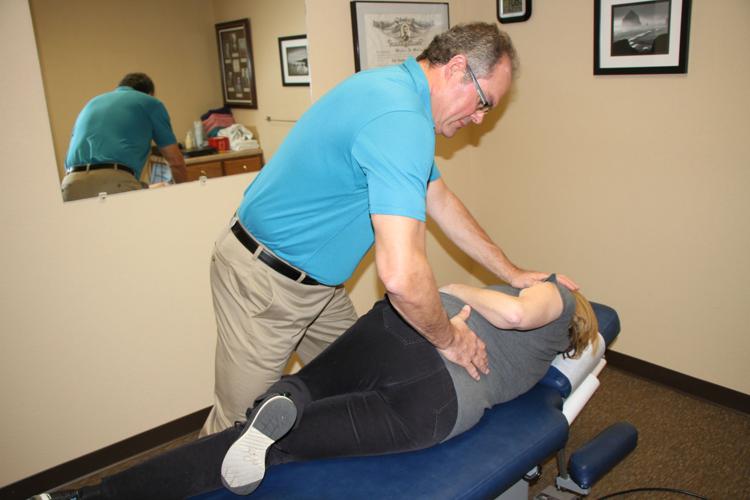 Michael graduated from Palmer in 1988, then practiced two years in Lincoln and finished a master's degree in chemistry at the University of Iowa "because I wanted to do some teaching." After his return to North Platte, he taught a basic science course at Mid-Plains Community College while launching his chiropractic practice.
Teaching also "kind of goes with the family," said Michael, who operates his clinic and Never 2 Late 4 Fitness out of separate Westfield Shopping Center storefronts. That includes his son Jason, a Lincoln High School science teacher, who studied osteopathic medicine before a benign brain tumor prompted him to switch to education.
It also includes Michael's brother, North Platte's first-ever Dr. States in the M.D. sense.
Doug, 53, received his University of Nebraska-Lincoln bachelor's degree in mechanical engineering in 1987. But he had decided as a senior to pursue biomedical engineering — which required a medical degree.
"I was the only one in my medical school (class) that had that type of undergraduate background," he said.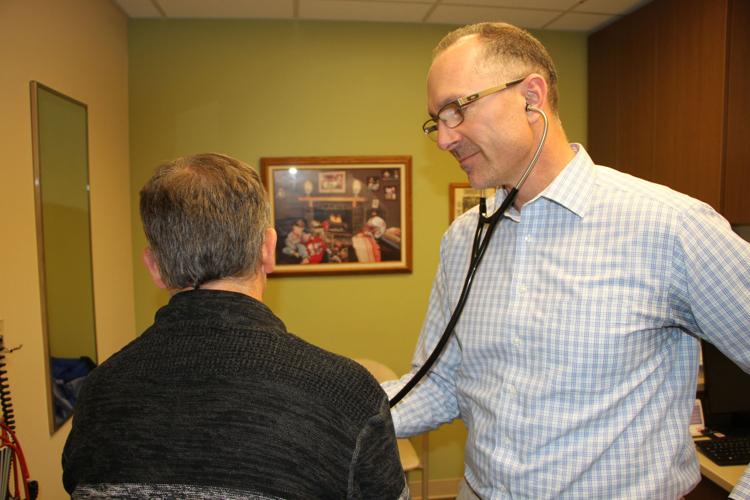 Getting a M.D. degree also meant doing a residency, which Doug began at Omaha's former Clarkson Hospital — in family practice — after his 1992 University of Nebraska Medical Center graduation. Only then, he said, did he see himself as a family doctor with "the advantage of living where I wanted to live."
"Biomedical engineering is applied science to solve problems," Doug added. "That's what medicine is, too."
So Doug and his wife, the former Kayla Scoggins of North Platte, joined Michael, Trent and the extended family back home in 1995. He practiced with Drs. Jeff Britton and Gary Conell until 2005, followed by 10 years of solo practice until rejoining his old partners at Midlands Healthcare Group.
Since 2015, Doug sees his longtime patients Mondays and Tuesdays before driving east for the rest of the week. From Wednesdays through Fridays, he supervises family practice residents and sees some patients himself at Lincoln Medical Education Program, which is jointly supported by BryanLGH Medical Center and CHI Health St. Elizabeth.
"I call this the second half of my career," he said.
It's too early yet, Doug said, to know if a fifth States generation in North Platte will take shape. Josh States has collected his M.D. degree from UNMC and is in the second year of his five-year residency there. His wife, Emily, comes from Syracuse in southeast Nebraska and is a physician assistant at Omaha's Methodist Hospital.
No matter what, however, North Platte's States of medicine will last at least a few years into their second century.