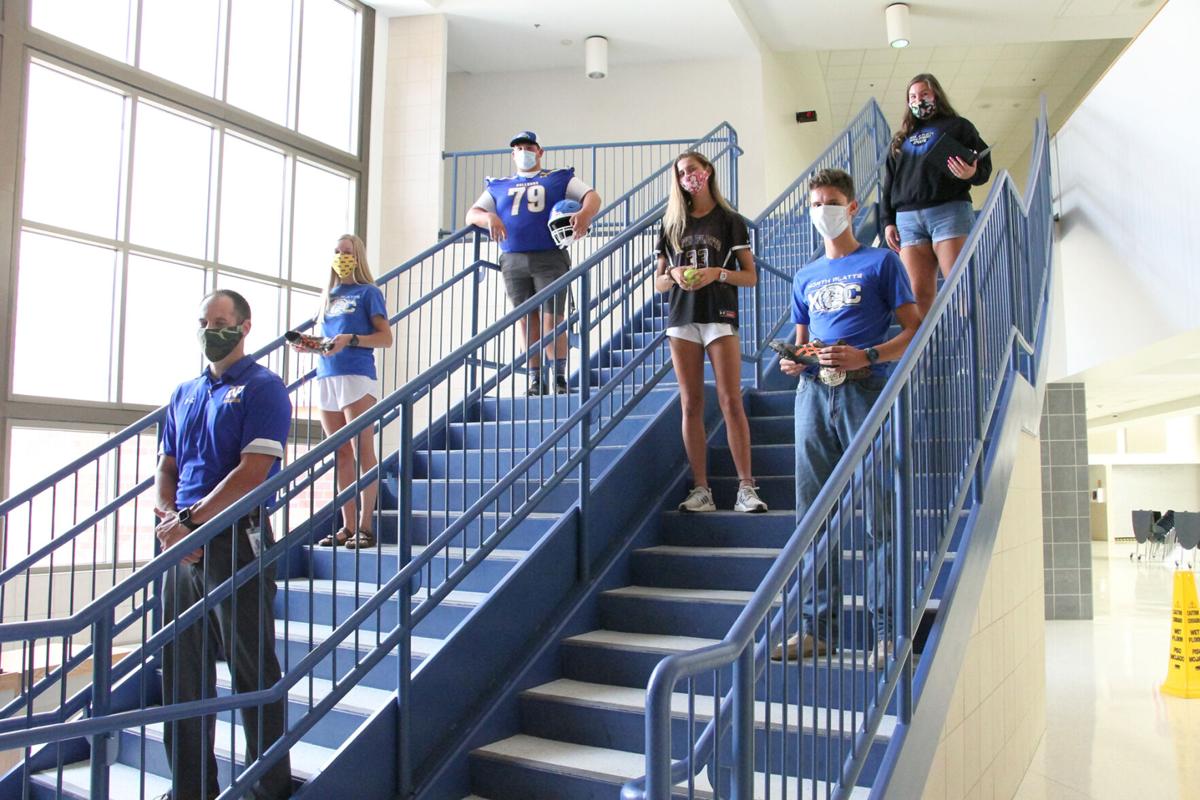 North Platte High School students began a campaign to "Fight for the Blue to Stay in School" in an effort to ensure in-person learning when classes open Aug. 17-18.
Activities Director Jordan Cudney and the high school coaches selected five students whose responsibility is to get the message out about social distancing and following directed health measure guidelines. Seniors Camron Sutherland, Tom Moss, Zarah Blaesi, Abby Orr and Maddie Ochsner are the members of the group who hope to encourage the other students at NPHS.
"This is a group of us trying to encourage everybody in the community and all the students to do all the protective things to keep our community in the yellow (risk meter dial)," Sutherland said. "We want make sure that we can still go to school and play all our sports and do all the extracurriculars that we want to."
Moss said although the school district has come up with a plan, it seems to change every day.
"In cross country we say this practice could be your last so we keep going day by day," Moss said. "When school gets here, I guess we'll just see how that looks."
Blaesi said getting back to the classroom is a priority.
"I think it's important, because I do not want to sit at home and do online learning again," Blaesi said. "I think it's better for us to be in the school to actually interact with people. I think it's easier for people to learn that way."
Orr said COVID-19 and the uncertainties surrounding it make her "a little bit nervous," but the protocols in place will help.
Masks are not required under the "yellow" designation of the risk meter the state is using to determine certain actions.
"I definitely think I will wear them as often as I feel necessary," Ochsner said. "During passing period, I will put one on. If we're in a group where we can't social distance, I will wear one just so I can ensure that I'm keeping everybody safe and I'm staying safe as well."
Moss said he is excited to see how it will all look once school starts.
"I step into the high school building and it feels just a little bit weird that we haven't been here in so long," Moss said. "It's weird that way, but in the classroom I'm excited to see people I haven't seen since March when we got out.
"I'm also excited to learn again. I think it's a lot better learning in person than over remote."
Cudney said the district wants to get students back into the schools.
"We're going to do everything we can to give kids opportunities to participate and compete this fall," Cudney said. "We understand that school districts across the state look different."
He said the plan looks different from one week to the next at North Platte High School as well.
"I've been telling parents when I see them, 'buckle up,' just because there's going to be changes that happen," Cudney said. "We may be scheduled to go one place this week and we're going this place now because of a last-minute change. It's going to be unprecedented because of the kinds of things we have to face in being fluid and agile."
The hope, Cudney said, is the district wants to do all it can.
"We want to give our kids the best experience possible while keeping them safe, and we're going to do everything in our power to ensure that," Cudney said.
Be the first to know
Get local news delivered to your inbox!