Soon, those with living memories of North Platte's World War II Canteen will be gone.
For now, a few remain — in Nebraska and far beyond.
Some watched family members volunteer at the Canteen, then grew up to join them. Others were among the 6 million visitors who carried the taste of homemade food, their servers' free smiles and the name of North Platte across three continents.
The Telegraph is honored to share three more of their stories today, a week before we re-present our archival real-time Canteen coverage in our new book "Canteen: As It Happened."
These three reached out to us over the last year. Even after 75 years, something reminded them of North Platte and what they experienced in our town's long-gone Union Pacific Depot.
And, like so many since Christmas Day 1941, they felt compelled to share.
For many decades, Canteen customers would tell in letters or return visits how overseas service members would brighten up at the mention of North Platte and the Canteen.
It still happens. Clayton Sparks witnessed it.
The retired farmer spends summers on the Perkins County farm northwest of Elsie where he has lived since 1958. Winters find him in Harrison, Arkansas, which he left in May 2012 on an "honor flight" to the National World War II Memorial in Washington, D.C.
He had someone ask veterans to raise their hands if they had been to or heard of the Canteen. "I had 30 to 40%" who did, he said.
A high school senior when Pearl Harbor happened, Clayton was anxious to join the fight. But the older of Ira and Margaret Sparks' two sons received a farm deferment instead.
He found wintertime work at Omaha's Swift & Co. meatpacking plant. Then he was ordered in early 1944 to either stay on the farm or be drafted. He had waited long enough anyway.
"I went to the draft board and volunteered for induction," he said.
Clayton married Elsie High School sweetheart Mary Jean Schumacher Feb. 20, just before shipping out. Her parents were living in North Platte, so she lived with them and volunteered at the Canteen, she said.
His mother did, too, traveling the 55 miles from Elsie with American Legion Auxiliary members. Like folks in other Canteen Honor Roll towns, "they would stockpile their (sugar) rations, put them together, to make things" and pool their gasoline rations for the trip.
Clayton, who volunteered for paratrooper service, came home on a week's leave in summer 1944. "I came into North Platte in the middle of the night on Sunday, so the Canteen wasn't open," he said. "But when I went back, that's when I got to go through the Canteen and load up."
Mary took him to the U.P. depot, where Clayton bought a half-fare train ticket back to Fort Benning in Georgia. Then he went into the Canteen room.
"I stood out when they found out I was from Elsie. I was considered the hometown boy," he recalled. "They gave me an extra-large shoebox just full of stuff. There were quite a few hard-boiled eggs in there." He shared them with sailors who stopped at the Canteen that day.
Back in Georgia, Clayton was ordered to accompany part of the 11th Airborne Division to the Philippines to take part in Gen. Douglas MacArthur's liberation of the islands.
He and his comrades were split between two troop trains, both bound for San Francisco. They wouldn't be allowed to get off. One train would go through North Platte; the other through the southern states.
He couldn't tell his wife which one he'd be on. When the northern train stopped in North Platte, Mary Sparks asked an 11th Airborne member leaning out the window if her husband was there.
"A fellow said, 'I know him. He went the southern route,'" Clayton recalled.
Clayton and his mates landed on Sibuyan Island in late 1944. Luzon, the main island, lay just to the north.
On Feb. 3, 1945, Clayton jumped with 11th Airborne elements onto Tagaytay Ridge, south of Manila, intending to cut off Japanese forces retreating toward the Philippine capital.
Enemy resistance was fierce, but "we'd start taking them prisoner and run them out of ammunition," Clayton said. "They weren't too hard (to capture). They were beat down."
After V-J Day on Sept. 2, 1945, Clayton was stationed at Manila's Clark Field. He didn't return to Elsie until Thanksgiving 1946.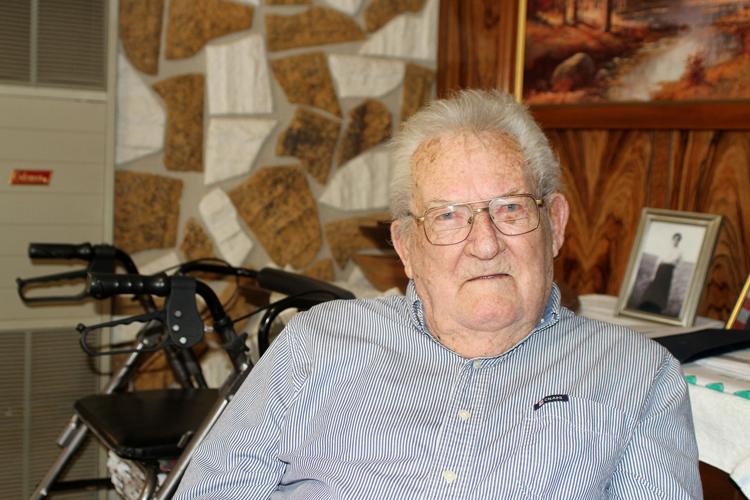 He took up farming again with Mary, who died in 2002. They had three children, but a son died as a small boy and a teenaged daughter died from leukemia.
Clayton has four grandchildren and several great-grandchildren through surviving son Terry, who lives near Cheyenne, Wyoming.
When he learned last winter that The Telegraph was assembling a Canteen book, he sent a note about his wife and mother being Canteen volunteers, his own unusual visit and his regret at the U.P. Depot's 1973 demolition.
"That old depot was big. And (its) marble floors — man, it was nice," he said earlier this month. "And, of course, the military personnel were all over in there. But how they could compile that much food to give everybody something ..."